July 2, 2013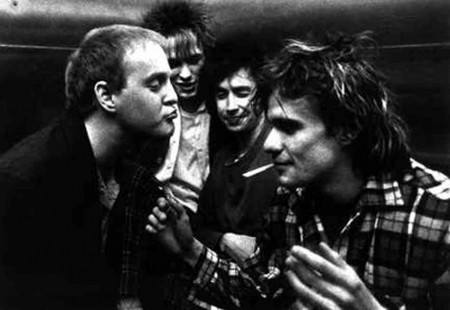 So in case you were not around cool humans a few weeks ago, you might not have heard that The Replacements are reforming to play three shows this summer at the Riot Fest (!!!). I am not a rioty person, but I do love me some Paul Westerberg in all of his many forms, and this news came out of a wonderful left field to surprise most of us. Even though we don't know who else is in the band this go around (other than Tommy Stinson, and, maybe, Prince) — IT'S THE REPLACEMENTS.
I was trying to explain The Replacements to my intern (again, with the intern. This kid is getting double his unpaid-work-hours money) and I used words like "sloppy but melodic" and "like, this visceral rawness with classic rock n' roll underpinnings." I used the word "punk" a few times; something about the Beatles; we talked about the dangers of alcohol overuse. I think we both went home from work that day better human beings, and now he has a new band to discover.
Back in 2006 I posted a pirate's treasure trove of Replacements and Westerberg rarities and b-sides that a reader sent me. In honor of the Riot Fest news, and to announce the ticket giveaway I get to do for it, here they are again below, all re-upped.

TICKET GIVEAWAY! I have two pairs of 2-day passes to the Denver stop of Riot Fest to give away to Fuel/Friends readers. It's happening September 21 and 22 on a farm-looking place outside of town; I'll also be going and probably camping, which should be delightful.
TO ENTER TO WIN: leave a comment telling me why you should win a pair of tickets, and I will pick two winners in a week or so.

Now tunes. For you, and the intern.

PAUL WESTERBERG RARITIES
Dyslexic Heart (Singles soundtrack)
Waiting for Somebody (Singles soundtrack)
Seein' Her (b-side of Knockin' on Mine)
Men Without Ties (b-side of Knockin' on Mine)
Dice Behind Your Shades (Festicle version, b-side of Knockin' on Mine)
Can't Hardly Wait (live '93 Whiskey a Go-Go, b-side World Class Fad) (Marah cover here)
Left of the Dial (live '93 Whiskey a Go-Go, b-side World Class Fad)
Another Girl, Another Planet (live '93 Whiskey a Go-Go, b-side World Class Fad)
Answering Machine (live '93 Whiskey a Go-Go, b-side World Class Fad)
Daydream Believer (live, b-side British single?)
A Star is Bored (Melrose Place Soundtrack)
Backlash (w/ Joan Jett) (Notorious LP)
Let's Do It (w/ Joan Jett) (Tank Girl Soundtrack)
Sunshine (Friends Soundtrack)
Stain Yer Blood (Friends Soundtrack)
Make Your Own Kind of Music (Eventually Bonus Track Japan)
I Want My Money Back (Grandpaboy Single)
Undone (Grandpaboy Single)
Wonderful Copenhagen (Suicaine Gratification Bonus Track Europe)
33rd of July (Suicaine Gratification Bonus Track Europe)
Nowhere Man (I Am Sam Soundtrack)
Be Bad For Me (Folker Bonus Track Europe)
WESTERBERG RARITIES AS ZIP FILE

REPLACEMENTS RARITIES
If Only You Were Lonely (b-side of I'm In Trouble)
Hey Good Lookin' (b-side of I Will Dare)
20th Century Boy (T Rex cover) (Let It Be Outtake)
Who's Gonna Take Us Alive (Let It Be Outtake)
Temptation Eyes (Let It Be Outtake)
Street Girl (Let It Be Outtake)
Nowhere Is My Home (Boink LP – England)
Bundle Up (PTMM Rehearsal, Jungle Rock w/ new lyrics)
Empty As Your Heart (aka PO Box) (PTMM Rehearsal)
Time Is Killing Us (PTMM Rehearsal)
Kick It In (PTMM Rehearsal)
Run For The Country (PTMM Rehearsal)
Going Out Of My Head (PTMM Rehearsal)
("We'll learn it tomorrow. Think of another one.")
Trouble On The Way (PTMM Rehearsal)
Make This Your Home (PTMM Rehearsal)
Cool Water (PTMM Rehearsal)
Route 66 (b-side of Alex Chilton)
Tossin' and Turnin' (b-side of The Ledge)
Ought To Get Love (Don't Tell A Soul Outtake)
Kissing In Action (All Shook Down Outtake)