October 13, 2009
The music made by Langhorne Slim is an anachronistic blend of rollicking, boot-stomping Americana, howling rock, and plaintive love songs that defy a single era. Hailing from the small town in Pennsylvania that he borrowed as his stage name from, Langhorne is indeed an artist who defines himself and his genre simply as a man who writes love songs. From soul-stirring gospel to old brokedown blues, his music is influenced by many different styles as there are kinds of love, and "it just makes sense." He has released a superb album this year with his Be Set Free. I've been listening to it nonstop.
Over a bottle of wine in room #312 of the rad historic Boulderado Hotel, we spoke of everything from his musical roots listening to Hole when he was 14, to his kinship with the older generation and his comfort in growing older, and the ways he challenges himself in music to keep things exciting. In the same way that someone like M Ward is both delightfully unpredictable and richly soaked in the blues, Langhorne moves fluidly between a range of influences.
There's a loosely-tied thread of jangly marvelousness cascading through so many of these songs, like it's just barely being held together around the edges, while pulsing wild and free in the hot-blooded center. He can also turn a lyric in a way that pierces me, and is just as sharp and clever in person as he is on his records.
Boots Boy – Langhorne Slim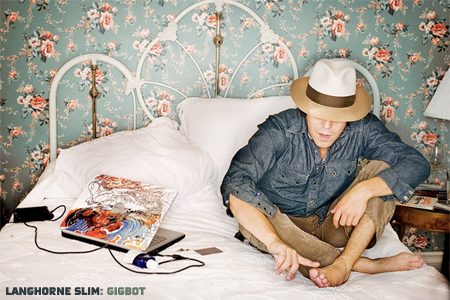 LANGHORNE SLIM INTERVIEW
BOULDERADO HOTEL, ROOM 312
September 9, 2009

FUEL/FRIENDS: You work really hard with your music, and you've been doing it for a long time – fifteen years?
Langhorne Slim: Well, I started writing music when I was pretty small, but I've been doing it professionally for six years or so. I've got high hopes with this new album, I want to make records that I hope will be meaningful to people for a long time.
F/F: Do you feel that you've approached all three of your records more or less in the same way, or are you trying completely new things here that you've never done in the past?
LS: Well, I tried to sing better, for one (laughs), because I do got it in me. No, I think the songs on this record represent growth. I'm proud of the other records that we did too but this one is a little bit closer to where I'd like to go. Maybe if you start thinking you're getting it all right, that can be dangerous, but I am excited about the different chances we took, and maybe I felt more comfortable within myself to take those chances.
F/F: What makes this current one your best one, and how is it different from your last ones?
LS: You get a bit more used to being in the studio, it's a lot different than performing in front of a live audience. For us a lot of times, people will comment on the different energy at our live show and on our records. I understand where that comes from but I also…resent it? Slightly. Because I think that it's two different forms of creativity, or two forms of oneself. In front of 100 people or 5 people or a thousand people, you know, and experimenting with these songs that you've been playing, and trying to explore those in a studio atmosphere, they are two very different animals. I think this time with the people we had on board, it just came out right for what it was. And I am pleased with that.
To get up in front of an audience – you don't have that energy in a recording studio. I think that you just challenge yourself in different ways when you're in the studio. You try to bring different things out that you wouldn't necessarily do in a live setting. You can't have a horn section on the road, I can't have backup singers, but you can do that in the studio. But it's a fine line – you don't want stuff to sound too crystal clear in a way that makes you sound not like you. To try to keep shit raw and real, while also treading that fine line, that very fun line to explore. One needs to keep challenging themselves in their music to keep it exciting.
F/F: One of your most striking lyrics on the new album is when you recount how your grandfather told you, "All pain hurts the same." How do you get at that with your music?
LS: Well, I'm very close with my grandparents, I have a very close family and have been lucky to have them throughout my life. I relate a lot to my grandpop Sid, and we deal with a lot of the same….we're wired the same way. For me, I'm very happy to get older because I feel like I'm more myself – I feel better as I get older. Anyway, one time I was talking to Sidney about feeling down and not even knowing why, and I said to him, you know people are going through some really bad shit, and maybe it isn't that tough, but why do I feel so down? And he said that. All pain hurts the same. It always stuck with me, and made it into one of my songs.
F/F: Have your grandparents informed your music in other ways? Because I feel that there's a weight of time in your music that is not often found in young people's writing.
LS: Probably yes, but we're all raised in the way that we're raised. That line rang true for me so I put it in the song because I always remembered it. I think it's just moreso their support and wisdom and love for music that they raised us in. My parents split when I was two and my grandparents decided that they were going to step up, on both sides of the family. There was just a lot of support and they loved music. With me it was never like 'you should get another job or, you should try something else,' it was not like that. And I am very appreciative of that support.
F/F: A lot of your songs are very personal. Are you comfortable in letting people interpret them in the way they want, just letting it go? Or do you want them to be understood in the way that you wrote them?
LS: Not at all — in fact, I would much prefer that if anybody connects to it, they do it in their own way, because it's not about what my connection to it is, necessarily, once it goes out there. That's what music has always been to me, I mean – shit moves me, in my own way. Well, here's an example – Britney Spears has a song "Womanizer," and okay, I'm not a womanizer, but I like that song (laughs). Whatever sort of hits you, that's what hits you. I'm beyond alright with releasing my songs out there, that's naturally what just happens. You sit with these things and then you put em on a record and then you gotta move on to the next thing and work towards that. It's a map of what has been done. What's more heavy than having somebody relate to something and make it their own? For me that's a big part of what this is all about.
F/F: It's an interesting dichotomy to put so much of yourself into something and then set it out there and in a way it becomes not yours any more, even though you're the one performing it.
LS: Yeah….Sometimes you're telling everyone out there a story about something that happened, and this is how it happened, but other times it may be about a feeling or an emotion, and a melody that you think is cool. Or a story that's fiction but not totally fiction – you're putting, maybe, four different relationships that you might have had into a simple song. So it's not always as personal or simple as my story, going out there.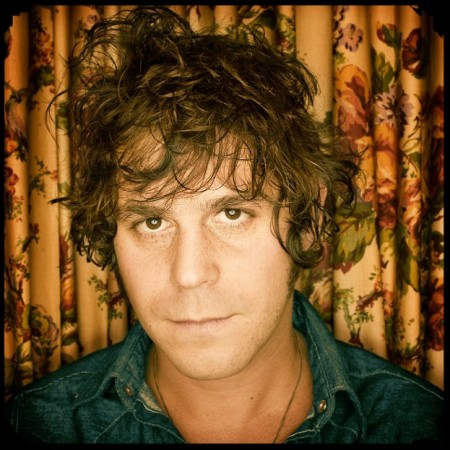 F/F: There was a quote I read once where you said, "I only write love songs."
LS: People say, "what kind of music do you write?" and you're supposed to have a genre for what you do, and I'm not trying to sound too cool for school, but I don't feel that way toward music. I feel that the category stuff is more geared towards what section do we put this in at the record store. But yeah, love songs – if there was a section for that in the record stores maybe that's where my shit would be. It's not just about romantic love, there's happy love songs, and sad love songs. We can do something like we played tonight for the radio, and I think it went over well, but in the past years playing with all sorts of headliners like metal bands or noise bands or hip-hop acts, you know, that all made sense because we all respected what each other were doing. That's something I miss a little bit, even though I can still bring people out on the road with me, but – if tonight weren't a radio show, people could have yelled at us, or spent the whole night back at the bar. But how cool would it be if you could have like a traveling roadshow of different stuff that just made sense because it was all good? And people would react to it? I think I've been lucky to get to play with a lot of eclectic bands (Violent Femmes, Avett Brothers, Lucero, Murder by Death) but I would like to also do shows with people who wouldn't make any sense. That's why a lot of the festivals are cool – Snoop Dogg is over there and we're over here, and if it works right, people are music fans and they are open to hearing different shit.
F/F: You just celebrated your 29th birthday the day after my 30th, so I wonder, do you see 30 as a milestone at all, and are there things you'd like to accomplish before then? Or are you pretty content with what you're doing in this last year of your twenties?
LS: Well, yeah – I'd love to be able to get a house – it's amazing to be able to tour as much as we do, but I look forward to the time where I can have a place of my own that I could come home to. It would be amazing to have my own little spot someplace. Also, just to get better at what we're doing …. and to keep on going.
[Interview originally published at gigbot.com [R.I.P.], and photos of course by the formidable Todd Roeth]

14 comments
14 Comments »
Leave a comment