November 14, 2010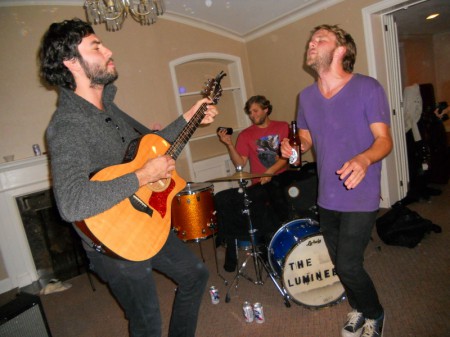 The Head and The Heart may well be my favorite new band in quite some time. With the amount of music I consume, I find that the times are getting fewer and farther between where I find myself with that fervid touch of missionary fever, the borderline frothing at the mouth in telling friends and acquaintances and random people on buses about a new band that has snagged me good. These guys (and gal) have done that, and this past week they came and rocked the faces off Colorado, happily, twice. I think parts of me are still sore from dancing.
To recap, my friend Michelle recommended I listen to them back in the springtime. She lives (and rocks) in Seattle, and was converted by their ardent live shows. I cued up "Sounds Like Hallelujah," and it was indeed a hallelujah on tinny computer speakers (kind of like paradise by the dashboard lights, but with less Meat Loaf). I got my hands on their full-length debut early in the summer, and have not stopped listening since.
What I tell people about their music is this: it means something, and it is beautiful. The melodies get under your skin; whatever these kids have hit on, it is magic, and it only seems to be getting better with the new songs they're writing. The three vocalists (Jon, Josiah, and Charity) hit all those sweet spots they are supposed to, rising up above the gajillion other harmony trios out there. Jon's slightly raspy warmth, the clear and powerful depth that Josiah adds, and Charity's lovely warble that reminds me of some glamourous voice from the 1940s radiating out of a phonograph — when all three come together, I'm tellin' ya that something celestial happens.
And no night more magical than Tuesday night, after the band accepted my spur-of-the-moment invite at their sold-out Friday night Moe's show up in Denver, to come back through town and play a Fuel/Friends house show in an echoey old empty home at the top of a steep driveway, surrounded by a huge stone wall like a castle of awesomeness. The waxy pastel wallpaper smelled musty, but the floors reverberated marvelously when we would all stomp and dance in time, and the arches of the ceiling sharply cast back all the vocals into a mighty chorus.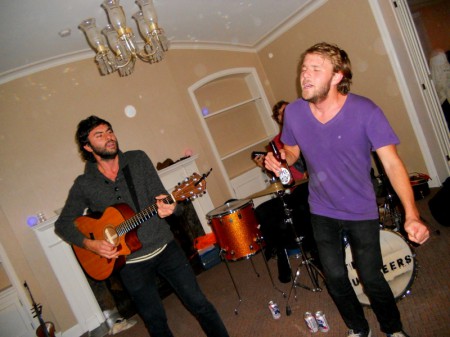 During warmup for the house show, I sat with several members of the band in the old dining room as they loosely worked through some new songs, and I must say that the seeping richness and nuance in their artistic development is exciting. It would be frighteningly easy for them to rest on the catchy, toe-tapping melodies and clever timing changes of the nine songs on the album — that sound that makes Starbucks baristas (where their music has been playing these last few months) confidently tell customers, "Oh, yeah, this is the Beatles," when asked. But nah. We got some real good heft coming from this band – the best is yet to be, I think.
Their debut album was self-released with no label backing and as the result of them pooling, from what I understand, pretty much all they could scrape together. The nine songs were recorded at Studio Litho in Seattle (Stone Gossard's digs) and range from piano-laced frenzied dancing tunes to the thoughtful, soft-steeped divine.
The album is absolutely not one of pretense, which appeals to me deeply and personally. There is a hungry earnestness here painted all over their music, and maybe that's why it hits this right into this chest. Who among us can't sing along with their lyrics (if we're honest): "we're just praying that we're doing this right"? Despite the wrestling, this album resonates with a sort of revolutionary optimism. You can hear it in Kenny's piano crescendos, in the heads-back harmonies, and in Charity's piercing violin. Chris's malleable basslines percolate a richness, while the drums from Tyler echo that racing, thumping heartbeat to carry the songs through.
Call it a symptom of mostly being new transplants to Seattle, maybe call it lots of long hours staring down endless asphalt roads from windows of a white 12-passenger touring van, but I hear strong ruminations on the concept of home. In the standout gem "Down in The Valley," Jon weaves together clippings that would be at home in old country songs to make a sepia postcard of "California, Oklahoma, and all the places I ain't ever been to." It is instantly familiar and relatable. Meanwhile Josiah imagines an old man trying to entice his longtime, long-overlooked partner to return to him in "Honey Come Home," as he realizes there is nothing physical around him in the home they shared that will not break down. It is a wrestling with the temporal and physical, tempered with what will last.
The album ends with a refrain of "all these things are rushing by, these things are rushing by." Seeing the reaction they are getting from every place they play, that line seems prophetic. Good things are rushing by them and at them, and I am so thankful they've taken the time on this album to memorialize a few and set them to melody.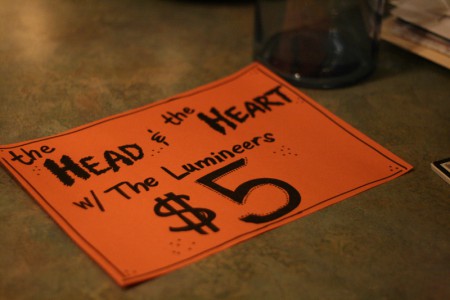 THE HEAD AND THE HEART
FUEL/FRIENDS HOUSE SHOW (with The Lumineers)
Tuesday, Nov 9th 2010. 8pm til real late.
Intro
Ghosts
Honey Come Home
Cats and Dogs (completely a capella; LOVE. Watch it here.)
Gone (new song) (watch it)
Coeur D'Alene
Lost In My Mind
Pick Me Up (new song)
Winter Song
Look Outside (new song)
Rivers and Roads
Heaven and Hell (new song) (man alive a fantastic one; watch it)
Attic Ladder
Down In The Valley
ZIP: THE HEAD AND THE HEART @ THE FUEL/FRIENDS HOUSE SHOW
(note: All the new songs I am guessing completely on the titles.)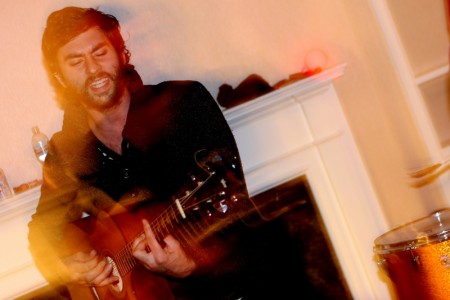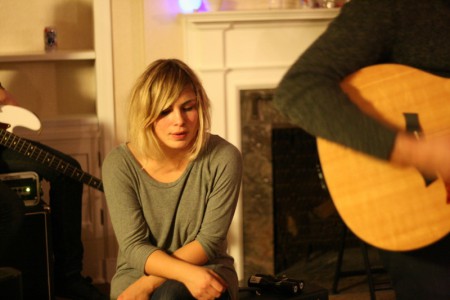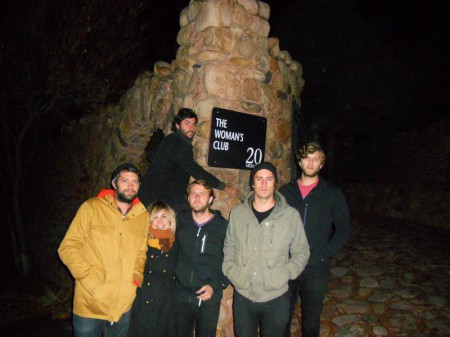 Afterwards, following an impromptu singalong session in the darkened kitchen with the swinging door closed and the lights all turned off, we reconvened in the main room for a collaborative version of Bon Iver's "Skinny Love," by special request from me who loves covers. It was messy and rough and imbued with a healthy dose of liquid courage for some of us, but I think everyone there hustled out into the cold night afterwards glowing just a little more brightly.
Both shows were opened up special by fledgling Denver band The Lumineers. Even as brand new-newbies in our local music scene, there is a sweet strength to their songs, even playing without any microphones or PA–just yelling into the room with the power of their harmonies.
Their complete opening living room set (which you can listen to in full over at The Flat Response) included:
1. Charlie Boy
2. Classy Girls
3. Ain't Nobody's Problem
4. Submarines
5. Flapper Girl
6. Stubborn Love
7. Morning Song
8. Ho Hey
9. Flowers In Your Hair
They were absolutely fantastic & raw (hey! ho!), like this at tiny Moe's BBQ on Friday night, when so many of us enjoyed getting to know them for the first time:
So, yeah. This week is going to seem a bit pale by comparison. Let's do it again sometime.
[all photos from both shows at the Fuel/Friends Facebook Page. The show was marvelously recorded and shared by The Flat Response.]

22 comments
22 Comments
Sorry, the comment form is closed at this time.