May 1, 2011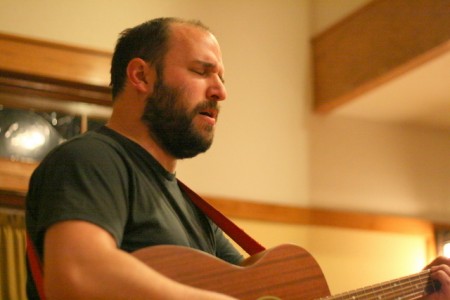 Last month David Bazan stopped in at my house on a quiet weeknight, during his tour of shows in people's living rooms and gathering spaces. The former frontman for Pedro The Lion showed up sniffly in a red hooded sweatshirt, carrying his guitar case to my front step. I offered him some Gypsy Cold Care tea and we sat to chat as the (largely 20-something male) crowd began to make their way up the walk, assorted microbrews in hand.
After the very first house show I ever attended, I wrote that: "I was startled by the intimacy, as I think many of us were. I am used to (and prefer) my shows small and earnest, but often the artificial barrier between performer and audience is hedged cleanly by the drop-off of the stage to the sticky floors below. As eager as I was, it felt almost too intimate at times, especially given the songs he performs – sharper at excising things from my heart than any scalpel. It would be akin to kissing a stranger at a loud, smoky nightclub or kissing them on a quiet Sunday morning at the sun-drenched kitchen table. In such close quarters, there is nowhere to hide."

I still feel this way about house shows, and now even moreso after seeing David Bazan lay bare everyone and everything in that room with just his voice and guitar. As I sat there listening to his songs that he often performed with his eyes clenched shut, there was a keeling unsteadiness within me, so acutely he probed. I was absorbed into his fierce and sometimes sardonic, regretful humor, his unflinching engagement with all the super-hard questions that crouch in corners.
I was wearing a hoodie and sitting directly to his right, facing much of the crowd. I kept finding myself ferociously wanting privacy, wanting to pull my hood up and disappear inside of it as I listened. I felt like all my stories were being written in black ink in public, scrawled across my face as I listened to him. He has a way of making the listener feel suddenly small, suddenly mortal. A speck hurtling along. A cascade of failings and hopes, trying to make sense of it all, thinking about the promises we keep.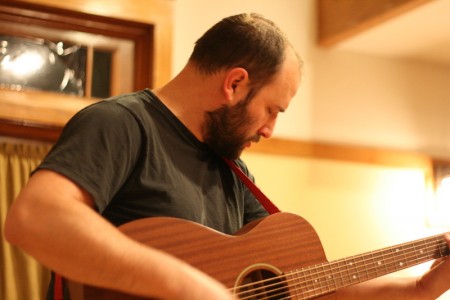 Bazan would stop every two or three songs and very humbly ask the audience, "So… is there anything you guys would like to talk about at this point in the show?" At first the questions trickled back to him, but as we all grew to understand this hybrid concert/communal interview concept, they began to torrent. Someone asked him, in writing songs, how much is about him and how much is someone else? He replied, "Fiction can often represent your truest self better than non-fiction, because you're not bound by reality." With Pedro the Lion songs, he said 90% of them were fictional, as compared to his last album, the deeply personal Curse Your Branches, where 90% are autobiographical.
When asked about his process for writing songs, Bazan said that he's found that "one line of a song has to emerge fully formed, and in the DNA of that lyric, the rest of the song lies encoded, if you dig for it." We chatted about both the Black Album ("I have been listening to '99 Problems' on repeat in the van, that is just an amazing, amazing song") and The White Album, in relation to what we pay for music ("If it cost $1000, I'd find a way to save up my money and buy it"). Bazan is extremely intelligent, and said things I liked immensely, such as "buying records is a good way for a culture to stay healthy." It was fascinating hearing what all the fans in the audience wanted to ask him. There was no boundary –none– between musician and listener, and that felt quietly revolutionary.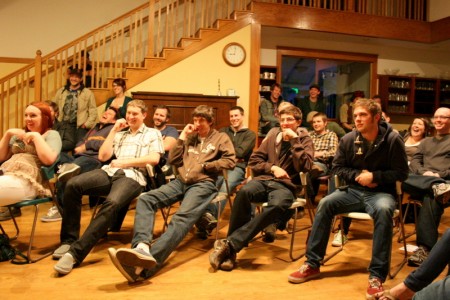 Another thing you need to know is that Bazan has crazy-committed fans. A kid that looked all of seventeen had driven from Wyoming with his girlfriend to sit there in what can best be described as rapt reverence. I found myself watching the audience as much as I watched Bazan — watching them whisper along every lyric, watching the tough-looking Hispanic guy start to cry as he pumped his fist along to the words "The poison makes its way through my body slowly, into the pleasure centers of my brain / If you were here, I would admit that I'm an asshole, but now it's over and I can't stay sober — though it isn't like I try…" When I encounter fans like these (reference: Wilco), I know I need to pay close attention, and that I will be rewarded like I was that night with Bazan. I think we all left completely sated, but with so much on our minds. I had trouble sleeping after.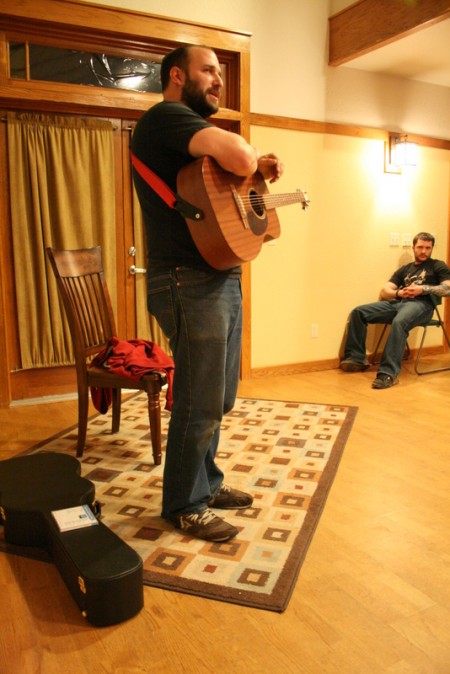 Dave's new album Strange Negotiations is out on May 24th on Barsuk Records. He played the record over the house stereo after his set ended, much to the delight of the audience that lingered over beers, then packed the CD up with him when he left the next morning (but not before he and I had one of the nicest morning coffee hours at my kitchen table that I've ever had – endlessly fascinating, that man).
Below is the first track released from the new album, along with a few particularly incisive older ones.
Wolves At The Door – David Bazan
(from the new album)
Bless This Mess – David Bazan
(from 2009′s Curse Your Branches)
Fewer Broken Pieces – David Bazan
(from 2007′s Fewer Moving Parts EP)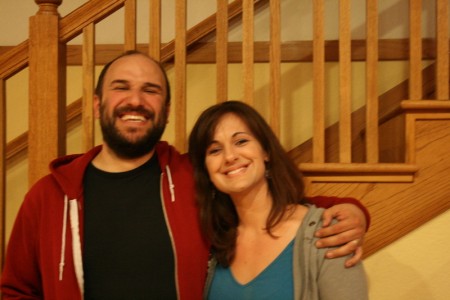 Go to:
DAVID BAZAN'S SPRING TOUR
* w/ Cotton Jones
# w/ S. Carey
& w/ Rocky Votolato
May
04 – PORTLAND, OR – Crystal Ballroom
June
01 – SALT KAKE CITY, UT – Kilby Court *
02 – DENVER, CO – Hi-Dive *
03 – KANSAS CITY, MO – Record Bar *
04 – COUNCIL BLUFFS, IA – West Fair Amphitheatre (w/ Bright Eyes, Jenny and Johnny)
06 – ST. PAUL, MN – Turf Club *
07 – Madison, WI – Annex
08 – CHICAGO, IL – Lincoln Hall *
10 – ST. LOUIS, MO – Old Rock House *
11 – COLUMBUS, OH – Basement *
12 – AKRON, OH – Musica
13 – PONTIAC, MI – Pike Room
14 – TORONTO, CANADA – Lee's Palace
15 – OTTAWA, CANADA – Mavericks
17 – ITHACA, NY – Haunt
18 – HAMDEN, CT – Space w/ Via Audio
19 – CAMBRIDGE, MA – T. T. The Bear's #
22 – NEW YORK, NY – Bowery Ballroom #
23 – PHILADELPHIA, PA – Johnny Brenda's #
24 – WASHINGTON, DC – Black Cat #
25 – CHAPEL HILL, NC – Local 506 (w/ Centro-matic, Sarah Jaffee)
27 – ORLANDO, FL – Social #
28 – ATLANTA, GA – Earl #
29 – BIRMINGHAM, AL – Bottle Tree #
30 – NEW ORLEANS, LA – One Eyed Jacks #
July
01 – BATON ROUGE, LA – Spanish Moon #
02 – HOUSTON, TX – Fitzgerald's &
03 – DENTON, TX – Dan's Silverleaf &
05 – AUSTIN, TX – ACL Presents: Satellite Sets
07 – TEMPE, AZ – Sail Inn &
08 – SAN DIEGO, CA – Casbah &
09 – LONG BEACH, CA – Alex's Bar &
10 – LOS ANGELES, CA – Troubadour &
12 – VISALIA, CA – Cellar Door &
13 – SAN FRANCISCO, CA – Independent &
16 – SEATTLE, WA – Showbox at the Market &

10 comments
10 Comments
Sorry, the comment form is closed at this time.