January 21, 2014
"I'm strong for my size, but I'm small / …and I don't want to carry your load anymore," Desirae Garcia sang these words as her opening lyrics for this chapel session at the La Foret campgrounds during the Meadowgrass Music Festival last year (same day we recorded Dawes). The words are indicative of how effortlessly direct her songs can seem in their simplicity, but one listen will show how those unassuming songs pack a punch through their quiet and insistent assertion.
I first wrote about Desi (who is also 1/5 of the celebrated Colorado Americana outfit The Haunted Windchimes) on my springtime mix, with her song "Hardly Are You Lonely," off her Ill-Fitting EP (Blank Tape Records). I marveled at how her songs navigate dark waters with fearlessness, a flower on the ocean floor. Desi also sings with Planes, who contributed a hummably retro track to my summer mix this past year.
Her work with the 'Chimes is wonderful, but I've so enjoyed watching her bloom through songs all her own, and this chapel session is long overdue for such a light. All through her leanly-sculpted melodies shines a beautifully resolute voice.
This is a simple session that I think will stick with you.

FUEL/FRIENDS CHAPEL SESSION #28: DESIRAE GARCIA
May 25, 2013 – Taylor Memorial Chapel at La Foret
Meadowgrass Music Festival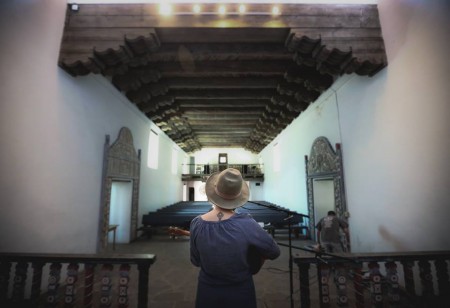 Honest Song
The songs that Desi pens are ephemeral in the sense that you could almost dismiss them in a wisp, in a moment. But Desi doesn't let them, or herself, be dismissed. The songs sometimes seem unfinished and stop abruptly, or pause like a thought you lost — but that's my favorite part, because they just drive you back to listen again. This is indeed an honest song. video is here
Bed of Roses
This song is from her Ill-Fitting EP, from where the collection of songs draws its name. "You weren't listening to a word I had to say and now I'm ill-fitting…" she sings, with the sweet additions here of a delicate Casio melody from Alex Koshak (a multi-instrumentalist and drummer in town who plays with roughly 27 bands) and Desi's bandmate Inaiah Lujan from the Haunted Windchimes on guitar and vocal harmonies.
Flaws
I like this thing there where Desi sings and two talented gentlemen croon her gentle backup harmonies. For a song that honestly addresses things like flaws, struggles, and enemies, it sounds damn charming. video is here
Dances Fantastic (Nena Dinova cover)
This is a pretty amazing cover, of a 2002 song originally by Neva Dinova (Saddle Creek). Where theirs is sonically spacey and full of weird wonderful sounds, Desi's version is sweetly direct, but with that hint of darkness. The effect is a bit unnerving, like some David Lynch soundtrack contribution. Wonderful.
Second Hand Love (Connie Francis cover)
Finally, Desi gave us a bonus cover song, because we couldn't decide which one we wanted. We'll take both, definitely. Desi's rendition of this 1962 top-ten hit single turns it from a shuffling two-step dance number over to something spare and much more sad. video is here

ZIP: DESIRAE GARCIA CHAPEL SESSION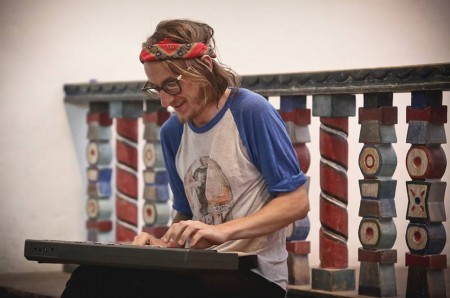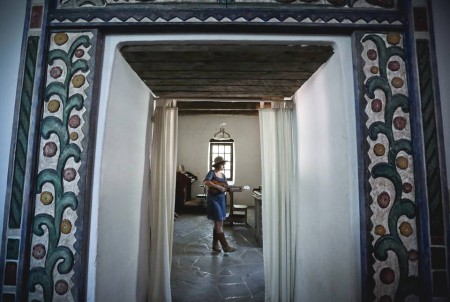 Also, good news from the chapel and the mixing studio! We are working concertedly to get caught up with releasing all the wonderful sessions we have recorded in the last few months. You have the following to look forward to:
Vandaveer (with Ark Life joining for one song)
David Wax Museum
Phox
Small Houses
Alex Dezen (of The Damnwells)
Gregory Alan Isakov
Yeah! Those are coming in that order, in the coming weeks and months.

[photos and video as always by Kevin Ihle, audio production by the wonderful Blank Tape Records]

4 comments
4 Comments
Sorry, the comment form is closed at this time.