May 25, 2012
I've always had this metaphorical soft underbelly where the scales never grew, which feels far too vulnerable at times; I'm sensitive to the flicker of dark clouds across the eyes of those that I love, wanting to intuit out all the discord and weave it back together into something whole. With each year that passes, I realize more how the wounds and the brokenness and the bruises sometimes, most times, have to just be sat with while they knit themselves back together. Or they don't. Often they don't. This has been The One Thing I have been faced with learning in the past four years and, with heightened intensity, in the past six months or so. I am still trying to believe in hope and magic, as much as I can, with a flimsy protective coating. Some people are beetles that can survive an emotional nuclear attack. I'm more like a naked mole rat.
That oblique introduction is directly related to Tyler Lyle, because in meeting him and punctuating the last year of my life with his music and now his friendship, I've seen a fellow naked mole rat (sorrry Tyler, not my finest allegory). Tyler believes boldly in hope, choosing his eyes wide open and his heart half-broken every time, as he sings in one of his new songs. This chapel session is a sweet one, but the kind of sweetness that is rooted in sadness, and the smoldering under the ash.
Tyler's self-released record The Golden Age and The Silver Girl was one of my favorite records of last year, and the night after this session was recorded, he performed at my house (a highlight of all my concerts thus far). I wrote a lot of words and feelings about it here; it still leaves me feeling radiant to remember.
Tyler indicated recently that he is working on 44 new songs (two of which you can hear over here, that I have not stopped listening to since March), and I want to hear the other 42. This kid leaves me with my jaw dropped with every song he writes, and I can't stop telling people about him with a missionary fervor.
I have a feeling about this one.

FUEL/FRIENDS CHAPEL SESSION: TYLER LYLE
MARCH 3, 2012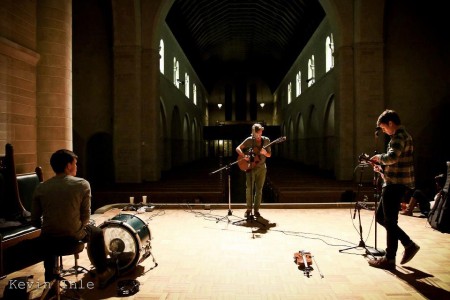 Free (I Am)
I was in NYC in March, and I spent one sunny Sunday afternoon walking loops through Prospect Park listening to this song on mega-repeat and singing along when no one was around (and sometimes, even when they were). This is a brave and beautiful new tune that cements Tyler's standing in my mind as a potential major songwriter in my pantheon of great songwriters. There is no artifice in this folk song, only extraordinarily bold hope despite the entropy all around us.
Personally in my last few transformative months, I've claimed this song as an anthem of removing the fish-hooks of detrimental love from your heart and swimming off into the glittering water. "Not afraid of giving you all my love, and I'm not afraid to say goodbye."
When I Say That I Love You
This song's probably the most perfect summation ever penned of looking back at that one hot, pure young love that grabbed you and shook you before you knew what to do with such a torrent. There is no other feeling like that, and it's a feeling that dissipates so quickly as we get older and develop scar tissue around all the soft parts and spaces.
This song remembers. Another year, another ring around my bones.
(and: that violin? It's like a river that's almost too much to bear. Sitting on the edge of stage when this was recorded, I just perched there and cried. Because I remembered, too.)
For Love To Come…
There's a strong thread of melancholy that weaves its way through all the songs on Tyler's record last year (because it's a breakup record, all the songs about one Silver Girl). This song traces a theme that he's explored in a few different places: the fact that we have to unclench our tight, white-knuckled fists before we can move on, even though stepping into that neutral liminal zone of nothingness can be terrifying. I haven't minded doing it this year as much, with this soundtrack. "Sometimes for love to come, love has to go." Also, the harmonies on this one are really something.
Closer To Me
At the outset, this song sounds the cheeriest of the session — an effervescent strum, an exhortation to come closer. But then I notice near-sinister undertones to the song which reminds me of the subject matter of Josh Ritter's "The Curse" – "Come closer, closer, closer to me / I am a loaded gun, you are a symphony / …past those warning signs, out into the sea." I hear it as wanting to love someone and being worried that your love might be corrosive ("I got a heart with holes, it don't keep much heat"). Maybe I'm just glum. In any case: I also love the very Paul-Simonesque whistling at the end.
These Days (Jackson Browne)
Whoa, this cover is the gut-shot: one of the most penetrating covers I have ever, ever heard. Where the version I first heard, recorded by Nico, is all German alienation and that oddly-endearing frigidity, Tyler's version pulses pure and gold in all that sadness. The fatal, exquisite line in this recording is: "Oh I had a lover, I don't think I'd risk another these days …it's just that I've been losing / …for so long." Blammo.
I also, detrimentally, never realized this song was written by Jackson Browne. That just goes to show, yet again, that all the best stuff is probably by Brownes.

ZIP: TYLER LYLE CHAPEL SESSION



[Audio, as usual, by the fantastic guys at Blank Tape Records. Church interior photo by Kevin Ihle]

13 comments
13 Comments
Sorry, the comment form is closed at this time.