January 7, 2013
I've spent the last three days wrestling my blankets in a haze of fever dreams, hours passing in what feels like minutes and vice-versa. The soundtrack to much of my (stupid stupid mean) flu has fittingly been the impressionistic complexity of Field Report in these recordings from Shove Chapel earlier in the fall.
Even before I roadtested this music to my own actual fever dreams, that's long been one of the best descriptors I could come up with for how Chris Porterfield's rich songs wrestle over failings and threads of stories long forgotten. In the same way that time out of mind through fevers makes all sorts of strange threads of memory surface, these songs draw you into stories as if you've already heard them. Listening for the first time feels like remembering. Porterfield is a master at using odd metaphors that require you to just sort of accept them before they make sense.
I've been so deeply entranced by Field Report, and tangled up in their debut record ever since it first surfaced in my life in the icy springtime. The purity and urgency made it one of my favorites of 2012, and I think that all three album songs in this session outshine the renditions on the record. This band is a jaw-dropping talent, and it's evident from these recordings that touring has only strengthened their songs. Go see them in 2013.

FUEL/FRIENDS CHAPEL SESSION #20: FIELD REPORT
OCTOBER 8, 2012 – SHOVE CHAPEL AT COLORADO COLLEGE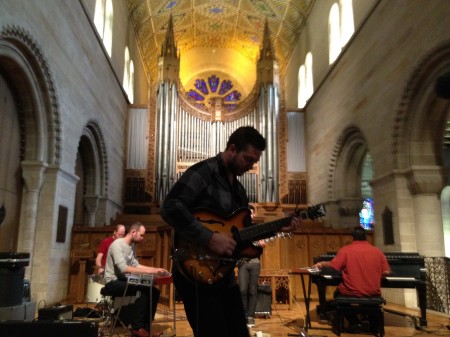 Taking Alcatraz
This is ostensibly a story about the American Indian occupation of Alcatraz in 1969, but it is also a song about staking your battles and pushing back against fears. "If I die here, well — at least I made a choice."
Circle Drive
This song feels exactly like a string of long, late-night hospital visits, the sterile and dehumanizing blur between the living and the dying. I prefer the slow weariness in this version to the album version. Nick's sweet piano cadence kills me here, as does the simple way that Chris states, "I am still your man. Some days we do the best we can." He also leaves out the line, "we're doing fine" in this rendition, which is good because I wouldn't believe him anyways.
Whoa whoa. The caged energy of this video is mesmerizing, and Chris does absolute justice to the thin-voiced strained urgency of Neil Young's ripoff of the Rolling Stones. One of my favorite covers we've recorded in the church.
Fergus Falls
You wake up suddenly in the middle of this quietly sad story, a song that doesn't have the courtesy to fill us in on any of the important details that came before. Someone is reminding me about the time ten years ago when their wings iced up in the fall, and the whole thing feels like a dream. This version is slower and warmer, and feels like swimming towards the surface.
I feel like this whole record is about swimming towards the surface.
ZIP: FIELD REPORT CHAPEL SESSION

[audio production by the wonderful guys at Blank Tape Records, video by the always-terrific Kevin Ihle]

14 comments
14 Comments »
Leave a comment