May 18, 2011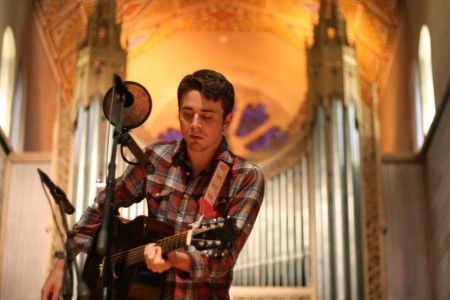 Like his quick, punchy name, the music of Joe Pug can be deceptively simple. At first pass, one could be forgiven for thinking he is just another earnest singer-songwriter with a heart full of thoughtful lyrics and an impassioned strum on the guitar. But if you listen more closely to his deep repertoire (especially to these three songs that he chose for this session), dark and complicated themes begin to emerge out from the calico of words.
Last Saturday afternoon (with some sort of tribal pulsating student dance festival taking place right outside the heavy church doors), a handful of us gathered in Shove Chapel to record some of Joe's songs in that vast silent space. The musicians asked if I had any song preferences, and I told them that whatever they would pick would be better than what I could pick. And perhaps it's the storyteller in me, but in listening carefully to these recordings for the last week, I've seen a wonderfully strong narrative emerge from the tunes selected. A leitmotif, if you will.
This is music for wanderers who nonetheless miss a home; songs of an "optimistic sadness"; words for those of us who stop to think sometimes if we might be denting the undefined future with the necessary choices we're making this week.
Joe spoke beautifully about believing in things when I interviewed him, and nowhere is that more apparent than watching him sing words like these. He believes things, and passes that on to the listener. They're rending, these stories. And completely beautiful they way Joe tells 'em.

FUEL/FRIENDS CHAPEL SESSION: JOE PUG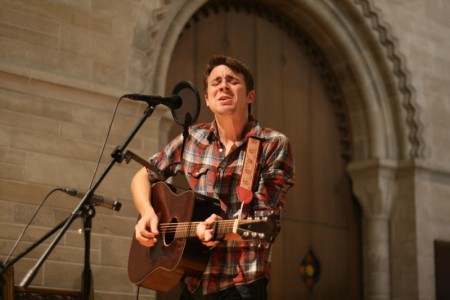 Dodging The Wind
The few of us there fell into initial silence of expectation, as Joe leaned into his harmonica and blew these first penetrating notes. The resultant ache feels like a scalpel. Maybe like a lonesome train whistle pulling me off somewhere else — no instrument evokes wanderlust more for me.
This song starts the session with the dusty-tracks theme of an itinerant drifter that would wend throughout the session. The staying and the leaving. It's the song of someone just passing through, over and over again: "call that boy by his name, smile as he turns and he waves / don't you shed a tear as he walks way from here, he'll come but he ain't known to stay."
My favorite part comes towards the end of the third minute, when Joe's voice starts to careen a bit, like steering too fast into a curve and starting to be overwhelmed.
In The Meantime
This particular song has been wrecking me all week, as it gently prods at the decisions that we make for now at the potential expense of later. This is the song where I hear "optimistic sadness" — a waiting for someone, a confidence in finding what you'll need, and a crippling black-hole in your gut for now. You should know that Joe used to work as a carpenter before he became a musician, building houses and such. I hear this song drawing taut lines between the constructive, durable life of a craftsman and the itinerant, often-lonely life of a musician — "I'm dreaming for a living, I got no time for work."
In particular, the fourth verse snags me, singing of prying up sheets of plywood from the floor to burn. "The house is out of lumber, at least for now I'm warm," Joe sings, and "in the meantime, I should find another room." A trail of ashes, the destruction we can wreak in the meantime, while we wait.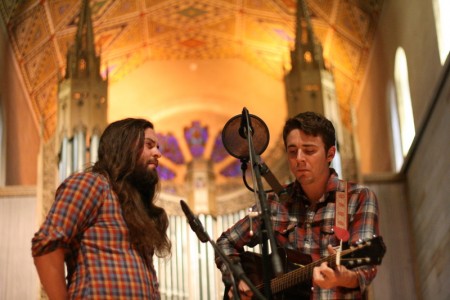 Hard Life (Bonnie Prince Billy cover)
Joe is touring with the uber-talented, impressively-bearded, former second grade teacher Tim Showalter who plays music under the name of Strand of Oaks (aka Chapel Session #4). The two of them asked me, "Can we do a cover song?" and I replied incredulously, "Um, have you met me?! Yes!" Then they told me it was a song by Bonnie "Prince" Billy they were considering, and I just about keeled over.
Joe and Tim harmonized so flawlessly on this ode to the struggles of marriage, toeing that line between submitting to our demons, our desire for faithful abiding love, and the desire to flee. Sounds pretty accurate to me. Aside from the aural perfection in the blending of their voices, I also enjoyed the contrast in the perspectives in the song – the married man and the unmarried one, both singing about how hard this life can be, whichever your lot. It's a perfect bookend to the themes of Joe's set when Tim sings "So let me go, lay it down / on my own, let me drown. Let me go, go where you don't know."
Also, the final bluesy guitar solo on this song hung with such a ripe melancholy, and left me breathless. Again.
ZIP IT UP: JOE PUG CHAPEL SESSION

That night, we had a house show at my place. As you can imagine, these musicians created everything a house show should be; all of us packed warmly and tightly into an effusive shoulder-to-shoulder bunch, with more varieties of Colorado microbrews in-hand than you could count. There were folks of all ages from 7 to 70, with smiles stretched wide everywhere you looked, and the furrowed brows of concentration you get when you hear music that really says something. Joe and Tim both cast a spell over all of us there.
You can see my photo album from the show on the Fuel/Friends Facebook page, and also some pictures from local supernova Lindsay McWilliams here. Tiffiny from The Ruckus came down from Denver and posted a review of the evening here, also with gorgeous pictures.
All of us agree, it was a very good night.

(oh! and there are still a few of these terrific house show posters left for sale, if'n you might want one for your wall – screenprinted and sparkly, two different designs)

House pic by Lindsay, poster pic by Tiffiny. Church interior photo above by Conor from the amazing Blank Tape Records, who is responsible with his brother Ian for all the excellent audio we all enjoy in these Chapel Sessions. You guys rock.

13 comments
13 Comments
Sorry, the comment form is closed at this time.