September 20, 2013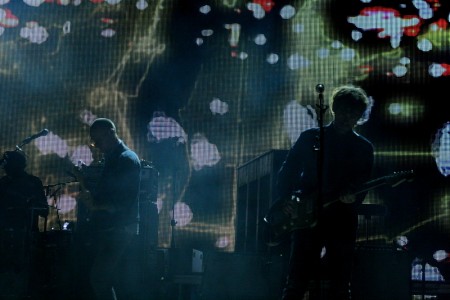 There is a skittish, soft part of me that was scared to go see The National under an almost-full moon at Red Rocks on Tuesday night.
One of my most charming relational characteristics (#sarcasm) is the way I sometimes slither-sidestep away like a silvery fish from things that are too emotionally intense. Oh, sometimes I dive in; lots of times I dive right in. But when it really, truly disarms me and strikes at my heart in a way I can't defend against, I will go away and need to be coaxed to come back. I love The National — love them probably more than any other band right now, and have for the last seven years. They soundtracked my brutally bloody / tragically doomed / completely beautiful first relationship after my divorce, and have been insidiously inside my head like a brain tapeworm ever since, needling and gnawing at nerves and receptors.
So I was scared to see them Tuesday for these reasons. I wanted to be there, so much, and I knew it was gonna destroy me. I spent much of the concert in my own untouchable zone. The huge gusts of fresh last-days-of-indian-summer wind kept lifting my hair up off my neck, and drying the relentless water that just kept streaming down from my eyes. I alternated between floating mental-miles away and being breathlessly enmeshed. Feeling their songs pound through me as that massive LED light screen flashed images behind them was a phenomenal interpretive experience, as if my thoughts and Matt Berninger's thoughts and all the dark dreams that populate our subconscious were flashing up there for all to see. I kept tilting my head up to look at that bold moon rising over the red rocks with a shining corona around it for the first hour of its ascent.
My friend (and talented photographer) Brittney Bollay saw them play last night in Seattle, and she expressed how I feel, exactly:
"It's like [Matt] crawls inside my head and my chest and finds all my thoughts and feelings. When I see him perform it's like I inhabit him and he inhabits me, just for a little while. It's this feeling of partial displacement and symbiosis. I've never had that experience with any other band."
Take that video above of "About Today": something as simple as the juxtaposition of the song (words/melody/drums like a heartbeat keeping you awake) along with the visuals of starkly bare tree branches in winter plus the thickly-billowing black smoke, and then the blue note saturated darkness when he whispers the lines, "Hey, are you awake…" and the ridiculous crescendo crash of the song careening away — that's it. I'm done for.
I got to meet Matt and the rest of The National deep in the veins of Red Rocks after the show, and it was an out-of-body experience for the reasons that Brittney explains. I didn't figure out what I really wanted to say to Matt until the next day driving home (which is regretful because, you know …he wasn't there then), but in addition to the conversation we actually had, I wanted to tell him this:
One time an author friend and I were talking, and he told me that the first time he picked up an Anne Tyler novel, he knew he wanted to be an author. Calling it "a straightforward chemical connection," he explained to me that: "I think we have sockets in our backs, really complicated, like, thirty-five pin sockets, and sometimes something or somebody plugs right in and there's no real explanation. Or rather, there is, but it would be memoir-length."
I think about 35-pin sockets ALL the time because of this conversation, as it pertains to human relationships, my connections to art, music, foreign cities — everything around me (as some of my favorite friends can attest to). What I wanted to try to explain to Matt was that The National fits all 35 of my pins, and plugs right in.
They fit the pin that loves a carefully-crafted sentence which achingly frames words perfectly around that fleeting feeling that is gone before you even really notice that it's fully there.
They fit the pin that loves a bit of dissonance in my pleasure, whether melodic or existential.
And the pin that wants to blissfully numb out my voraciously-moving brain with narcotic percussion.
Also the pin that (as I wrote about in my review of Trouble Will Find Me) likes to prod at that simultaneous engagement with the sentimental and the fatalistic, things that we traditionally think of as being at odds with each other.
It's kind of terrifying to love any musician as much as I find myself still loving this band. I am so grateful for that, for the fear and the 35 pins.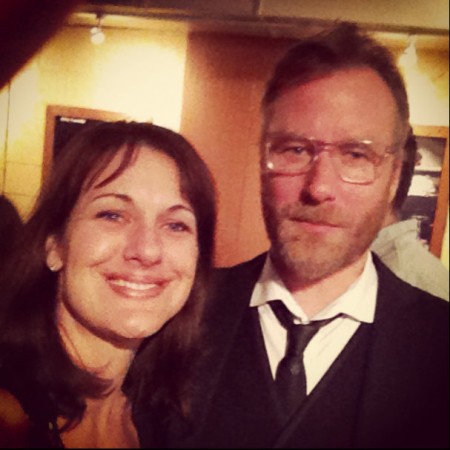 THE NATIONAL – RED ROCKS SETLIST
09.17.2013
I Should Live in Salt
Don't Swallow the Cap
Bloodbuzz Ohio
Demons
Sea of Love
Heavenfaced
Afraid of Everyone
Conversation 16
Squalor Victoria
I Need My Girl
This Is the Last Time
Apartment Story
Abel (!!!)
Lucky You (gahhhh, seriously?)
Slow Show
Pink Rabbits
Graceless
England
About Today
Fake Empire
Encore:
Humiliation
Mr. November
Terrible Love
Vanderlyle Crybaby Geeks*
(*that final encore was still as affecting as when I saw them do it in 2010; the mark of an incredible song)
ALL MY PICS FROM TUESDAY ARE OVER AT THE FUEL/FRIENDS FACEBOOK, including those ones with openers Frightened Rabbit and The Local Natives. Photo credit for the last picture above goes to Instagrammer @renae9502.

9 comments
9 Comments »
Leave a comment