March 2, 2010
Today as I drove from Ohio to Indiana and pondered what a Hoosier actually was, I listened to two artists who seemed to embody those snowy midwestern hills and endless highway: Justin Townes Earle and Joe Pug. I paired their CDs together as homage to the fantastic concerts I saw last weekend in Denver: one at the Bluebird with the both of them, and then a house concert on Sunday night with just Joe Pug in a breathtakingly intimate living room setting in Boulder.
Relentlessly polite and wholeheartedly earnest, Justin Townes Earle seemed to have landed from another era completely, but his music rang true and struck directly. If I were casting a movie set in 1940s Atlanta, and I was looking for a counterweight to the golden guy that the girl is going to marry, a man who shows up perhaps selling hairbrushes or snake oil with a half smile and the promise of adventure – I'd cast JTE in a heartbeat. His lanky, super-slim frame draped with a classy suit just a fraction too short as he threw himself wholeheartedly into the performance of his songs. The cover art of his 2009 record Midnight At The Movies shows Justin sitting next to a gorgeous starlet in a movie theater, drenched in green light and a flickering glow, and in so many ways that is how his music feels.
Justin fully seems to somehow straddle the world of WWII America and the bluegrass hills and Appalachians, as well as the modern alt-country rock scene – even some intangible nod to the punk aesthetic. I wouldn't mess with him, but I'd believe him and let him buy me a drink so he could tell me a story.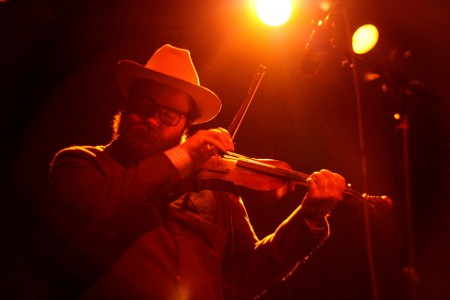 His music surely feels old-timey, all waltzing rhythms and "yes'm" tips of the lyrical hat, but seeing him live cemented for me that his earnestness makes all the difference in making this still feel like a vital, youthful genre. There is no shtick that I could detect. This is the style of music he makes, and he means it no less than Nirvana or Thao Nguyen or any other number of young folks in passionate bands.
Justin dedicated a bittersweet end-of-the-night rendition of "Midnight At The Movies" to Chris Feinstein (aka Space Wolf), bassist for Ryan Adam's Cardinals who died unexpectedly at the age of 42 in December. They were apparently NYC neighbors. The slow-wheeling song was one of the sweetest things I've heard out in the night air in many months – it was a 3am slow dance, the bartender wiping the tables, the snow falling somewhere very far away from these warm walls. But then lest you forget his range of influences, he also covered both Buck Owens, the Carter Family, and The Replacements' "Can't Hardly Wait" (with stand-up bass and fiddle), alongside his own well-crafted tunes.
There's a part in movie Crazy Heart that I'm probably going to misquote, but when Jeff Bridges is picking at his guitar, writing a song, and he asks Maggie Gyllenhaal's character if she knows the song, and she's sure she already does. "The best songs are always the ones you think you've heard before," he tells her – and that's precisely how I felt the first time I heard this song:
Midnight At The Movies – Justin Townes Earle
Justin also recently recorded a Dolly Parton cover with Brooklyn artist Dawn Landes:
Do I Ever Cross Your Mind – Justin Townes Earle & Dawn Landes
While on-stage, Justin also referred to opener "Joe Fucking Pug" as having put out one of the best albums of the year (an assessment I can get behind), and even though I only caught half his set due to a persistent snowfall, Joe completely blew me away. Again. As always.
Pug is a songwriter of uncommon weight and heft, and rare purity and conviction. If you've gotten jaded as to the effect that a simple well-written song can have when howled and emoted from the main stage, under the dust particles swirling in the stage lights, just go see Joe Pug (or Josh Ritter, for that matter) and have those convictions washed off and set aright. His set was an unrelenting cavalcade of identification with so many of the sentiments he elucidates, using only the right number of words and devastating acumen.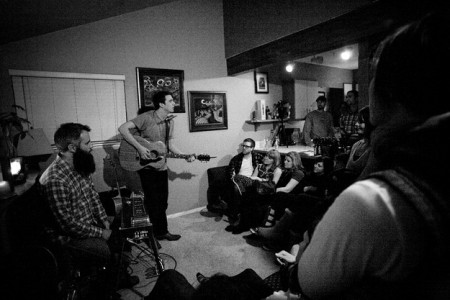 Then, two nights later I got to see Joe Pug again, packed shoulder to shoulder with 45 other people, on the couch and in the kitchen and kneeling on the floor in the living room of a home modestly-sized for half that many friends at best. I feverishly noted the setlist, since I had the overwhelming feeling that I was witnessing the best show I might see this year. Maybe ever. Hard to say.
JOE PUG – HOUSE SHOW
Nation Of Heat
I Do My Father's Drugs
Unsophisticated Heart
Hymn #35
Nobody's Man
The Door Is Always Open
Speak Plainly Diana
Called By Many Names (unreleased song)
These Days
Sharpest Crown
Hymn #101
I've never been to a house concert before Backforty Presents made this one possible. I was startled by the intimacy, as I think many of us were. I am used to (and prefer) my shows small and earnest, but often with the artificial barrier between performer and audience hedged cleanly by the drop-off of the stage to the sticky floors below. As eager as I was, it felt almost too intimate at times, especially given the songs he performs – sharper at excising things from my heart than any scalpel. It would be akin to kissing a stranger at a loud, smoky nightclub or kissing them on a quiet Sunday morning at the sun-drenched kitchen table. In such close quarters, there is nowhere to hide.
Joe is amiable and has grown, even in the last year, to become a more confident performer (no doubt a byproduct of the sheer insane number of shows he's played). But again, the intimacy of this show and the immense wall of camaraderie reverberating back to him seemed to also take him a bit by surprise. As the final note from opening song "A Nation Of Heat" died out into the suburban condo living room, the thunderous applause that rained down like a tidal wave might have even made his eyes shine with a bit of extra glossiness as he broke into a wide smile, if my perceptions were correct. And I felt the same way.
"Not So Sure" is a gem of a song from the new album, chronicling a gnawing disillusion, with ennui mushrooming in its lyrics. When Joe stood four feet from me, stared somewhere intensely at the back wall, into space, while he plucked the opening notes and launched into lines like: "I bummed expensive cigarettes, I wrote John Steinbeck's books / I undressed someone's daughter, and complained about her looks" – I was done for. Then it happened again and again with his songs piercing us all, peaking at the final "Hymn #101" in front of my nose. That is such an incredible song, I couldn't believe I was seeing it in an environment like that.
Not So Sure – Joe Pug (from his new album Messenger)
Hymn #101 – Joe Pug (from his Nation of Heat EP)

After seeing Joe Pug (twice) and Justin Townes Earle in the same weekend, I woke up Monday morning feeling a radiant, warm glow tingling around me like an aura. Did that really happen? Do shows like that still occur, despite the jadedness of life?
It did, and they do.

[See all of my photos from the show on the Fuel/Friends Facebook fan page; house concert photo credit Todd Roeth]

14 comments
14 Comments
Sorry, the comment form is closed at this time.