October 25, 2009
Irish songwriter Glen Hansard took the crowd outside Fingerprints by surprise last week, as they waited in line for his appearance inside with Marketa Irglova (of The Swell Season, and the movie Once):
Doesn't that just give you the best kind of visceral reaction in your gut-parts? Sometimes I wish we could always live inside wonderful moments just like that, where people sing out what they mean, and mean the things they sing. Glen is an artist of the first-class.
That night their set included tracks from the new album Strict Joy (out tomorrow on Anti- Records), the Once soundtrack, Leave (The Frames), Tim Buckley's Buzzin' Fly (Jeff Buckley was once Glen's roadie, 'member?), and "New Partner" by Will Oldham. Those who were there say it was truly magical.
Say It To Me Now – The Frames
(from Hansard's 1996 album Fitzcarraldo; a version was later on the Once Soundtrack)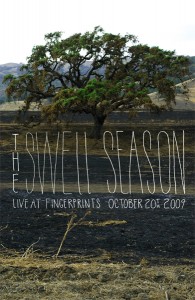 In conjunction with the fine folks at Fingerprints, I have one autographed poster from that event to give away. It's only signed by Glen ("Marketa wasn't feeling great, so after the performance and almost two hours of meeting fans we set her free for the nap that was calling so loudly").
Leave me a comment if you'd like to be entered for the poster — and go see Swell Season on tour this fall, eh?




SWELL SEASON FALL TOUR DATES
11/01 Milwaukee, WI – The Pabst
11/02 Indianapolis, IN – Clownes Theatre
11/03 Toronto, ON – Massey Hall
11/04 Montreal, QC – Olympia
11/06 Boston, MA – Berklee Performing Arts Centre
11/07 Providence, RI – Lupo's
11/08 Philadelphia, PA – Merriam
11/09 Washington, DC – 9:30 Club
11/12 New Orleans, LA – House of Blues
11/13 Houston, TX – Warehouse Live
11/14 Dallas, TX – Palladium
11/15 Austin, TX – The Paramount
11/17 Mesa, AZ – Mesa Arts
11/18 Los Angeles, CA – The Wiltern
11/19 Los Angeles, CA – The Wiltern (WITH JOSH RITTER)
11/20 Oakland, CA – The Paramount
11/22 Seattle,WA – The Paramount
11/24 Portland, OR – Crystal Ballroom
11/25 Vancouver, BC – Centre For the Performing Arts
11/27 Boise, ID – Egyptian
11/28 Salt Lake City, UT – Jeanne Wagner Theatre
11/29 Denver, CO – The Ogden
11/30 Kansas City, MO – Uptown
12/03 Chicago, IL – Auditorium Theater
12/04 St. Louis, MO – The Pageant
12/05 Minneapolis, MN – The State Theatre
01/19 NYC, NY – Radio City Music Hall (WITH JOSH RITTER)

36 comments
36 Comments »
Leave a comment