December 4, 2012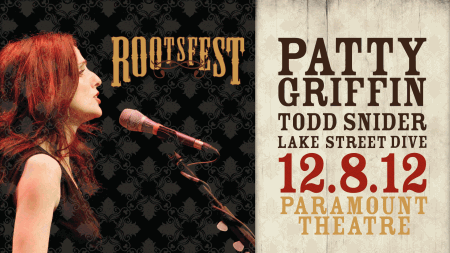 Certain songs just have the power with me, through a very simple and unadorned turn of words, to evoke a perfect whole sadness. I don't recommend playing this contest at home, but in this ongoing tally-game I have running in my head, one of the very saddest songs I know is "Top of the World" by Patty Griffin. It's the first song of hers that I ever heard (due to a long-running college flirtation with the Dixie Chicks), and it was a gut-punch from first listen.
I hear it as a story of an emotionally-distant man who is looking back at his life and grieving the ways he hurt those who loved him ("think I broke the wings off that little songbird…"). Something in the line, "I pretend to be sleeping / when you come in in the morning / to whisper goodbye, go to work in the rain, I don't know why, don't know why…." makes me live for a solid moment inside that grey early morning light and hear the rain fall on the eaves, and feel like not moving from under the covers, and not knowing why I am avoiding those who love me. Lines like that are part of what make Patty Griffin one of my very favorite songwriters.
Top Of The World – Patty Griffin
This Saturday (December 8), Patty Griffin is headlining Denver's RootsFest (with support by Todd Snider) to benefit Swallow Hill Music, and Fuel/Friends is thrilled to be one of the presenters! Patty is an incredible, heritage-of-American-music artist, and I cannot wait to see her for a complete live set. Todd Snider opens; I once listened to some of his songs on the long road to Marfa, TX, on the way home from SXSW. Seemed perfect.
WIN TICKETS! I have two pairs of tickets to RootsFest this Saturday give away to readers – please leave me a comment to enter. I am still familiarizing myself with Patty's vast and wonderful body of work over the years (there is a lot), so feel free to tell me what your favorite song from her is, and why.
I'll pick winners on Thursday, and encourage everyone else to get their tickets in advance. As part of Swallow Hill's rad commitment to music education (really, they are doing some of my favorite stuff in Colorado), they are also offering a class on Saturday led by local roots musicians Martin Gilmore and Patrick Dethlefs, focusing on the songwriting aspects of roots music. Each musician will include a performance aspect of their classes, playing songs and then answering questions, and giving explanations of writing techniques, tips and pointers. The workshop is FREE with your ticket to RootsFest.

13 comments
13 Comments
Sorry, the comment form is closed at this time.