August 18, 2011
My friend Nick Hornby once wrote something very true and marvelous about a central challenge of human-ness: "Keeping in touch with the things that help us feel alive – music, books, movies, even the theatre, if, mysteriously, you are that way inclined – becomes a battle, and one that many of us lose, as we get older."
We won that battle this past weekend, all weekend long, at the Doe Bay Fest 2011: The Full Moon Festival. With a few hundred other folks for 4 days on Orcas Island in the San Juans, I felt deeply, vibrantly alive. It was like summer camp for adults (and many kiddos) who wanted to touch that thrumming coil of deep goodness that crackles and bursts in live music, if you know where to look and are ready to be stunned by what you find.
Cloudy Shoes – Damien Jurado

I found music around every bend in the road. I ascended a dirt trail at midnight and found Damien Jurado and John Vanderslice playing to a silent circle of folks lit only by the flickering fire of tiki torches. I ducked into a humid nighttime yoga studio and found myself linking arms with Kelli Schaefer and her band and The Head and The Heart, singing a rousing golden version of "Stand By Me." I wandered through an alder grove to a black-pebbled beach under a full rising moon and watched Ravenna Woods pound out a primal set that made all my blood course hot and pure. I sang a gospel chorus of assurance ("know it's gonna be alright") on a crisp Saturday morning on a rocky bluff with Elk & Boar and a crowd of hundreds. I walked away saying, "Did that really happen?!"
I got no problem with massive, whirling, impressive music festivals in all shapes and sizes. I have partaken in my fair share. But the difference here was something quieter and more profound.
As my friends and I looked past the sea spray of the wake left by our ferry as we departed Doe Bay, I think we all felt transformed by music. That is not a common universal sentiment, I find, at many music festivals. I think Doe Bay Fest is onto something here, now in its fourth year as a very organic, do-it-yourself community of musicians and music-lovers, getting together to create something beautiful in this world that is all too often hard and cold.
I think we should be finding and creating and pouring ourselves into hundreds of petite music festivals all over the world that feel like this one. As we challenge the norm, maybe there's something in there that will save us.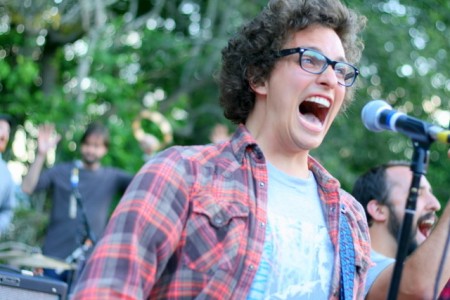 Some new discoveries of Doe Bay 2011:
- Sera Cahoone
- Fly Moon Royalty
- Sean Flinn & the Royal We
- Elk & Boar ("all our hearts just look a bloody mess / they keep us alive, and beat us half to death tonight / but I know we're gonna be alright")
Favorite moments?
- Pickwick because holyshit
- "Find Me In The Air" with The Builders & The Butchers down amidst the crowd with everyone singing along
- That time I sang my first open mic ever, with Josiah from The Head and The Heart (I am now legit)

The thing I am most sorry I missed:
- Lemolo at the yoga studio ("She sees the world the way she wants…" singalong)

FOR THE EYES: My pictures are over on the Fuel/Friends Facebook Page. The stunningly gorgeous pictures (that capture all the little things of the festival far better than I had patience for) of Sarah Jurado are here.

Only 12 months to go 'til the next one.
Doe Bay Doe Bay!

15 comments
15 Comments
Sorry, the comment form is closed at this time.