September 6, 2009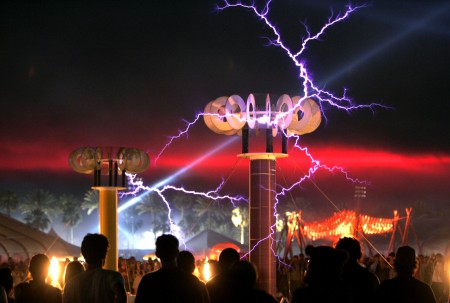 British author Nick Hornby wrote a fascinating piece in today's Guardian about what he's found in mp3 blogs, and the changing ways we seek out and share and find connection with music and other music lovers. In the piece (entitled, "The Thrill Of It All"), Hornby muses:
"Keeping in touch with the things that help us feel alive – music, books, movies, even the theatre, if, mysteriously, you are that way inclined – becomes a battle, and one that many of us lose, as we get older; I don't think enough of our cultural pundits, people who write about that stuff for a living, fully understand this."
When I got to that sentence this morning, I stopped, and immediately re-read it three times, then set down my cup of coffee and thought about it for a good while there in my kitchen. I kinda wanted to make that first part the tagline on my blog, or script it out in flashing pink letters down the left sidebar of the site (my designers would not like this), because it simply summed up what I hope this blog would always be about to me, to you, to everyone that stops by. How do we keep in touch with the things that make us feel alive as we get older, with so many things that jockey for position and jostle to the head of the line to be attended to in the limited hours before we collapse from exhaustion at midnight, one a.m., later?
Lately I've really felt the weight of expectation (mine and others) in regards to my writing here, and struggled to frame and define it in a way that I can embrace moving forward. Since the inception of music blogs, and the year 2005 when many of us moderately-oldtimers started our sites, things have diverged in a dozen different directions. As with any new medium, the rules are written as we go along, and with music blogs, they've been written by each of us simply taking the tack that feels right to us. What I want this site to be — nay, what it really has to be for me to want to continue to be invested in it — is a place for me to keep in touch with some of the tangible, artsy-type things that help me feel alive (so thanks, Nick, for phrasing that in a way that makes it seem so clear and simple).
When I write about music, I don't do it with an eye to the stats or an ear to the ground to bring you the hottest news out there. I figure there are dozens of sites that do the news thing far better than I do, mostly because it's their full-time job, and this for me is something I do "in addition to." I started writing Fuel/Friends to share my voice, and the things that poked me somewhere in the deep red of my heart, or the analytical, word-loving part of my brain. If a revised tack of increasing balance means that I post less often in this season, but I only post things that spark a genuine reaction in me, then that to me is far preferable for where I'm at in my life these days. One thing I've learned is that people will absolutely take as much as you will give, and more. On the one hand, it is flattering. On the other hand, it will wear me to a tiny nub of dessicated exhaustion if I don't set hedges in place.
Ultimately, many things in the life I lead help me to feel alive. I try every day to balance the ones I don't blog much about (namely, my marvelous little boy, my deeply rewarding job, and all my interpersonal relationships that take time and watering and love to grow) with the things that I do sit down to tippety-type about: the songs, the albums, the movies, the books, the art exhibits, the poetry that sends a jolt down my spine and lights me up inside. Lately I've been struggling quite a bit with folks' comments about what they expect to find here, versus what I see this site as being and doing in my little corner of the internet. If you would like to pop in every now and again to share what I'm connecting with, please do. I love having you here. But I hope you don't expect me to meet your news and coolness needs (and comment negatively when I don't) because I promise you, I will let you down.
I feel extraordinarily lucky every day that I get to engage this stream of new music and culture that comes pouring through my mailbox, my inbox, my network of friends. There is so much good stuff out there that I can't envision a time when it will ever dry up, and that feels like a miraculous thing. There was a time when I graduated college and got so wrapped up in grown-up responsibilities that I handily cut most new music out from entering my life, simply from lack of time to find it. Music blogs have meant as much to me as they might mean to you, in that they have singlehandedly revived my excitement about all the new sounds.
Now. Come, let's carry on. There's new music being recorded right now, new sprigs of vibrancy popping up all over the place.
I, for one, can't wait to hear it.

[img via]

38 comments
38 Comments
Sorry, the comment form is closed at this time.