April 18, 2012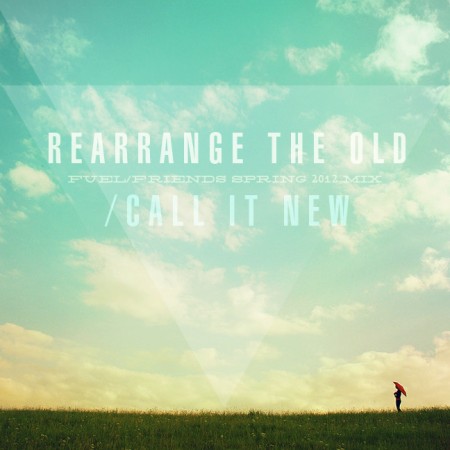 Spring has its own special brand of fidgetiness. I start to feel slowly like there are little invisible crawly things on my skin, in a picnic sort of way, and I get all these ideas about exploring and adventures. Combine that with the calescent glow of things warming up all around us, and I spend a noticeably increased amount of time staring out the window lost in daydreams.
As with any other season for the last few years, I've stitched up a soundtrack of twenty songs that are compelling me in these days, wafting out my opened windows and across the lawn that is slowly turning green. We've all been beaten back a bit this winter, haven't we?
Let's come on back to life.
REARRANGE THE OLD / CALL IT NEW :: THE FUEL/FRIENDS SPRING 2012 MIX
The Scientist (Coldplay) – Willie Nelson
With birds chirping and a slow-build of the world waking up & all of us going back to the start, this Willie Nelson cover is one of the most perfect April songs ever. It's also a Chipotle commercial so, you know, now you want burritos. Sorry.
January White – Sleeping at Last
This is where the title of the mix comes from, and even though it's technically a song for the new year, it also works effervescently well for the rebirth of springtime, exceedingly so. Every word of this song is just exactly where I am in life right now. The future is brighter than any flashback.
Spring Forward – Baobab
This North Carolina band fuses febrile African rhythms with sweet electronica bleepy-boops to make one of the most infectiously catchy songs I've heard in a while.
Don't Stop (Loving Me Now) – Floating Action
Like Andrew said, reggae for the indie rock kids. Tis the season for a little ungainly dancing, with your pale white limbs.
Best Thing For Me – Release the Sunbird
Zach Rogue from Rogue Wave has a new endeavor, a shimmery gorgeous album full of songs that feel like sunrises. He really is one of my favorite musicians for this particular time of year, in all his incarnations.
Hallways – Islands
Cue more ungainly dancing. Pounding piano, handclaps, and strong multi-part vocal harmonies: SOLD.
Ten Years Old – You Won't
One of the most charming songs on an album jam-packed with damn charming songs. After wooing me at SXSW, You Won't is on tour with Alcoholic Faith Mission, and coming to Denver on May 8.
Broken Minds – Northern Youth
Northern Youth is the musical endeavor of one Luke Messimer who all by himself has crafted songs of clattery delight and uber-melodic underpinnings. He's just finished a stint working on the railroads of Arizona (no, really) and is finishing an album — Kickstart him!
Seer – Motopony
There's so much swagger and animalistic growl to this song that it reminds me of feral skinny bears waking up from hibernation and coming out of their caves ready to rip something apart with their teeth. And yes, that is a metaphor.
Old Pine – Ben Howard
My friend Craig played this for me in my car recently, as we rode through the neighboring hamlet of Manitou Springs with all the car windows down, and wow what a gem of a tune. Ben is part of the Mumford-Communion Records family, and I love how this song starts about a thousand sonic miles from where it ends. Also, all this talk about cold sand in sleeping bags is giving me ideas.
Danse Carribe – Andrew Bird
"Here we go mistaking clouds for mountains again / here's the thing that brings the sparrows to the fountains." It's kind of like bringing all the boys to the yard, but with more whistling.
Flowers In Your Hair (EP version) – The Lumineers
And then we grew a little, and romanticized. The Lumineers' new album is one of my soundtracks to this season – and here's an early version of a song off their first self-released little EP, which I think I got at a house concert in Denver. They entered the Billboard charts at #43 last week, after selling 10,000+ copies of their record on debut. That blows my mind. They are on to terrific things.
No Nostalgia – Agesandages
I could listen to the 1:51 mark in this song just over and over and over. No hesitation, no nostalgia. Even before Barry added this to his campaign playlist, I was in love.
Your Own Kite – Isaac Pierce
From that same humble wonderful waking-up EP that gave us "Warm Bruise," Isaac Pierce sings here about kites and I can see them dipping and nosing through the April winds.
Always Spring – I'm From Barcelona
There's a sort of childlike joy in this song, those remembered twitches you'd get in your legs from sitting behind a desk in grade school towards the end of the school year and wanting to just go out and ride your bike hard.
Lakehouse – Of Monsters and Men
Every single song off this entire marvelous debut record could soundtrack spring because it is an explosion of color and jubilance. I just picked this one because I want to go to a lakehouse right now. You try out the other ones on the album and let me know if you come up with something different.
Little Spring – Rocky Votolato
This song is how I found out that Seattle's wonderful Rocky Votolato has a new record that just came out a few weeks ago, and he's coming on tour in the coming months all over god's green earth. He continues to be so gooood.
The Road – Bryan John Appleby
Listening carefully and intentionally to this song with headphones on is closely akin to a resurrection.
Unto the Resplendent – The Mermen
From a compilation of surf music that I have, this song makes you see all sort of wavery watery patterns reflecting off the sand and up under your umbrella in shades of green and blue. It's like floating.
What Am I Living For – Van Morrison
…and this is the slow shuffle back and across the deck, making me think of slow-dancing in the porchlight. Ending the perfect springtime day with some Van Morrison on the record player is just about the finest there is.
ZIP: REARRANGE THE OLD / CALL IT NEW

[album art, as always, by the fabulous Ryan Hollingsworth, who somehow interprets my vague requests ("ummm….like blue? and….spriiinginess?") and nails it every time]

25 comments
25 Comments
Sorry, the comment form is closed at this time.