April 18, 2011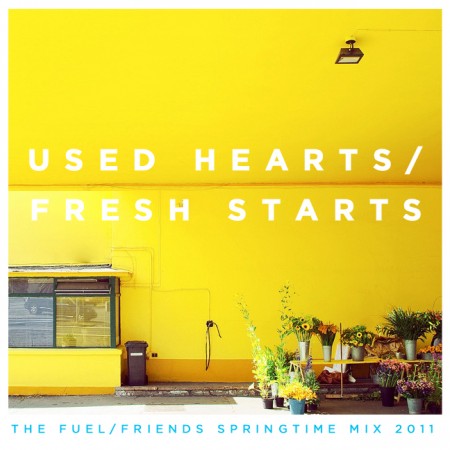 I rode my bike to work this morning against the winds, and noticed a yellow crocus has bloomed in my front yard since I last looked. Pretty soon I will plant my garden, and for the first time in a long time last week I fell asleep with the window opened to the sound of warm rain.
For all the pristine icy clean of winter, the hearth of a fire, the months for introspection, I am thrilled at the thaw. I've been squirreling away songs for this spring mix since January, in an act of hope that warmer days were indeed on the horizon. For most of us, those days are here (in fits and starts, but trying and that's what counts).
I've put together a mix of the fresh bright music that is soundtracking my season. Lots of new stuff, lots of aural joy and hope for regrowth. Let's relish what we have.
USED HEARTS / FRESH STARTS ::
THE FUEL/FRIENDS SPRINGTIME 2011 MIX
Born With A Broken Heart – David Wax Museum
The title for this mix gets its namesake from Boston's David Wax Museum, when they sing here that "some of us come with new hearts; most of us come with used hearts / baby why do you look so sad?." Against a shiny cavalcade of mariachi-worthy brass and handclaps, this is an assertion that our used hearts can do just fine together in the new year.
Look Good In Leather – Cody Chestnutt
Track two here was chosen because every season needs at least one song that you have to dance to whenever it comes on. Cody offers us a secret for the springtime, it seems — looking good in leather (who knew), and superb albums like The Headphone Masterpiece, which I just discovered about nine years late. Heck. So. good.
CPR – Claws Part 2 – Typhoon
The entire new album from Portland's Typhoon may be the most perfect spring soundtrack ever; definitely on heavy rotation this month. This melodic, orchestral song weaves and builds slowly (over handclaps!), telling the story of one who sold everything that they didn't want, and what they couldn't sell they gave away. It's part of why Craigslist is so popular in the springtime (well, that and Missed Connections, obv).
Yer Spring – Hey Rosetta!
This song starts quietly restrained, the "fucking around in the dark," as they sing. It ends with rising up, and the explosive redemption of a full choir, like you walked into a cathedral and they were all singing for you. Reminiscent of fellow Canadians Arcade Fire, but with their own dazzling wash of color and joy.
Crop Circles Plus Legs – Like Pioneers
Clocking in at under two minutes, this primal song from Chicago's Like Pioneers gives me what I want, and then stops before I'm sated. Sometimes it is good to be left hanging.
I'll Be Around (feat Timbaland) – Cee-Lo
Earlier this year, Nick Hornby sent me this song as part of a delectable mix that's way funkier than I claim to be capable of, when left to my own devices. I was walking around Minneapolis when I first listened to the opening lyrics here, and not only did I yelp out loud, I decided it was one of the greatest rhymes/opening lines ever penned. This song is also very good for the seasonal dancing and/or strutting.
Everyday – Vetiver
Simply put, one of the sunniest damn songs ever recorded.
Awake My Soul / Réveille mon âme – Mumford & Sons
Last summer after the splendor of Telluride, I discovered this humble French version of "Awake My Soul," in a blooming Parisian courtyard. Since spring is about awakening, this works for me on the mix, x1000.
Bright Lit Blue Skies – Ariel Pink's Haunted Graffiti
I love how this Ariel Pink song sounds like it could soundtrack a groovy chase scene in a late Sixties episode of Batman. Bam! Pow!
Beautiful Lie – Ivan & Alyosha
Seattle's Ivan & Alyosha wowed me at SXSW, and weave a slightly psychedelic pop sound that reminds me of Cotton Mather, a very good thing.
The World's Greatest (R. Kelly cover) – Bonnie "Prince" Billy
I can't stop listening to this cover lately; I am including it mostly because of the lyric about "I'm that little bit of hope, with my back against the ropes." That's a perfect metaphor for Spring, ain't it?
The Last of the Melting Snow – The Leisure Society
Finally.
Simple Girl – Dale Earnhardt Jr. Jr
Spring needs whistling.
Are You Lightning? – Nada Surf
One of the best things about spring is the colossal thunder and lightning storms. Meteorological craziness, unhinged and beautiful and free. From my favorite Nada Surf album, this gorgeous gem asks "Are you lightning? Cuz I'm waiting." This song (and this album) will forever remind me of the timid, terrifying beauty in new starts.
Cuyahoga (R.E.M. cover) – The Decemberists
The Decemberists take on one of my favorite old R.E.M. songs in the studio at KCRW, an ode to skinned knees and river beds, with a jangle that feels just right.
Tear The Fences Down – Eulogies
From their new album by the same name, Eulogies sing here about "Colorado snow, just a memory." We know it's returning by October, but for now let's focus on the new green growing things.
Oslo Campfire – Port O'Brien
There's a hazy nordic ebb throughout this Port O'Brien song that seemed to fit on this mix. I have a firepit outside my house, and this spring I am dedicated to the idea of using it more often. I love the smell of campfires, even moreso the next morning when my hair still smells like it.
No Time for Dreaming – Charles Bradley
For many of us, the freshness of spring is the perfect time for dreamin'. 62-year-old Brooklyn cook-turned-soul-singer Charles Bradley has no time for that, he sings. Why? Because he's gotta get on up and do his thing. Fair enough, Charles. Totally fair use of springtime.

Golden State – Delta Spirit
This one's in here because a) Delta Spirit's new album rocks and b) it's a piano-pounding homage to my home state, where springtime doesn't just arrive, it explodes. "These roads stretch a thousand miles…" and I want to see all of them.
Early Morning Rain (Gordon Lightfoot) – Paul Weller
Rain, rain, rain. I love everything about it, especially the smell. In Colorado we really only see rain in the springtime and then pretty much every afternoon in July. Weller's voice here is so rich, as he sings of early morning rain, airplanes, travel, and pinging around far from home. After a busy spring of travel, this is a song I've listened to dozens of times in the past weeks, usually while I'm waiting on an airplane to take off.
Snow Is Gone – Josh Ritter
I have to close with this song; have to. It is the quintessential springtime song. There's a live version from 2003 of Josh doing this song on KCRW, and he introduces it by explaining that it is "about how you're rooting for spring as the home team." Sometimes I listen to this in the cold months, just to remind me what's coming, and what's now here.

Winter's over, be my darling.
ZIP: USED HEARTS / FRESH STARTS MIX

[huge thanks to Ryan Hollingsworth for the rad cover design (!), based on an image from Matthias Heiderich]

32 comments
32 Comments »
Leave a comment