May 4, 2011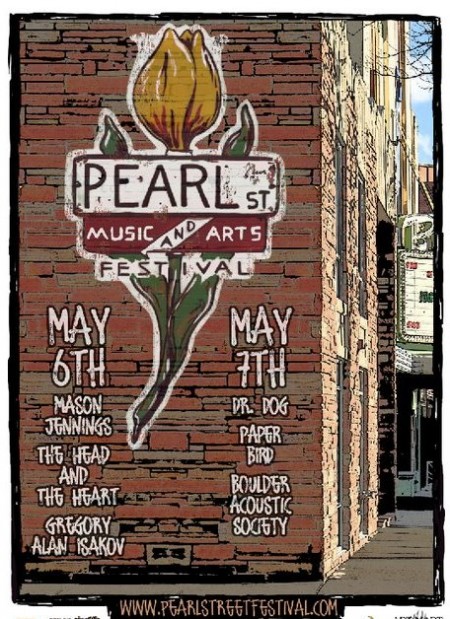 This weekend the inaugural Pearl Street Music Festival embarks on its maiden voyage of awesomeness, taking over its namesake thoroughfare with terrific music and art.
Friday night I am seeing The Lumineers, Ian Cooke, Gregory Alan Isakov, Mason Jennings, and a night-closing set on the marvelous low stage of the Boulder Theater by The Head and The Heart. I couldn't pick a better lineup if I tried. And on Saturday night –for those of you not coming to my house show and if the psychedelic jangle-pop is more your thing– you get Boulder Acoustic Society, the lovely ladies of Paper Bird, and headliners Dr. Dog!
Dr. Dog's Shame, Shame, Shame album is one of my belated favorites of last year, and I just honorarily added this track into my Springtime Mix a few days ago when I was out on a run and it came on so flawlessly in the sun and budding trees. I think it fits best as track #16, after the Cuyahoga cover:
Shadow People – Dr. Dog

WIN A PAIR OF SATURDAY PASSES to see Dr. Dog (and all the other bands/venues) at the Pearl Street Music Festival, by emailing me and expressing your desire. I will pick someone by Thursday! Update: tickets have been given away!

The festival is also cool in the uniquely integrated way it takes advantage of the location right there in the heart of Pearl Street, with all its quirky shops, drum circles, culinary delights, and street musician hippies – bless their souls. With your festival pass, you get discounts on a bunch of rad local shops and restaurants, including things like a free cookie from Boulder Baked, a free glass of wine at Absinthe House, or a free yoga or JiuJitsu class, for those feeling adventurous and not-hungover on Saturday. Hi-YAH!
Tickets are still available for both Friday and Saturday, so check out the schedule, and I will see you Friday night.

2 comments
2 Comments
Sorry, the comment form is closed at this time.