February 5, 2012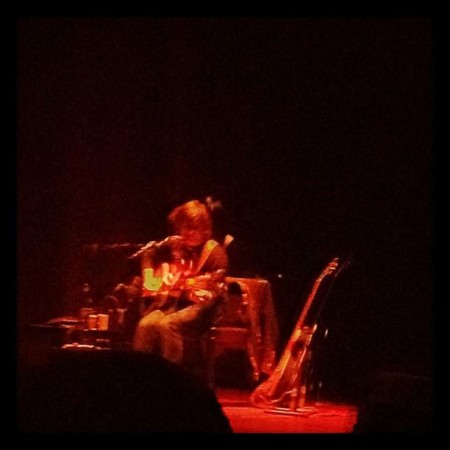 Ryan Adams' music has been woven taut and wooly through so many parts of my life in the last seven years, and writing objectively about his jaw-droppingly good show last night at Denver's Temple Buell Theater is tough. For me it was a parade of ventricle-punching, flushed-cheek-inducing song after song, and it felt like it was just for me. I was off in my own stratosphere.
The show for me was intensely personal, hearing these passionately executed, pure renditions of songs I never really thought I'd get to hear live, and especially not with that much potency and perfection. "Wonderwall"? "Please Do Not Let Me Go" (oh my heart), right into "English Girls Approximately"? He started with "Oh My Sweet Carolina" and encored with a cover of Alice in Chains' "Nutshell"? It was almost too much for this one girl to take. Just like my mix I posted on Friday night, this was a personal thing for me — no detachment, just marveling. Hoping for the best, and –for once– getting it.
I've seen Ryan Adams a handful of other times, in 2006 and 2007, chasing after the magic I heard in all his records that I learned about and then started gorging myself on. When I saw him during those years, he was alternately in a very scattered, rambly place the one time I heard him play acoustic (at San Francisco's Palace of Fine Arts) and long-form electric jammy, the three times with the Cardinals. Every time I've seen him has been worth it, in its own way, but I have never been as satisfied as I was last night. This was something else entirely.
Ryan was focused and amiable, sang passionately with a voice that is sounding the best I've ever heard it, and lavished well-crafted songs on the spoiled crowd for two hours. All told, he sang 24 songs — well, 28 if you count fantastic on-the-spot creations like:
-"Climbing a Tree In My Yellow Pants (What Kind Of Cake Will I Have?)" (a brilliant example of the kind of song he would have written if Prozac had been around when he was a kid)
-"Mr. Cat You Are Soft As Fuck" (a somber piano ballad about his pet he misses at home)
-"Mr. Heckles" (a sweetly soaring, apologetic guitar tune for the man near me who yelled "play the good one!"):
-a final "Thank You" ditty to us all, before launching into "Come Pick Me Up" with harmonica that felt like it stopped hearts in that room. Even his fake songs sounded really good, showcasing just how amazingly effortless it seems for him to write solid songs, even on the fly. Last night he played almost twice as many songs as the only other acoustic set of his I'd seen, in SF.
After the 2006 San Francisco show, I lamented. I worried that I would never get to see my favorite, favorite gorgeous songs live and delivered well from Ryan, since he seemed to be teetering and veering off in another direction. I worried I'd missed the catharsis, the beauty I first fell so hard for. Therefore last night was deeply rewarding, to see him pull all his skill and eloquence together, to wow the (mostly) silent crowd with a cherry-picked setlist of new and old, to make my heart beat so hard I could hear it in my eardrums.
SETLIST, RYAN ADAMS IN DENVER (2/4/12)
Oh My Sweet Carolina
Ashes & Fire
If I Am A Stranger
Dirty Rain
Winding Wheel
Sweet Lil Gal (23rd/1st)
Invisible Riverside
Everybody Knows
Firecracker
Let it Ride
Rescue Blues
Please Do Not Let Me Go
English Girls Approximately
Chains of Love
Two
Lucky Now
Avenues (!!) (Whiskeytown)
New York, New York
Wonderwall (Oasis)
The End
16 Days (Whiskeytown)
Come Pick Me Up
Encore:
Nutshell (Alice in Chains)
When Will You Come Back Home

Ryan rivals Jeff Tweedy for my favorite in the stage banter category. He was relaxed, funny, constantly talking to the audience (in that silent hall some people really ran with that privilege, yelling every blessed thing that flitted into their minds). But the night felt totally unvarnished — reminding me of the very best things about the house concerts we put together (the atmosphere of this one, in particular).
Ryan's voice shone in this setting — the Temple Buell Theater has impeccable acoustics (we could even hear him shifting in his chair) and oozed quiet dignity. As I listened to him hold the whole crowd transfixed, singing these songs that he's sang hundreds and thousands of times, I marveled at how nothing seemed trite. When the song started, he was fully present in the moment and giving it his all. His face scrunched, that slightly pouty lower lip wailed. Even when he took to the piano with his back to me, I could see his face reflected back in the glossy black instrument, brow furrowed. This wasn't a mechanical night.
The warm feeling spreading over me during the show felt closest to the night my friend Andrew and I laid around on the floor of my living room and listened to Heartbreaker on vinyl. You appreciate the space and the sanctuary created to just sit and listen. There was nothing catchy or flashy about last night's show. But it riveted me to my seat and took me off somewhere else completely. It felt like course after course of the perfect-sized small plates kept arriving at the table, each so rich and delicious. I left totally satisfied, glowing, and sated. Everyone around me had huge smiles on their faces, and there was a crackle of ebullience in the air. If I never see Ryan Adams live again, I will be happy after last night.

[photo by my friend Andrew, who was with me and has more megapixels in his phone camera than my retro-mazing Nokia. If you're a visual learner, there's a spot-on drawing here, down to the labels on Ryan's shoes]