February 3, 2012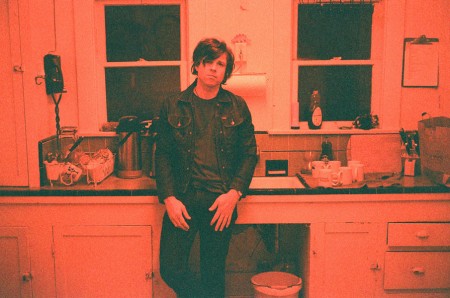 Ryan should come hang out in my kitchen. Photo by David Black.
Ryan Adams is hanging out here in Denver this weekend, snowed in and tweeting his adventures as we collectively pass the time until his postponed show – Saturday, instead of tonight. I'm not good at waiting, so I've decided to compose a fierce rejoinder to my friend John Hendrickson's confidently categorized list over at the Denver Post: "The 11 Best Ryan Adams Songs of the Past 11 Years."
As a person who apparently has 648 Ryan Adams-related songs in my iTunes library, whittling it down to eleven would be like someone picking a favorite child, beer, or ice cream. It cannot be done. However, these are eleven DANG fantastic songs from Ryan Adams that you may possibly have not heard, with which I would like to reply:all to Mr. Hendrickson.
These tunes are on the rare side — most were never officially released on an Adams album, or at least not in the version here. I also love all of them ferociously. They rip a small tear in the surface to reveal the staggering depth and ability Ryan has to pen these songs by the scads, like it just ain't no thang. Just write 'em on up before breakfast.
Here's to six years of collecting them, and hopefully maybe seeing at least one live tomorrow night. Been a long time coming, this show.
11 BEST "OTHER" RYAN ADAMS SONGS
Ghost (demo)
From the Cowboy Technical Sessions, this is my number one favorite Ryan Adams rarity. A raw alt-country gem, this always gets from the opening crisp smack of the drums to the way his voice cracks as he pleads, "I wanted you and I lost." Six words that say so damn much.
Hard Way To Fall (live in Tilburg, 12/1/02)
I got this from a collection we call 'Black Clouds' in nerd fan land, and a more ornate version later appeared on 2005′s Jacksonville City Nights. But this one, oh this one stops me in my tracks. It is a naked, grey, stunning song on the night of its very first live performance. I can hear that aching space, the void in this song. It's a hard thing to love anyone, anyhow.
Monday Night
This one was on the Bloodshot Records compilation Down To The Promised Land, and it makes me just want to roll through your fingers, dusty and loose. Recorded easy in an 8th Street NYC apartment, it's as good as anything he's released officially (like all of these).
The Bar Is A Beautiful Place
If you bought one of the first runs of Gold, you got this song as one of five on the "bonus" disc. My go-to song of choice for a particularly heady and confusing period in my life, from the opening piano chords I feel dizzy. The night is so young. This song cracks it wide open for me every time.
Hey Mrs. Lovely
This song first popped up live in 1999, and was recorded in Nashville in 2000 during the Destroyer sessions — a meandering little jewel of a song about an off-limits married woman that's always made me smile ("and we started playing twister with our tongues / we probably should have scrapped the game and gave ourselves some hugs"). Ryan reinvented it with different lyrics on 2007′s Easy Tiger as the song "These Girls," but this one sticks with me so much more.
Halloween
The tinkly piano cadence in this song reminds me in the best way of "She's A Rainbow" by The Rolling Stones, in that same slightly-off jangle effect. Released only in the UK as a bonus track to Vol. 1 of the Love Is Hell EP, it shows the lithe and playful vocabulary of our protagonist in one of my favorite outings.
The Battle (Caitlin Cary)
This song is a live favorite from the Whiskeytown days, officially released on Caitlin Cary's 2002 record While You Weren't Looking. It is essentially perfect – strong, sure, sad. I am not sure if Ryan wrote it, Caitlin wrote it, or if it was a collaboration, but I do know it brought me at least one bartender friend when it came on in a favorite local spot and I demanded to know whose iPod it was hooked up to the speakers. Because I want to be friends with that guy.
When The Music Don't Come
There's the opening count-off yell across the room in the studio, and then those bluesy chords start in with a swagger and Ryan is off running, his voice in marvelous form here. Almost like the upbeat book-end to my beloved "Hotel Chelsea Nights" (from the same sessions), this song is where the freedom comes and the lightning clouds lift.
Avalanche
This one is easy to find, sitting there solidly as track 9 on my favorite of all the Ryan Adams albums, the sad-bastard gut-punch perfection of Love Is Hell. It was also the first Ryan Adams song I ever heard. My reaction was instant and visceral; I yelled profanity at my car stereo as I sat there parked in the growing twilight outside my old office, under elm trees, spinning a borrowed CD. There's this beautiful hesitation in the piano chords that makes this whole song sound uncertain to me. It found me at the perfect time.
Mega-Superior Gold
This blaze of a song sounds terrific always and forever driving down the wide stretches of California summer highway — a confident tune from the Pinkheart Sessions that is, as it claims, cocked & loaded-ready. I'd also say it is a good song to listen to while getting ready for a date, except for the brilliantly-spat line, "able to do as I'm told, babe," because I don't like being told what to do.
Awww shit … Look who got a website
Ripped from the auto-play music that soundtracked Ryan's site redesign in 2006-ish, this remains sublimely lasers-all-the-time brilliant. It also talks about Ancient Sumerians a lot, and explains to us how his website is updated by witches. I love you, Ryan.
Point, set, match, Denver Post.

22 comments
22 Comments
Sorry, the comment form is closed at this time.