October 1, 2011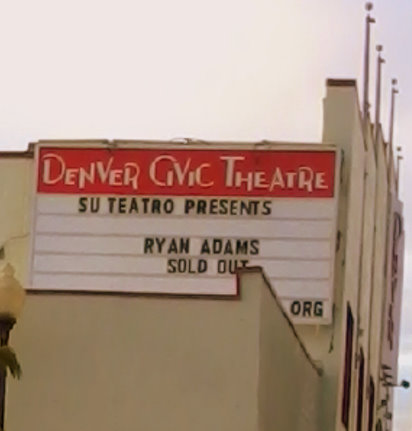 I have been eyes-closed for an hour, blissfully listening to this recording of Ryan Adams at Denver's Civic Theatre two weeks ago. It's been the only sound in my house other than my bare foot tapping on the wood floor and the occasional profanity I've been yelling over how so very very very good this recording is.
When Ryan Adams played that rainy Thursday night, I couldn't go to the show because I was hosting a marvelous candlelit little house concert of my own, but when I saw the setlist I near-doubled over at how flawless it had been. If I could have hand-picked a setlist, and then hand-picked the ways I wanted him to sing the songs (you know how sometimes you know an artist's live catalog so well that you want the melody to go up at that one point in the song, like he did in Sweden that one time but not on the record? yeah, he did that), this recording would be the result. Ryan's voice is perfect. The versions are inspired and heartbreakingly gorgeous.

I feel like using my blockbuster movie announcer voice to say, "If you download ONE Ryan Adams show this year, MAKE IT THIS ONE." Holy shit, so good.
RYAN ADAMS AT DENVER CIVIC THEATRE
SEPTEMBER 15, 2011
- intro -
Oh My Sweet Carolina (oh ho, he STARTED with this?!)
Ashes and Fire
- banter 1 -
My Winding Wheel
- banter 2 -
If I Am A Stranger
Damn, Sam (I Love a Woman That Rains)
Invisible Riverside
Let It Ride
- banter 3 -
Sweet Lil Gal (23rd/1st)
Desire
- banter 4 -
Dirty Rain
Everybody Knows
Please Do Not Let Me Go
Lucky Now
AMY
New York, New York (reinvented. piano. whoa)
Blue Hotel
To Be Young (Is to Be Sad, Is to Be High)
Firecracker
English Girls Approximately (are you kidding me?!)
Carolina Rain
- encore banter -
Jacksonville Skyline
16 Days
This House Is Not For Sale (false start)
This House Is Not For Sale
Rescue Blues (this could be the best version of this song I've EVER heard)
Two
Come Pick Me Up
ZIP: DOWNLOAD THE BEST RYAN ADAMS SHOW I'VE HEARD IN A LONG STINKIN TIME

Thanks to Denver taper SxPxDxCx for making my season. Head over to his blog and thank him too.

33 comments
33 Comments
Sorry, the comment form is closed at this time.