June 28, 2011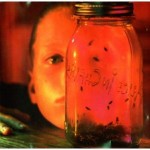 The 1994 Jar of Flies EP from Alice in Chains was a favorite of wee 15-year-old Heather, an alt-country twanged collection of seven songs that melded the moodiness of AIC with occasional pop flourishes (witness "No Excuses"). That album is one of the few from my collection during those high school years that still holds up relatively well (also, my unparalleled artistic skills in drawing the AIC logo in pencil on my binders).
I'm pretty excited to hear Ryan Adams take on "Nutshell" from that EP, the b-side to the tour-only 7″ he is selling on his current European dates. This cover reminds me of some of his haunted 29-era songs. The other side of the single is "Empty Room," a new tune that finds Ryan and wife Mandy Moore harmonizing.
Nutshell (Alice in Chains) – Ryan Adams

This is also not the first time Ryan has taken on the songs of Staley & Co. He's a fan.

5 comments
5 Comments
Sorry, the comment form is closed at this time.