April 24, 2011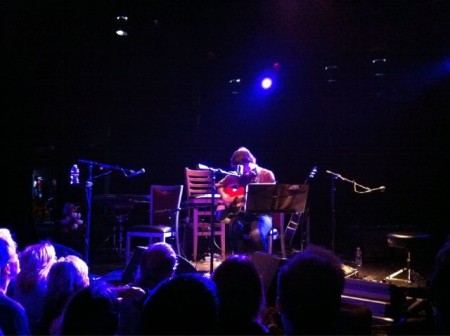 On Thursday night, Ryan Adams showed up unannounced to open for Emmylou Harris at the El Rey Theatre in Los Angeles. The lucky crowd got to hear four completely stunning new songs (including "Dirty Rain") that showcase that heartbreaking sound that I haven't heard from Ryan in a while. The truth remains that his voice is one of the most piercing I know.
He also performed gorgeous versions of two of my more recent favorites: "Blue Hotel" and "Everybody Knows," as well as his duet with Emmylou. The crowd reaction is hilarious; at the beginning of one new song, you can hear a girl asking the name of the artist, and the guy next to her saying, "He said his name is RYAN." Then you hear a guy lean in an say, "Um, that's Ryan Adams."
Ryan is in excellent spirits, joking with Emmylou when she asks the crowd if they managed to keep his appearance a secret ("It was a secret to me!" Ryan says. "I'm glad I was eating across the street!"). Then they launch into one of the most stunning versions of "Oh My Sweet Carolina" that I've ever heard (the song they originally duetted on, on Heartbreaker). That is such a goddamn good song. I always forget how many times in a row I can listen to it — it's a lot.

RYAN ADAMS AT THE EL REY (04/21/11)
Dirty Rain (new)
New untitled #1 (his voice at 1:48 slays me)
New untitled #2
New untitled #3
Blue Hotel
Everybody Knows
Oh My Sweet Carolina (with Emmylou Harris)

Welcome back, Ryan.
These songs are enough to make me wish I was going to Europe this summer:
RYAN ADAMS ACOUSTIC EURO-TOUR 2011
June 07 – Cork, Ireland Opera House
June 08 – Dublin, Ireland Olympia Theatre
June 10 – Stockholm, Sweden Cirkus
June 11 – Oslo, Norway Folketeatret
June 13 – Malmö, Sweden The Consert House
June 14 – Copenhagen, Denmark Koncerhauset
June 16 – Lisbon, Portugal Aula Magna
June 17 – Porto, Portugal Teatro Sa Da Bandeira
June 19 – London, UK Barbican
June 20 – London, UK Barbican
June 22 – Brighton, UK Dome
June 23 – Manchester, UK Bridgewater Hall
June 25 – Glasgow, UK Academy
June 26 – Oxford, UK Oxford New Theatre
June 28 – Amsterdam, Holland Concertgebouw
All ticket information available on PAX-AM.

25 comments
25 Comments »
Leave a comment