March 26, 2009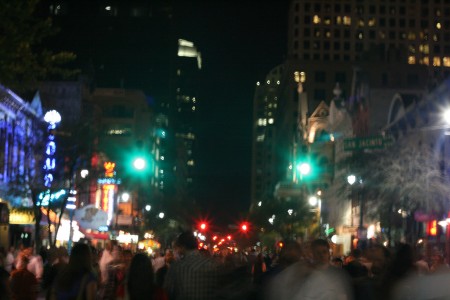 As I start writing this post, I am blazing up I-25 somewhere just outside of El Paso. We're taking the long way home from Austin, and enjoying the time to let the SXSW experience percolate and settle between the yellow divider lines that flick past on the road in an endless stream. Cracker's "Eurotrash Girl" is playing in the radio, and the windows are down as we try and sing along. Life is still really good.
We all stayed in Marfa, Texas last night at the modernistic Thunderbird Hotel, and I highly recommend it if you ever find yourself out thisaway. Pedaling rented cruiser bikes, we stopped at the charmingly-painted El Cheapo Liquor Store (really) and then rode out to an inky black field off Pinto Canyon Road to watch for the famed Marfa lights after midnight. We saw them, holy mackerel. Natural phenomenon or hoax or something in between, it was otherworldy spooky last night. As we rode home in the aching silence of the mid-desert (ok, punctuated often by our laughter), it occurred to me that I don't know when the last time was I'd seen such a brilliantly sparkling number of stars.

These last few days I've been processing the absolute whirlwind of SXSW. I meant to write each day of the festival but somehow that never happened. From the time I stepped foot into those festive, loud streets, I feel like I was sucked into something that was simultaneously thrilling (because I mean really, that much music all in one place?!) and crushingly exhausting at the end of each day. I was too busy to stop and write about it, despite my best of intentions.
Let's start with the bands that knocked my socks off.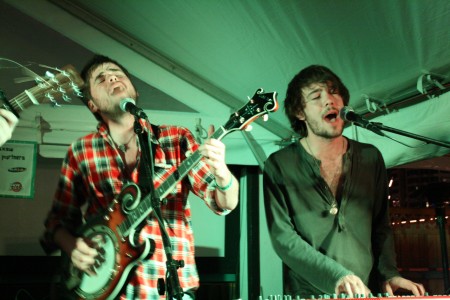 #1 tops: Mumford and Sons on Maggie Mae's Rooftop
One thing I loved and envied about Austin were the number of great open air venues built specifically for live music. You can't beat the earthiness of the fresh humid air against your skin and the scent of the breeze while listening to amazing music, instead of the (mostly) indoor sweaty air I'm used to. Mumford and Sons completely blew us all away in a setting like this, their impassioned sweet harmonies rising perfectly out into the night. Their young faces and world-worn lyrics carry a strong current of hope, all banjos and stomping foot percussion.
This was one of my most anticipated shows and they didn't disappoint. They opened with that new song "Sigh No More" that I posted last week and it absolutely slayed me. The chorus sings of "love will not betray you, dismay or enslave you, it will set you free — be more like the man you were made to be." I felt more like me, only better, when their set spun off at full tilt. Jawdroppingly pure.
Pretty & Nice at Beauty Bar
My SXSW experience started at Beauty Bar (amidst the sparkly pink paint and old-fashioned hairdryer chairs) to the carbonated punk of Boston's Pretty & Nice. Their angular rock keeled off-kilter, in the vein of Guided By Voices, and they looked like they were having a hell of a lot of fun:

The Damnwells at Threadgills
I have loved this band for a few years now, but never seen them live. One time I (briefly) considered driving to Phoenix to catch them at a film festival for their excellent documentary Golden Days, but that plan fizzled. So before my first night got rolling in Austin, I set off walking (and walking) over the river to Threadgills to see them play on an outdoor stage as the sun set. Alex Dezen's voice is even more gorgeous and stirring in real life, and the material off their new album was solid. Here they are doing "Bastard of Midnight":

Starfucker @ Radio Room (MOKB)
You'd have to be dead not to have fun at this band's live show. All clad in the headbands/neon sunglasses/running shorts look, Portland's Starfucker blew the roof off Dodge's MOKB Showcase on Wednesday night. Explaining it to a friend who hadn't heard them, I described their sound as Eighties sheen with real classic pop-song construction underpinning. An intensely fun 45 minutes, and a band I would love to see again.

Elvis Perkins In Dearland @ The Central Presbyterian Church
Midnight redemption.
BLK JKS @ Radio Room
Victim to the same thief that got to MSTRKRFT, South Africa's BLK JKS ("Black Jacks") lost all their vowels and then played the NPR SXSW party. Despite that somewhat humorous confluence of abbreviations, their set was electrifying and elemental and sounded completely fresh — an "unmistakable otherness." Their debut EP is out on the excellent Secretly Canadian label, and their set went like this:
Oh! And in a brilliant apex of total surrealism, I watched this show with Roy from The Office. Jerk to Pam that he is.

Other memorable shows were Voxtrot at Emo's (pretty sure I caught some new stuff in there that sounds very exciting, totally different), the bright swing and soul of Black Joe Lewis & The Honeybears at the Paste Party, and Superdrag closing my festival out with a scorching set of new material at the SPIN Afterparty. Less good was Third Eye Blind. Don't even ask, please. Sometimes you do things that make you feel dirty at SXSW.
Irish-fronted Minneapolis country band Romantica (who once recorded that soul-gasping duet "The Dark" with Ryan Adams) was an early afternoon treat Friday, in a dark and tiny bar across the highway. Australian band The Grates at Vaya Con Tacos were an acrobatic whirl of girl rock and swirling ribbons, and King Khan exploded the Rolling Stone party as expected.
The Mile Hi Fidelity Party fairly packed out The Jackalope with great Denver bands, and as an occasional hot freak myself I was pleased to spend a large chunk of my hours on both Friday and Saturday at the Hot Freaks party, listening to absolutely ravaging bands like Henry Clay People (and some confusingly fun ones like Peelander Z). All the blog showcases I attended were quality.
Oh, and Lady Sovereign looks like the cool difficult girl from junior high that totally lit that one guy's locker on fire and then cut Saturday school.
On a personal music experience level, my favorite moments of the festival came when I saw The Hold Steady twice in one damn day. I was half a foot away from their afternoon show in a little white tent at the Hot Freaks party at the Club de Ville, with a setlist that would make grown THS fans cry. They blew out that tent, and I almost got smacked in the face a few times with their instruments. That one looked and felt like this:
At the end of the night, at the midnight Noise Pop party, I got to see them again next door at the Mohawk, also outdoors with all of us packed in close around the small stage in the warm Texas night. The crowd was appropriately rowdier and the BAC was higher, well, all around. It was like a line from one of their songs: "Let's clutch and kiss and sing and shake…. Tonight, let's try to levitate."
I've seen THS shows several times before but never with a friend who loved them every fervent bit as much as I do, so from the opening notes the two of us screamed out the lyrics at the top of our lungs as the whole crowd became one roiling, pressing, pogoing, diving mass. Everyone had their arms around each other and for about 90 minutes I felt no pain. That was one of the best concert moments of my life. Let this be my annual reminder that we can all be something bigger.

As I stuffed clothes back into my suitcase before checking out of the hotel, I thought about the post-festival depression I always feel when the last notes of music die away, and how much more acute it was after a week of this magnitude. I am overwhelmed with the sheer number of bands I wanted to see and didn't. I keep remembering new ones, too. Ack.
But I am so grateful for the experiences I had, both musical and non, and cannot wait to come back next year. Holy heck.


6 comments
6 Comments
Sorry, the comment form is closed at this time.