March 15, 2009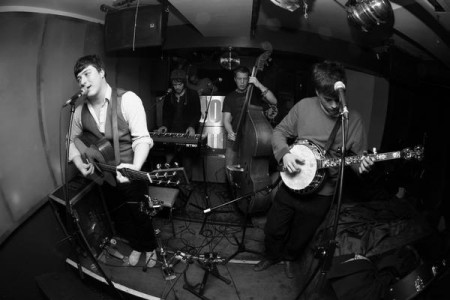 Mumford & Sons sounds like a dignified British jeweler, or perhaps a men's clothing store, but instead they are a potent and wonderful quartet out of London that is poised to shoot to the top (and well-deservedly so).
The first time I listened to their music they reminded me of a blend of two bands I wholeheartedly love — a vibe of Frightened Rabbit meets the Avett Brothers? I hear both the wrenching confessional storytelling in a thick brogue, and the almost-punk ferocity of the bluegrass glimmers. Absolutely fantastic.
A local friend who knows my musical leanings fairly well sent me this recommendation that several readers have also written in passionately to me about, primarily folks from the UK. Mumford & Sons make honest, compelling music that veers towards triumphant even as they chronicle the difficult litany of life's woes. It sounds epic and substantial while simultaneously crawling under my skin with its vulnerability.
Perhaps it's the multiple voices rising together of all the band members, but there is a distinct feeling of kinfolk here, almost like a gospel choir or a Greek chorus, a community vibe that lends some sort of strength through such raw lyrical content. Add some banjo and….I'm totally sold.
I have been listening to this live set pretty much nonstop this weekend.
MUMFORD & SONS
LIVE IN THE BBC ONE STUDIOS
The Cave (ack. love this!!)
Roll Away Your Stone
Sigh No More (otherwise unreleased?)
White Blank Page

You can bet your last sip of Tito's that I'll be seeing these guys in Austin this week. Hurrah! I cannot wait.

16 comments
16 Comments
Sorry, the comment form is closed at this time.