September 6, 2012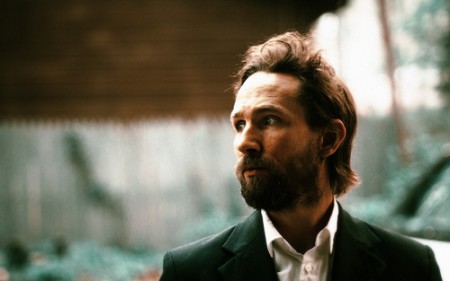 Will Johnson makes smoky music that simmers understatedly, rewarding you for spending time sitting with it. The frontman for Centro-Matic / South San Gabriel, Will's also made music these last few years with Monsters of Folk (with Conor Oberst, M. Ward, and Jim James) as well as that great Woody Guthrie album with Jay Farrar and Jim James earlier this year.
This opening track off Scorpion (his first solo record in eight years) wrestles exquisitely with "what to do with the golden beast of love," but this song is not, as they say, a victory march. The first 90% of this song feels hesitant, and beautifully unsure. It grows slowly. There's something in the emotional map of this song that feels like the end of a soul-sucking workday, when you come home and slip off your shoes and sit there in your stocking feet in a dark living room with a glass of something amber and alcoholic. It's rife with doubt, and little flashes of bliss. It feels like a stumbling relationship. It's only for the very, very last final measures of the song that finally all the pieces come together that have been missing colliding with each other for the whole song — finally, the rhythm clicks double time and the melody falls into that simple ladder step progression that's so satisfying.
The whole song is a weary unfolding of fits and starts. That dopamine-rush of an ending makes me think it was worth it, for just a few measures. And then it's over; unresolved. Damn you, Will Johnson, for leaving things as messy as our real lives.
You Will Be Here, Mine – Will Johnson

Scorpion is out on September 11, a self-release distributed through Thirty Tigers/Undertow Records (Avett Brothers, Dave Bazan, Joe Pug, Langhorne Slim).
You can listen to the entire album now over on his site. I honestly haven't been able to get over this first track, so I haven't even listened to the whole thing yet. One of these days I'll stop wanting to click "play again" on Track 1. Not today.

WILL JOHNSON FALL TOUR
Sept 11 – Waterloo Records in-store, Austin, TX
Sept 14 – Waverly, AL @ Living Room Show
Sept 15 – Birmingham, AL @ Living Room Show
Sept 16 – Atlanta, GA @ Living Room Show
Sept 17 – Athens, GA @ Living Room Show
Sept 18 – Saxapahaw, NC @ Haw River Ballroom
Sept 19 – Baltimore, MD @ Living Room Show
Sept 21 – Philadelphia @ Living Room Show
Sept 22 – Brooklyn, NY @ Living Room Show
Sept 23 – NYC @ Mercury Lounge
Sept 24 – Boston, MA @ Living Room Show
Sept 25 – Montpelier VT @ Living Room Show
Sept 26 – Buffalo, NY @ Living Room Show
Sept 27 – Cleveland, OH @ Living Room Show
Sept 28 – Chicago, IL @ Schuba's
Sept 29 – Saint Louis @ Off Broadway
Oct 2 – Dallas, TX @ Texas Theatre
Oct 3 – Houston, TX @ Fitzgerald's
Oct 4 – Austin, TX @ Cactus Cafe
[image credit Matt Pence]