January 28, 2013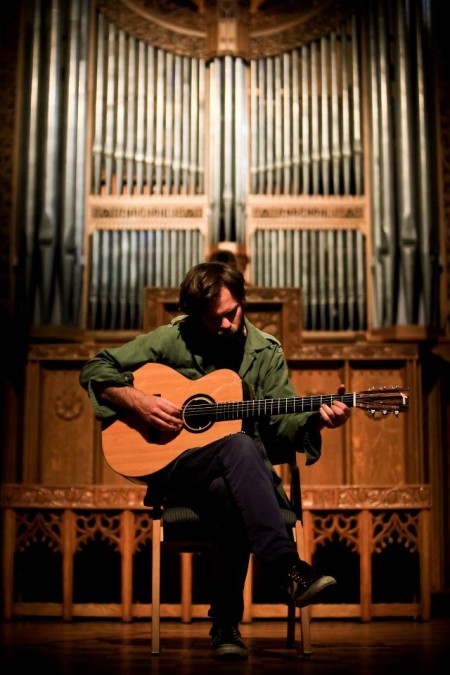 There is something downright mesmerizing in the understated, persistent songs of Neil Halstead, former frontman of the bands Slowdive and Mojave 3 and pioneer of the shoegaze sound in England. I keep putting this chapel session on to play at nighttime, to quiet my racing mind like a hypnotist's gold swinging watch in a darkened study somewhere, or like a metronome that whispers instead of clacks.
On the day we recorded this, an eddy amidst the rush of the workday all around us, Neil amiably walked up the wide central aisle of Shove Chapel with his guitar case in his hand and a tour manager who was doubling as a piano player on the gorgeous Steinway. Neil slowly wove a resonant, dappled set for us, with two songs from his rich new album Palindrome Hunches (2012, Brushfire Records). When reviewers talk about cozy sweaters and thoughtfulness in this album, they're right, but that's not to say that it is sleepy or at all boring. Rather, it feels quietly satisfying.
After the new songs, Neil turned to me and asked "Is it okay if I do a Damien Jurado cover?" I nearly choked. "Um, yeah, sure I guess that would be okay," I replied. The results are as completely stunning as you would imagine. He also played a song I specifically requested that afternoon, "See You on Rooftops" – an older tune from 2002′s Sleeping on Roads (4AD), and one that he hadn't played in so long that he had to remember how it went.
The whole session felt, to me, like a reawakening.

FUEL/FRIENDS CHAPEL SESSION: NEIL HALSTEAD
OCTOBER 17, 2012

ZIP: NEIL HALSTEAD CHAPEL SESSION
[wonderful photos & video by Kevin Ihle, all audio production as usual by the superheroes at Blank Tape Records]