October 21, 2009
This Saturday night in Denver will mark the final show of my favorite Colorado musical collective, the vibrant Everything Absent Or Distorted. Drawing together a minimum of eight members (but often more), this band has burst with explosive melodies and the potential to fill –literally and figuratively– every stage they've occupied, from the local to national level, and beyond. With their electric guitars, banjos, pianos, trombones, cellos, and pots & pans, they have given me an immense amount of joy and catharsis in the last two years — so much so that I put their album The Great Collapse into my top ten last year and still am not tired of listening to them, not at all. Not even a little bit.
If you live anywhere within a two-hour driving distance to Denver's Bluebird Theater, I urge you to come out this Saturday night for their glorious, visceral, explosive last hurrah. Everyone is requested to wear their "best Sunday whites," and I've cobbled together a fairly decent assemblage. There is something that feels a bit decadent, eccentric, even defiant, about wearing all white in late October. We'll be a radiant crowd even though I will likely get misty. This is a band I've loved, and whom I'll miss.
They announced in July the plans to pull up stakes and head off in separate directions, right before they played an immensely powerful set at the seminal Denver music festival Underground Music Showcase (the SXSW of our fair city).
As I wrote this summer, "From the first time I saw EAOD live, I completely understood what they were trying to do with their music, because it's the same way it hits me. To the guys in EAOD, music is something cathartic, something beautiful, and something more immense than could ever be captured on record. Every show was a tightly-wound, hot-blooded tour de force of musical intensity. It was never about perfection, it was about grabbing your instrument(s), climbing on your friend's back, and singing marvelously literate lyrics about what this life can feel like."
As their song "Closer Than You Think" opens, they muse: "Every time I close my eyes, I think about the ones that died, who had a book but never wrote it down, who had a song but never made a sound…."
I'm so thankful they made a sound, many of them.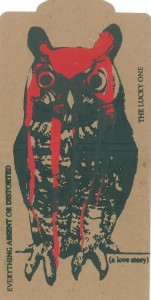 The band is finishing things off with one last 4-song EP called The Lucky One – giving away 100 hard copies for free at the show (with that hand-printed cover art on the left, by Denver artist Jane Rabadi) and then giving it away digitally after Saturday.
As they write in the liner notes for the new EP, "It is not the last ditch effort of a dying band; it's just the last thing we have to say right now." I'll miss what they have to say.
Closer Than You Think, Part Three
(from the new EP)
UPDATE: Download the full EP here.

See you Saturday.

FINAL SHOW: Everything Absent or Distorted
The Bluebird Theatre, Saturday, Oct 24th @ 9pm
$10.25 – $12.00, 16+
with The Knew & Jim McTurnan and the Kids That Killed The Man

Closer Than You Think, Part One
(earlier version, from 2006′s Soft Civil War)
Gospel of Slight Rust
("if you come back you can always find us"…)