November 30, 2009
Glen Hansard and Marketa Irglova represent everything that the hot & honest parts of me love the most about music. As The Swell Season, they are completely humble and engaging, they passionately perform their craft with every ounce of their souls, and they sound damn lovely the way their voices blend together. Somehow it has taken me until now to see them live, and last night at a sold-out show in Denver, I wondered what had taken me so long.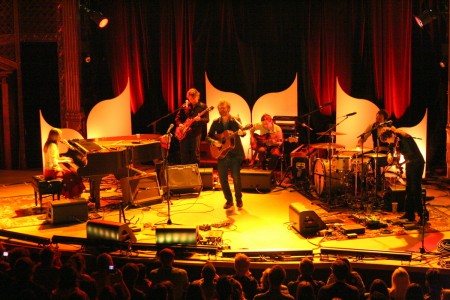 It felt alternately like a candlelight church service or a campfire at the Ogden last night, with pin-drop silence when it was required and all-encompassing enthusiasm every time Glen invited us to sing along. "All you have to do is sing this simple melody," he instructed us with a wide smile from behind his guitar. "I don't care if you mean it or not, just sing it. Well no, actually," he reconsidered — "Don't sing it if you don't mean it."
But instructions aside — when all of our voices started to rise together to the melody of "Falling Slowly" or "When Your Mind's Made Up," I think everyone in the room had to have been convinced. I've sang along at the top of my lungs to "Falling Slowly" in my car dozens (if not hundreds) of times, and I gotta say — it was catharsis at its best, to throw my head back with 950 other fans and let all those harmonies soar out into the darkness. It was one of the most honest and wonderful concerts I've seen in years. You get the sense that they are doing this for all the right reasons, and their fans respond warmly to that.
There is an undercurrent of hope in their new material that they played last night, and as much as I loved being melancholy and drowning in longing through their past songs, I too feel I am entering a period of hope and some wholeness, and songs like this new marvelously gospel-infused rendition are exactly what resonates with me:
A High Hope (new song, live in LA) – The Swell Season

Maybe when our hearts have realigned
maybe when we've both had some time
I'm gonna see you there
Maybe when we're both old and wise
maybe when our hearts have had some time
I'm gonna see you there
where the good times go
where you are forever young…

The crowd singing here with all they've got, the woman in the crowd with the virtuoso voice ringing majestically over the crowd — this must be how ascension feels, no other way to put it.
All of my pictures are up on the Denver Post's Reverb site as a slide show, if you would like to see more. What a gorgeous night, what a spark in my heart.