April 8, 2009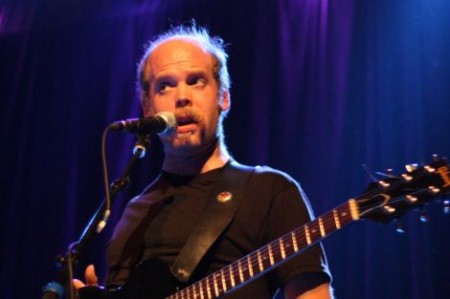 Shortly after touching down in Denver on Sunday night after my jaunt to Chicago, I jigged my way over to the Bluebird Theater to see the Bonnie Prince Billy show. Will Oldham sold out that venue (something that surprised many last-minute arrivals), and put on a sublime show that was heavier on the rollicking country vibe than his previous elegantly hushed songwriting. He played with a full backing band, including the arresting violinist/vocalist Cheyenne Mize with a huge voice — their duets together were just gorgeous.
I shot pictures for the Denver Post's Reverb site, so head on over to read John Moore's sharp review, and take a look if you've always wanted to see Will in his long johns (he took his pants off on stage, saying he didn't expect it to be so damn hot).
The duet with Mize on "The Girl In Me" (available on the Louisville Is For Lovers compilation) was particularly noteworthy, and looked something like this:
Bonnie Prince Billy's latest album Beware is out now on Drag City.
And speaking of concert photos — I've added the Mountain Goats/John Vanderslice ones from last week to the original review.

4 comments
4 Comments
Sorry, the comment form is closed at this time.