July 23, 2009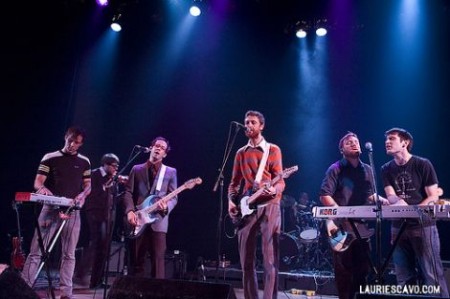 My favorite Denver band Everything Absent or Distorted (a top pick for 2008, and perhaps you heard me rave about them on NPR) announced this week that they are pulling up the tent pegs for some pasture of a different variety, and calling it quits as a band.
From the first time I saw EAOD live, I completely understood what they were trying to do with their music, because it's the same way it hits me. To the guys in EAOD, music is something cathartic, something beautiful, and something more immense than could ever be captured on record. Every show was a tightly-wound, hot-blooded tour de force of musical intensity. It was never about perfection, it was about grabbing your instrument(s), climbing on your friend's back, and singing marvelously literate lyrics about what this life can feel like.
As they've written in their obituary press release:
In the past five years, we have gorged ourselves on music—at times, coming dangerously close to forgetting that music is not our life, but a thing we do to get on with it. But life, like music, is a jealous lover and does not relent its grip too easily. And so here, between life's calloused and cut palms, we resign ourselves to it.

We have done what we have done mostly because we had no other choice. We put music to our own struggles against small wars not so that we could win them, but so that we could keep fighting. Winning would mean there would be no more need to sing, but a good fight always needs a song.
EAOD will have a new 4-song EP of music to give away before they go. It's called The Lucky Ones, and they have given Fuel/Friends readers the first sneak preview. They'll give the full EP away this Fall.
I have to admit, this song made me choke up because of its honesty.
Monday morning, give us our razors
Feel like dyin', but we'll just shave
and go on
and go on…
Closer Than You Think, Part 3 – Everything Absent or Distorted
That is an effing beautiful song.


This weekend at the UMS, Everything Absent or Distorted will play two of their last shows (the final final one is rumored to be sometime this Fall, TBD). Come TONIGHT to the Hi-Dive at 11pm to see them, or at 7pm Sunday in the Goodwill Parking Lot.
My loose UMS schedule can be seen over on my Gigbot page. I'll try to make 50% of these. I can get (pleasantly, thoroughly) distracted at the wonderfully dizzying scene of the UMS.
See you this weekend on South Broadway.

[top photo by Laurie Scavo]

9 comments
9 Comments »
Leave a comment