March 22, 2009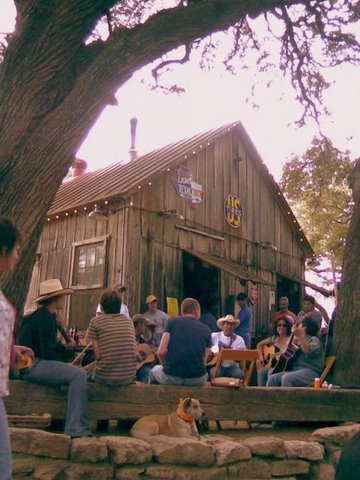 "Six miles east of Fredericksburg on highway 290, turn south onto FM 1376. Go four miles. Off FM 1376 to your right at the South Grape Creek Bridge. Luckenbach."
After breakfast at the Moonshine of green chile & cheese grits, I left the loud and wonderful music mecca of Austin this afternoon and we pulled onto the highway in a dusty red Jeep. Our destination tonight was Luckenbach, Texas. I told some Texans that I was heading there on the drive home and they looked at me with some confusion, but as my friend succinctly stated it in the golden Texas sunlight, "What Haight-Ashbury is to rock music, Luckenbach is to country."
On the road, after listening to the Waylon Jennings classic about our destination, we put this story on the stereo:
The Story of The Ballad of The Devil's Backbone Tavern – Todd Snider
The Ballad of The Devil's Backbone Tavern – Todd Snider

We pulled off the asphalt and bumped onto a dusty road curving gracefully towards some small buildings, an old general store and a dance hall. I saw a longhorn steer and evermore folks in cowboy hats. An older man tipped his hat at me as I walked by, and we got some cold longnecks from the outdoor bar. I wandered into the general store to look at the yellowing prints on the wall.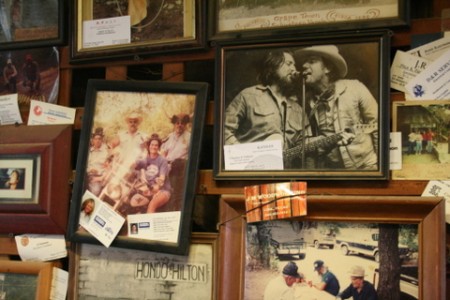 Following the sound of rising harmonies caught on the breeze, we went and sat beside a circle of musicians on tree-stump stools in the dappled sun. Under the live oak trees, the music ebbed and flowed between them as they sang sweet songs of the South and of the rivers and of love lost. The circle was fluid as folks would join and leave the circle, walking over to get a cold Lone Star or scratch the dog, coming back to pick up their well-worn instrument. There was an air of eager anticipation as one musician would pluck and strum their way into a new song, the others watching intently, nodding and then figuring out the melody to join in with their own contribution.
Punctuated by encouraging calls of, "Tell us all about it!" and "Yeah you do," they took their mandolins and guitars, their banjos and gut buckets and just made sublime music in the Sunday twilight.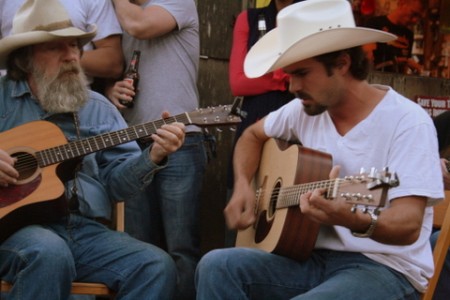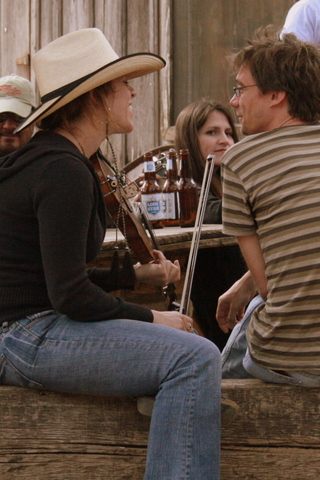 I want to start a music festival there. We'll get the Avetts to headline, we'll bring a bunch of great indie bands who know their roots, and we'll two-step til sunrise. I learned how to two-step today under the globe lights, as the sun set. Let's go to Luckenbach, Texas.
Today was a good day.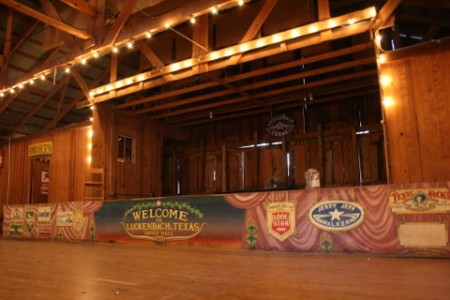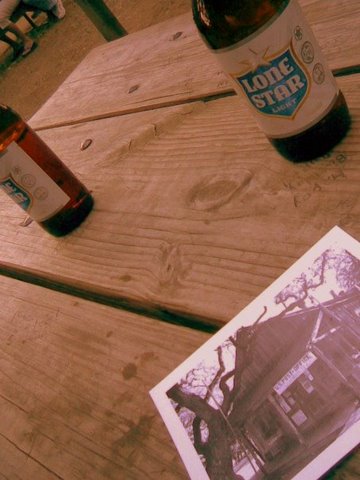 8 comments
8 Comments
Sorry, the comment form is closed at this time.