October 7, 2013
"Life is wide," Will Johnson told me, long past midnight at my kitchen table on a work night, a row of empty bottles between us. His eyes flash brightly as he listens to my stories, and I to his. My heart was ground-up meat the night he was in town, and even though my stories had nothing to do with anyone he knew, he elbowed his way into some truths with me as protectively as if he'd known me for years. And indeed, I felt as if he had.
This chapel session similarly feels summoned from some sort of ether that I completely understand, although the songs and the stories are all his. There's a shining acuity, and this puncture-wound freshness in lyrics like, "and you were laughing that transparent laugh of one with a real broke-ass heart." Will writes amazing, desolate songs with so much space and thought in them. They are the kinds of torn and weary homilies that I love from folks like Townes Van Zandt. His voice echoes off all the walls in the church and sinks straight into the cracks in me.
If you haven't met Will yet, he fronts the bands Centro-matic and South San Gabriel, and also has been part of some rad collaboration projects that I love: Monsters of Folk (with Conor Oberst, Jim James, and M. Ward), the smoky duet record he did with Jason Molina, and that Woody Guthrie New Multitudes record with Jay Farrar, Jim James, and Anders Parker last year. He is a gem, among the best. And he is on the road down the West Coast next week with Dave Bazan, in their new musical project together, Overseas.

"Life is wide."
I wrote that on the inside of a discarded bottle cap the next day as I cleaned up. If it's long in duration, it's wide in possibility, in unexpected connection.
That bottle cap is sitting on my bookshelf, as a reminder.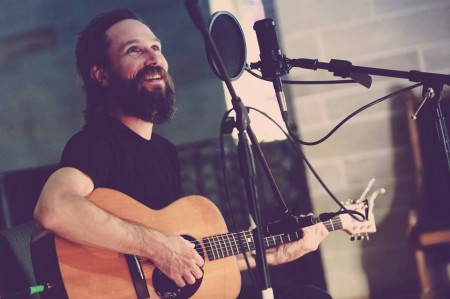 FUEL/FRIENDS CHAPEL SESSION #26: WILL JOHNSON
April 24, 2013 – Shove Chapel, Colorado Springs
You Will Be Here, Mine
This is the best version of this song I have ever heard.
There's no way to say this without sounding maudlin, but here it is: this song makes me reflexively get a lump in my throat, as sure as a rubber mallet on the kneecap makes you kick. There is something in that stairstep progression of melody at the end of each line that just flat-out breaks my heart on this extremely primal level of sadness that is different from a rational cognitive sadness.
I've been kind of knocked flat by the brilliantly unresolved quality of this song, off his latest album Scorpion, since I first heard it.


Little Raider
I don't know who the protagonist of this story is, but after hearing all the layers that Will describes seeing about who she is, I absolutely feel I know her, broke-ass heart and all.


I, The Kite
This is the best version of this song I have ever heard.
I requested that he play this old one, which was written about Will's divorce and soundtracked mine, pulverizing me the first time I heard it in 2008. If we're on the subject of best-worsts, I think the line about "and we tried innocence and we tried formaldehyde / in the end, you were left with the strings and I, the kite" is probably one of the most bitingly flawless collection of words to ever sung describe the end of a relationship. But there's also something I can't quite articulate in how purely and clearly-resonant he sings those words out into the room.


Going Back Song (Baptist Generals)
So this song first baffled me, because it seems really simple. When Will first launched into this cover by these Denton, TX/Sub Pop Records friends of his, it kinda sounded like a grocery list, a forgetful Post-it note to oneself: has anybody seen my bag?
But then you realize that it is a song about leaving.
It's a song about the sidelong glance and the slow shuffle along the wall, towards the door. It is completely soaked in regret, about no longer being clean, about being cross but wanting someone you love to know that they are not the reason why.
You've had a bag packed all the time, waiting.
ZIP FILE: WILL JOHNSON CHAPEL SESSION

[more pics from the session are on the Fuel/Friends Facebook page, all taken by Kevin Ihle. Audio magic, as always, by the fellas at Blank Tape Records.]
Next chapel session: DAWES.