January 15, 2009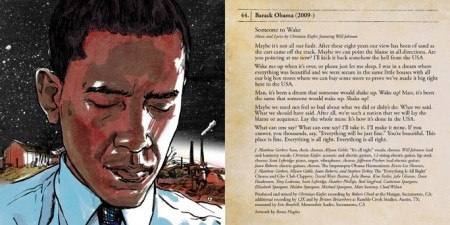 There hasn't really been an indie rock smash hit song about U.S. presidencies since … well, ever as far as I know. The guys over at iGIF are nerds (nerds I love, at that) who have a series called History Mixery which always titillates me, but other than that no one's covering this material, man.
No one that is except the trio of J. Matthew Gerken, Christian Kiefer, and Jefferson Pitcher. These songwriters decided to write one tune about each U.S. president in a concerted effort during February Album Writing Month in 2006, emerging from the history book stacks with piles of demos.
These songs had fantastic titles like, "John Adams (Armed with Only Wit and the Vigor of the U.S. Navy)" and my favorite "William Howard Taft (There Was No Longer Use to Hide the Fact That It Was Gout)."
Obama clearly needs his own song to add to this effort, so with the help of Will Johnson (of Centro-matic) they've added the following  — a truly lovely tune, but then again, I so adore Will's marvelously aching voice:
Obama (Someone To Wake) – Will Johnson / Christian Kiefer
Of Great And Mortal Men (43 Songs for 43 U.S. Presidencies) is available via the Standard Recording Company. You can see the full tracklisting of the physical album here; it includes artists like These United States, Denison Witmer, Rosie Thomas, Mark Kozelek and Califone:
Andrew Jackson (Benevolence) – featuring Califone
And for those living in our nation's capital during these exciting times, the new Will Johnson/Obama song will be unveiled live this Saturday the 17th at Washington DC's Sixth and I Historic Synagogue in a big concert featuring many of the artists on the album, and more.

10 comments
10 Comments
Sorry, the comment form is closed at this time.