March 7, 2009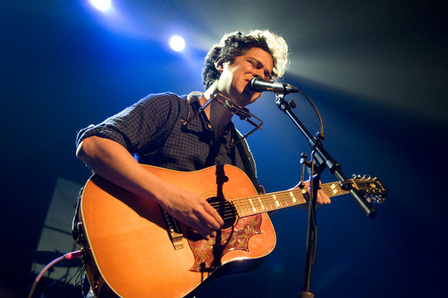 Wednesday night while I was being wowed by Murder By Death (more on that in a minute), I had two friends separately attending the very sold-out M. Ward show at the Henry Fonda Music Box in Los Angeles. In between enthusiastic texts telling me about how awesome the show was, these two friends who hadn't yet met tried to find each other to say hello, with me as an intermediary. "tell her i have close-cropped hair, a goatee, and a black jacket," he helpfully supplied. "that is EVERY GUY HERE," she replied. I found this amusing. They never found each other.
But Zooey Deschanel came out to both introduce the night and sing four songs with Ward, Gillian Welch and David Rawlings played near the end of the set, and opening band Delta Spirit also shared the stage. Talk about star-studded — it was a hootenanny.
UPDATE: "M. Ward's management does not allow unauthorized fan recordings of his shows." Files removed by request. That's unfortunate.
M. WARD
MARCH 4th, 2009
MUSIC BOX @ HENRY FONDA THEATER
Hold Time
One Hundred Million Years
Paul's Song
Lullaby & Exile
Chinese Translation
Epistemology
Requiem
Fisher of Men
Post-War
Poison Cup
O, Lonesome Me
Rag Medley
Zooey's intro / You Really Got a Hold on Me
Change Is Hard (with Zooey)
Rave On (with Zooey)
Never Had Nobody Like You (with Zooey)
Fahey
Vincent O'Brien
Roll Over Beethoven (cover)
Big Boat
Encore Break
Gillian Welch / David Rawlings Intro
To Save Me
Magic Trick

[thanks to Philip for emailing me his taping of the show (!!),
photo by Andrew Youssef for Stereogum]