October 1, 2009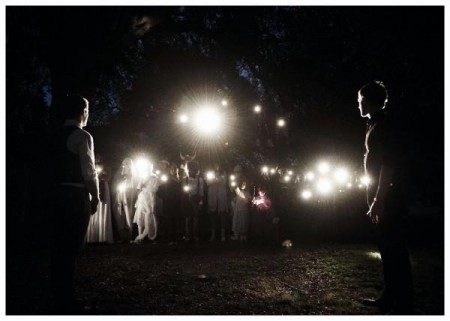 Today is somehow already October, and I'm suddenly in a fairly spooky mood, or at least the kind of mood that lets me appreciate songs about zombies and being alone in the dark at night. I'd heard of but not listened to California's Dead Man's Bones until today, but when I read that it is a project between actor Ryan Gosling, Zach Shields, and the Silverlake Conservatory of Music Children's Choir, I clicked the play arrow immediately.
There are a few things I am a sucker for, and any sort of choir in a song (preferably gospel or children's, but gay men's choirs and the elderly are also accepted) will get me almost every time. In addition to this, I will admit to a deeply heartfelt affinity for Gosling and his Notebook glory (he made her a studio!). In fact, if I can finish packing soon for my for California jaunt (college roommate getting married this weekend!), I just might plunk myself on the couch to celebrate what Gosling has added to my Hallow-month.
The idea sounds ridiculous, but there is a vivacity and quirky doo-wop joy on these tracks that can perk up your ears any time, not just in the weeks around Halloween. It's got a little Murder By Death gothic current, mixed with the chaos of your favorite large Canadian collective, and some playground claps and yells just to get your blood flowing. As Chad wrote to first grab my ear, "I'm not going to stop talking about how much I love this song until all of you start paying it some serious attention … it's Ryan Gosling and a kids' choir singing pop songs all together about monsters and whatnot and it still doesn't suck. In fact, it's brilliant."
…and I'm already singing along.

My Body's A Zombie For You – Dead Man's Bones

The full Dead Man's Bones album is streaming now on MySpace, and is out Tuesday on Anti- Records.