March 13, 2009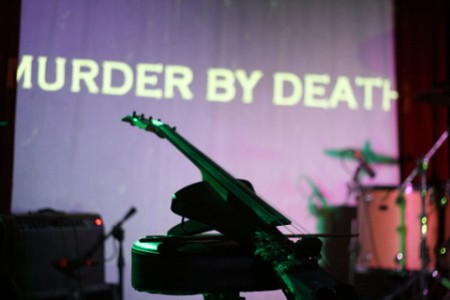 Sounds like a grim endeavor, what with all the murder and dying, but last week I drove to the Black Sheep in Colorado Springs (a mere five minutes from my house, and a pleasant change from my normal hour-commute to Denver shows) to see the highly-recommended Murder By Death. This band from Indiana blends an elegant Gothic Americana with some serious ghosts of the Man in Black walking amongst us. They delivered a powerful, jaw-dropping set that churned up a gut punch.
In the way that the color black absorbs all the other colors, the music of Murder By Death is dark but also displays lyrical depth and rich musical beauty. They are definitely a young band, with the defiance of punk and the wilderness of the outlaw west, but also channeling the spirit of past generations. During their whole set, the screen across the stage flickered with old movies, from Nosferatu-type silent hauntings to Clint Eastwood laying dying the desert, lips parched, their music the only soundtrack. It became eerie, and suited their mood perfectly.
Comin' Home – Murder By Death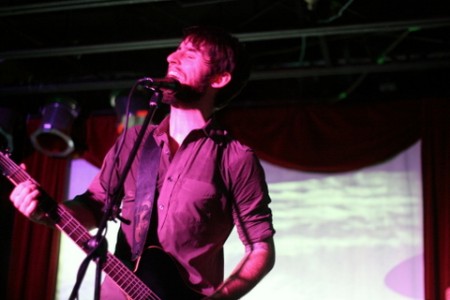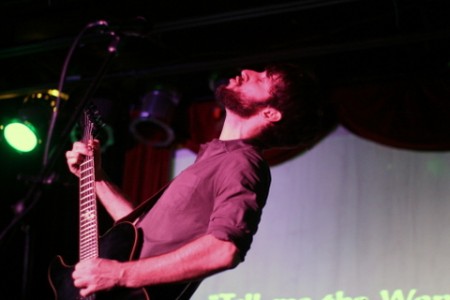 The stirring and ferocious baritone of Adam Turla reminds me of the heft behind songwriters like Nick Cave and, of course, Johnny Cash. Turla is tall, bearded and lanky, and too young to have been friends with Cash but the kind of guy I think he would have really liked nonetheless. Once Turla started talking more and telling stories, he galvanized the crowd through his engaging wit. He regaled us with a tale of the last time they played Aspen, how one older cougar-lady sipping white wine kept hitting on every member of the band and asking them to get a drink with her at the bar. And then John Oates (yep, that one) came and reclaimed her. It was Amy Oates, his wife. Whoops.
The venue was packed with an immense variety of folks, from the 16+ crowd (who were surprisingly enthusiastic about a band with such storied leanings) to big dudes holding lighters up to punks and rockabilly girls — and plenty of average twenty-somethings like me, all singing along and pumping their fists at the choruses. This is a band with an absolutely riveting live presence, one of the best I've seen in a long time. My chest thudded in time with their beats and their bass lines. They've built up quite a following over the years, both on headlining tours (like the current one) and opening for everyone from Lucero, Interpol, Cursive, Weakerthans, and William Elliott Whitmore.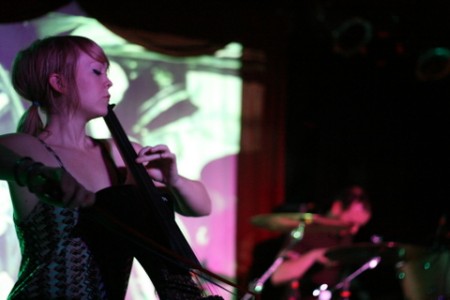 Cellist Sarah Balliet was fascinating to watch, pouring herself into her heart-stoppingly sad solos. Her instrument really anchors and defines this whole band for me (along with the piano of Vincent Edwards), giving it an elegiac undercurrent of sadness, but also wailing and rocking when she'd go to town. It proved to me how certain forms of music from America's history never lose their punch or their allure, and how smart kids are still pushing its boundaries and making it their own.


Watch: "Fuego!" from this show -
BUY: Red of Tooth and Claw (Vagrant, 2008)

MURDER BY DEATH TOUR DATES — go!!!!
Mar 20 – Low Key Arts Hot Springs, AR
Mar 21 – Hi-Tone Cafe Memphis, TN
Mar 27 – 7minus7 Alternative Artists Alliance, St. Thomas, US Virgin Islands
Mar 28 – Larry's Landing St John, US Virgin Islands
Mar 30 – Rhumblines St. John, US Virgin Islands
Apr 2 – The Beach Bar St. John, US Virgin Islands
Apr 15 – Blind Pig Ann Arbor, MI (superparty fantastico celebrational 1000th show!!!)
Apr 16 – Legendary Horseshoe Tavern Toronto, Ontario
Apr 17 – Petit Campus Montreal, Quebec
Apr 18 – Maverick's Ottawa, Ontario
Apr 19 – Call The Office London, Ontario
Apr 20 – Otto's Nightclub Dekalb, IL
Apr 21 – Triple Rock Minneapolis, MN
Apr 22 – The Aquarium Fargo, North Dakota
Apr 23 – Royal Albert Hotel Winnipeg, Manitoba
Apr 24 – The Distrikt Regina, Saskatchewan
Apr 25 – Amigo's Saskatoon, Saskatchewan
Apr 26 – The Starlite Room Edmonton, Alberta
Apr 27 – Palamino Smokehouse Calgary, Alberta
Apr 29 – The Bourbon Vancouver, British Columbia
May 1 – Railyard Ale House Billings, Montana
May 2 – American Legion Casper, Wyoming
May 4 – Nutty's North Sioux Falls, South Dakota
May 6 – Mojo's Columbia, Missouri
May 7 – Off Broadway Nightclub Saint Louis, Missouri
May 8- Muscatatuck Park Jennings County, Indiana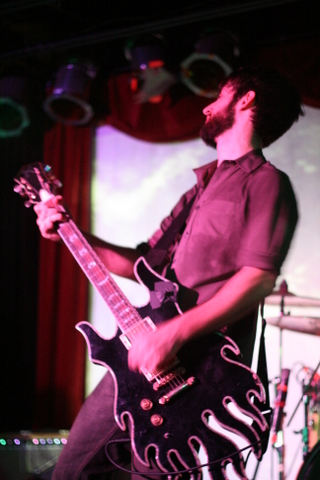 5 comments
5 Comments
Sorry, the comment form is closed at this time.