September 19, 2009
The third annual Monolith Festival took over scenic Red Rocks in Colorado last weekend, with one of the most pleasantly-varied assortment of music yet, and I found much to entertain my ears. Perhaps I was more motivated this year than last, but despite the rain Saturday and drizzles on Sunday, I constantly found myself making tough choices between acts slotted simultaneously that I wanted to see. It's good to have more than enough choices at a festival, running back and forth to catch the next buzzed-about act — and I certainly did at Monolith this year, along with lots of other folks.
Having just come from the massively spread-out Outside Lands Festival in San Francisco's Golden Gate Park, I was struck by how small and intimate this festival still feels. Despite being packed in with several thousand of my closest concert-going friends of the Western States region, Monolith still felt like a boutique arrangement, with five stages squeezed into the rather compact natural park. I got to see some terrific folks.
Let's start with a nice assortment of three videos I shot, showing why this is a marvelous festival:
Anni Rossi – "West Coast"


Rahzel – Beatboxing to "Seven Nation Army" and "Sexy Back"
(White Stripes and Justin Timberlake covers)


Monotonix, not yet showing his hairy buttcrack.


The diversity of artists this year was terrific. From discovering a new singer-songwriter with clever lyrics and gorgeous viola-playing skills (like Chicago's Anni Rossi, who reminded me of Regina Spektor with strings), to clapping and hooting along while Rahzel (from The Roots) beatboxed his way through some wickedly enjoyable covers (that's me laughing on the video when he announces "Remix!" and then does just that), to the roiling crowd response to Tel Aviv punk/rocker/remover-of-clothes Monotonix (who performed most of his set on the shoulders of the audience, and pulled his terrycloth shorts off in glee), Monolith kept me hopping (and climbing).
LISTEN to how I fell in love:
West Coast – Anni Rossi

Concert-companion Dainon and I are gonna tell you about a few other loves we each experienced during the weekend. One that we both agreed on is The Features from Tennessee, recently signed to Kings of Leon's 429 Records, and one of the absolute best live shows I've seen in a long time: propulsive, melodic, catchy rock with a winning wail. I told the Facebook during the set that I thought I'd just bruised my thighs with the force of my leg-drumming. Their set meandered from awkward-punk-pop songs about falling in love on a Thursday to blistering rockers like this one:
Dainon says: True to the name they've attached to their music, The Features ought to really be featured on your radios, car stereos, and subconscious. Add one tiny, bearded man-wail to some of the loudest feeling music in all of Monolith (they filled up alla that wide open, Red-Rocked empty space) and you're left with a band that demands you stay with them as they go about propelling themselves forward. Onward and up and through the hoops that should make 'em famous. Prediction? They'll be big. The band will overcome their height. The Features make you proud to be a lover of music. They're a budding secret that needs passing on.
Thursday – The Features

Edward Sharpe and the Magnetic Zeroes were definitely the most visually and kinetically stimulating band I had the pleasure of getting up close and personal with all weekend. I'm not sure I'd listen often to their utopian fantasy music that belongs frolicking wildly in a peyote-induced dream somewhere, for sure, but this band (fronted by a man not named Edward Sharpe, like whoa) wowed me with their obvious joy.

Dainon says: Cotton Jones looks like a bunch of guys had just stumbled in from a sleepy, fishing town (after a long hard day of the deep-sea fishing even) and decided to try their hand at some sangin. This is the beautiful stuff, the kind that sounded best on that darkened stage with those red lights—ambiance was on their side. This is the performance that invited the festival audience to catch its breath before stumbling on to the next. It was as invited as it was needed. In this world, flannel was spoken and razors were ignored. In this place, love is whispered through sidelong glances, key tickling and warm-on-a-rainy-day songs.
I (Heather) love this song even more after seeing it shimmer and slowly coalesce live:
Blood Red Sentimental Blues – Cotton Jones
"I just thought I'd tell ya, all the demons have been slain / there's no need for hesitation, honey I been re-arranged…"

Denver's Natural Selection at the opening night party was more fun to dance to than Chromeo's shiny DJ set, for sure. I love basslines that make my chest vibrate and my teeth rattle in my head while I shake my hips. That sounds like some sort of torture method as I read that sentence back but trust me, it is fun. This bi-city band (Denver + St Louis, somehow) is a "funk-disco attack" of the finest variety — and appears to have a required uniform of a) awesome denim mini-cutoffs b) gold pants and a vest, no shirt or c) neon. Totally works for me.

Dainon says: The Grates are a happier, skippier take on that early No Doubt action, whether you choose to squint your eyes and go about seeing Gwen in its lead singer or not. There's a sailor suit here, lots and lots of skipping and a smile so bright, your heart has no choice but to go boom (read into that whatever you choose to). She even took time to tell us about her having farted about 100 times since she'd got there on account of that crazy CO altitude. What's more? It was endearing. Then again, what isn't in an Australian accent? All's I know is I wanted a hug when it was all over, if just to transfer some of that pixie-tastic energy over my way. For a good time, pick up either of their two albums. For a better one, go to a show and give the singer a shoulder ride when she asks for one, because she will. She so will.

I mused out loud during M. Ward's dense and gorgeously-rocking set that I seem to forget how much I adore his music. This was the first time I had seen him live solo (once with She in SF), and I decided during his set that a) Post-War is probably on my list of top ten albums from this decade that I will continue to listen to for years and years to come and b) his catalog really expands and becomes much more raggedly rocking in concert, in a very very good way. I was also transfixed by his anachronistic peculiarness, which reminded me of a traveling salesman+blues musician from the 1930s or something, one that truly knows his way with a guitar. He's so interesting to watch, and completely his own.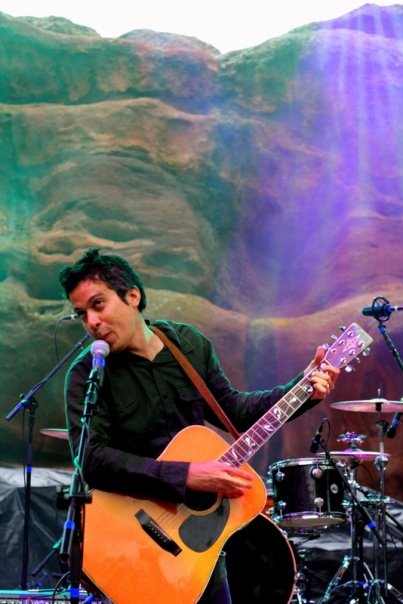 Dainon says: There's a weird energy that accompanies Of Montreal and its stage show, though it never fails to puzzle me. I can't make sense of what's going on, though I try so earnestly to do so, every single damn time even. Still, if you can manage to get past the tiger-headed humans, the half-naked men, the munching on genitalia, the leotards, the sparkling blue eye makeup and the feather boas, well then, Of Montreal treats you right. They've a show to go with their story to go with their music. As in they've got groove in their respective hearts. Is it Prince light, as goes the rampant accusation? Maybe. One thing's for certain … the band's avid followers will make the floor shake every single time, even if it is made of heavy rock. Boogie yer two shoes, indeed.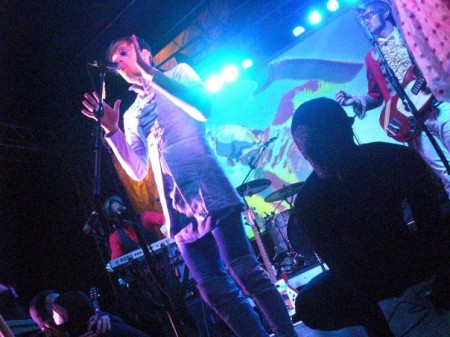 All my pics –and more commentary– are over on Facebook, if you'd like to see the rest of what we did and how we barely survived (spoiler: Dainon had a run-in with a drag queen, I got my lip caught in a can while shotgunning a beer). It was a long, pretty rad weekend:
Opening Night & Saturday
Sunday

And here's a few more, just because there was so much to see. Next year, you should come.
CHROMEO (video: "Tenderoni")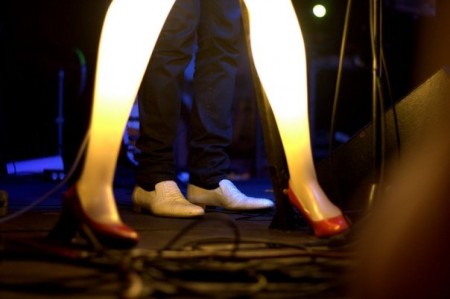 DEER TICK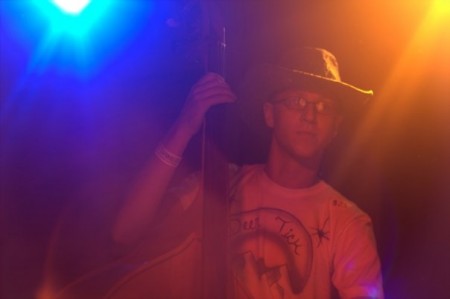 GIRL TALK

PHOENIX

(what album cover does that remind me of?!?)

YEAH YEAH YEAHS