September 3, 2009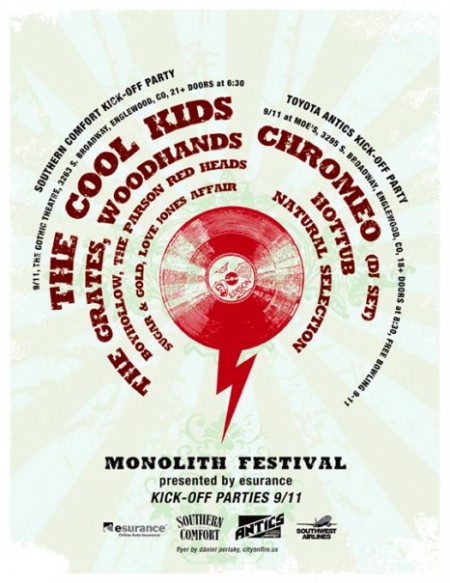 I'm just back from Outside Lands and already ready to do it again. Lucky for me, the third Monolith Festival solidifies the music lovers of Denver into one seething mass of awesomeness next weekend. For those of you who are considering coming out (and you should) get the VIP pass so you can come bowling with me on Friday at the Kick-Off Parties!
On Friday, September 11th, two simultaneous parties will take over The Gothic and next-door Moe's BBQ & Bowling (yum!) on South Broadway. Shall we have a dance party while eating tasty shredded pork and coleslaw, and bowling?
Yes. Yes, I think we should.
1-2-3-GO! – HotTUB (oh please let that band name be a Will Ferrell reference)
Science Is Golden – The Grates
15 Up To Colfax – Natural Selection (of Denver's Bocumast label)
Bonafied Lovin (Yuksek remix) – Chromeo

DETAILS: MONOLITH KICK-OFF PARTIES
FRIDAY SEPTEMBER 11TH
Both parties are happening side by side at The Gothic and Moes. Grab your VIP Pass and bounce back & forth between both events! Re-entry is permitted but once you leave a venue, you may have to wait in line to get back in, if we are at capacity. We stongly encourage everyone to get there early to avoid the line.
Southern Comfort Presents Kick-Off Party at The Gothic:
Doors: 6:30 PM * 21 + to enter * Admission subject to capacity
*** Complimentary fresh Chipotle cuisine for the first 150 through the door plus 2 complimentary Southern Comfort cocktails from 6:30-8 PM.
*** Southern Comfort will be giving away hundreds of limited edition screen printed Monolith Kick-off posters designed by Denver's own Lindsey Kuhn at Swamp Graphics
11:15 PM The Cool Kids
10:35 PM Boyhollow
9:45 PM The Grates
9:00 PM Sugar and Gold
8:15 PM Woodhands
7:30 PM The Parson Red Heads
6:30 PM The Love Jones Affair
Antics/Filter Kick-Off Party at Moes BBQ
Doors open at 8:30 * Must be 18 or older for admission * Admission subject to capacity
***Check out the activity cars and give-a-ways in front of the venue. Live silk-screening, Rockband and more!
*** Free Bowling and Shoe Rental from 9pm to 11pm
Moe's features a slick arcade, 8 lanes of bowling, full bar, BBQ and live music room. The music will be pumping throughout the entire venue!
10:30 PM Chromeo (DJ Set) – Spinning for at least 90 minutes.
9:45 PM Hot Tub
9 PM Natural Selection

See you next Friday, and hey – go customize your schedule over at Gigbot. Gigbot loves you.

Comments Off
No Comments
No comments yet.
Sorry, the comment form is closed at this time.