June 10, 2009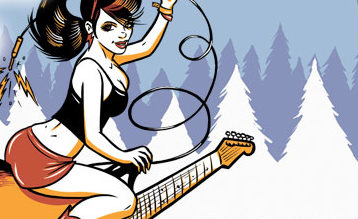 The Golden Triangle sounds like a mystic land of enigma from which no one returns, but it's actually the area of Denver that the 15th annual Westword Music Showcase will overrun  Saturday with 85+ ace bands, both local and national.
On Saturday, come peruse ten stages of goodness with me; we'll see local bands worth vigorously loving like Everything Absent or Distorted, Young Coyotes, Meese and Houses, as well as influential Denver punk pioneers The Fluid (their 2008 reunion show looked like this), and super duper national acts coming to town for the occasion: sonic annihilation via Brooklyn's A Place To Bury Strangers, Cursive from Omaha's Saddle Creek label, and Boise's epic Built To Spill. All that for twenty bucks, or less than $10 if you pre-purchase.
Even less expensive (as in F-R-E-E) are the five pairs of passes that Fuel/Friends has to give away to YOU and your selected companion. If you wanna come join us all day Saturday, please send me an email with "WESTWORD GIVEAWAY" as the subject line. We can maybe even have a beer or milkshake at the fest.
I feel fortunate to have a vibrant, active, effusively talented music scene to soundtrack life in Colorado, and the Westword (our local alt-weekly) is one of the two great festivals we have to look forward to this summer, with this tightly-curated day on Saturday.
Several Bocumast bands (Denver's best record label, according to those who decide these things) add a rich streak of eclecticism through the lineup. I spent this afternoon listening to their spotlight feature on Radio 1190′s Local Shakedown show from last Friday (June 5), with new tunes from bands like Astrophagus, Hunter Dragon, BDRMPPL, Iuengliss, Tim Pourbaix, and Natural Selection. All are playing this weekend; download their tasty free sampler here to prepare.

BOCUMAST BANDS I'LL SEE
Raygun – The Revenge of Astrophagus
Taste Her Spells – Natural Selection
cyberpunkmorphbanger – BDRMPPL
Wake-Up Time – Iuengliss
OTHER HEATHER BROWNE FAVORITES TO CHECK OUT
We'll See The Sun – Houses (saw these guys last week and WOW. Also; this is one of my new favorite songs)
Momentary Drowning – Young Coyotes
Aquariums – Everything Absent or Distorted (they hold my heart so tightly)
Preacher Man Blues – The Fluid
Tidal Wave – Joshua Novak
Car – Built To Spill
We At The Disco – Chain Gang of 1974 (ridiculously fun live)
I Keep You In A Flask – Ellison Park
By Yourself – The Knew
From The Hips – Cursive
There's also a band I don't know called "Lyin' Bitch and The Restraining Orders." And that's just brilliant.

RELATED: The lineup for the Denver Post Underground Music Showcase (July 23-26) is also starting to be unveiled. Bookending the late summer to the Westword's June soiree, the UMS is the largest indie music festival in Colorado, and last year we absolutely killed it. This year I helped with the lineup and am even more excited, if that's possible. Check it out, and support both avenues for discovering (really good) local music!

[for a bunch more free songs, go to the Westword's Backbeat blog, and listen to the Donnybrook music Snobcast on the subject.]

4 comments
4 Comments »
Leave a comment