March 23, 2009
[Editor's note: While I'm somewhere between Luckenbach and Marfa today, I've asked my friend Dainon to write today's Monday Music Roundup. He has superb taste. You are in good hands]
GO!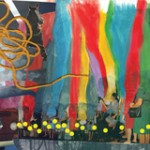 Blood Red Sentimental Blues
Cotton Jones
Cotton Jones' EPs have surfaced here and there (mostly whenever Maryland's Michael Nau was taking breaks from his other outfit, Page France), but he finally got serious and released a full-length of this half-folky, half-psychedelic stuff earlier this year. It works better than all that came before it, too. Page France was one of those love at first listen sorts and he gets it right on this band and number, too, just in an all new way. Here, you see dust particles hanging in the sunlight. You fully expect the organ to kick in when it does. You can even feel its sepia tones.
Also, if whistling makes you happy and you know it, turn up "By Morning Light" and tap-tap-tap along to that ketchy rhythm.
Look In On Me
James Jackson Toth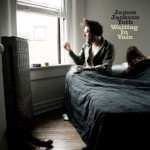 Remember Wooden Wand & The Vanishing Voice? Maybe? James Jackson Toth spearheaded that movement but, in this music lubber's opinion, it wasn't entirely listenable. And his first solo album is kinda wordy and scattered, too, but, when he's channeling early Mick Jagger, as he is here, it feels warm and right and slightly drunk. There's a story to attach to this, too, one that involved a ridiculously great night, a morning-after walk of shame and still buzzed smiles as this song up and declared itself the perfect soundtrack of that long moment, but that's all that needs to be said about that.
Also, try his "Beulah The Good." It's a different sort of fantastic, but an absolute thrill ride all the same.
Them Kids
Sam Roberts
One of those Big Deals up in Canada who still hasn't managed the same kinda success south of their border, I read someplace that this album has enough heart in it to change alla that noise right quick. Perhaps. Listening to Sam Roberts channel the energy of the Strokes here (without the silly pretense to go along with it), it's hard not to believe that. If you're not a giddy headbanger singing "The kids don't know how to dance to rock 'n roll!" by the tail end of this one, well, rewind and repeat it already. Only do it louder this time. That's an order.
Also, the lovely "Words and Fire" deserves to land on movie soundtrack in the near future. Just saying.
Funeral Song
Laura Gibson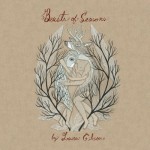 I like this description of this lovely Portland-based singer-songwriter, borrowed from Hush Records … "She couldn't tell you what band put out what particular album in what year, but she could probably describe where she was, how she felt and what you talked about, when she first met you, or what the trees looked like the last time her heart was broken." Laura's voice comes from another time. Listen closely to this song and you might hear some Billie Holiday in there. Listen closer and you'll hear a saw being played.
Her recently-released Beasts of Seasons is a disarmingly good album that seeps into your skin the more you allow it to. Her songs sound like shared secrets. She recently said she is more influenced by her books of poetry than she is other musicians; there appears to be some real truth to that.
Also? "Where Have All Your Good Words Gone?" is likely to knock you flat. Catch her when she plays with Damien Jurado at the Hi-Dive in Denver on 4/4.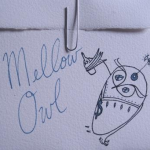 Bottle Rockettes
Peter & The Wolf
You gotta love a guy (Redding Hunter) who records his own CDs, designs each cover with his own artwork (owls wearing bling necklaces are big right now) and makes his way across the US of A, playing ramshackle house parties for gas money. Fresh off 5+ shows at SXSW and currently working on something he's wont to call his "disco record," this song is a fast favorite off Mellow Owl, Peter and the Wolf's latest offering. Is it enough to say this one feels like a summer's day? Sure, there's a lazy love story in there, too, but it comes second to the feeling of it. This one really benefits from the vocals of Moss Bailey, too, who pops up all over the album.
Also, "Trainhopper" is classic PATW: an acoustic geet, the story of some kinda gypsy wanderer and lots of those long drawn-out oooh's to dress it up right nice.
And, just for fun, here's Peter & The Wolf in action from a couple weeks back. This is an old one called "Silent Movies," recorded live at KRCL 90.9 in Salt Lake City, UT, where he both managed to play one bar with a transvestite blues house band (yep) and one packed-to-the-rafters house show while he was in town.
[aw heck Dainon. You're so hired]

3 comments
3 Comments
Sorry, the comment form is closed at this time.