September 10, 2009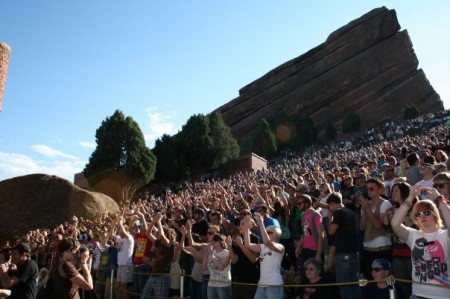 The third annual Monolith Festival takes over the dramatically scenic crags of Red Rocks this weekend, with more music than you can shake a stick at or, say, run up and down a gazillion stairs for. You wouldn't think it possible, but the organizers manage to fit five separate stages within the historic park, taking full advantage of the gorgeous views of Denver in the distance and the rosy rocks all around.
For the last two years, Monolith has packed in a sizable number of good artists, both well-known and fledgling newbies. This year is no different, with dozens of folks I want to see at what still feels like a boutique festival, in a very good way. You can get thisclose to the bands and get from stage to stage fairly easily (while toning your glutes — did I mention the stairs?). I plan to make the very most of my weekend this weekend — tickets are still available, and I think you should come too.
This year, Fuel/Friends contributor-pal Dainon is coming to the fest with me, to help cover all the goodness that is rarin' to occur. We've each picked a handful of bands we are putting down as "can't miss" on our Gigbot schedules. Who would you add? And why aren't you coming? Oh, you are? Okay, good.


HEATHER & DAINON DO MONOLITH: 2009 EDITION

HB: Simply from the band name Cymbals Eat Guitars, this Staten Island band had me at hello, before I even experienced their massively sweeping, shimmering music that alternates between chaotic lo-fi punk and the most enormous moments of Explosions In The Sky. There's a lot of buzz behind this group after only a self-released album (it grew wings when Pitchfork named it Best New Music]. It's like Chocolate Eats Guacamole, or Using Your Turn Signal Eats Long Hot Showers. I mean, if good eats good, you end up with something even more amazing, methinks. Let's go see.
And The Hazy Sea – Cymbals Eat Guitars
[Saturday 5:40pm, WOXY.com stage]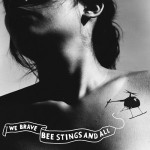 DM: There's a reason why I saw Thao with The Get Down Stay Down three times in a row, three concerts in a row, three days in a row earlier this year (something I refer to as my own personal Three Thao Tour) … and it has to do with the honesty that accompanies a Thao Nguyen performance. She loses herself in her craft every single time she plays: the eyes shut and the guitar is wielded like a battle axe. Now that she's got a new album on the horizon, with lots more shiny new songs to show off, this is an unequivocal no-brainer.
Bag of Hammers – Thao Nguyen
[Saturday 2:30pm, main stage]
HB: I apparently like having my insides pulled out of me in devastating fashion. This makes me a good candidate for sorority girl in a slasher film or, since we're actually talking in metaphors here, attending a Frightened Rabbit show. Fronted by a pair of literate brothers from Selkirk, Scotland, Frightened Rabbit released one of my favorite albums in 2007 and puts on a powerfully visceral, poundingly jangly, truly honest show. I will not miss this one.
The Modern Leper – Frightened Rabbit
[Saturday 3:30pm, main stage]
DM: I hesitate to say I want to see Cotton Jones, only because it doesn't seem like they've a rabid following, not that I can tell. I'd kinda sorta like to keep it that way, too. Liked 'em when they were Page France but, with the organ in the mix, listening to their album is akin to filling my mouth with candy jawbreakers and not wanting to share. If you decide to show, just try and keep it down, yeah?
Blood Red Sentimental Blues – Cotton Jones
[Saturday 7:00pm, WOXY.com stage]
HB: Yes, OK Go does that genius dance in their backyard. Four years ago when that video came out, we didn't have the luxury that we do now of sitting at a bar with friends watching it on an iPhone, as I did a couple of weeks ago. And guess what? It's still marvelous. And I've always truly dug the sexy, driving pop sound of their music and its roots in semiotic intelligentsia (frontman Damian Kulash majored in it, and loves to create word images and twist a lyric so it rolls off the tongue just right). Dancing or no, this will be a really fun set to see.
You're So Damn Hot – OK Go
[Saturday 4:45pm, main stage]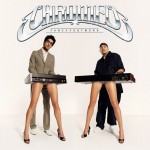 DM: It seems like Fancy Footwork has been around forever now, right? Do you know Chromeo? Do you know they could prolly work you into a dancier, sweatier mess than Girl Talk? Did you know they lucked themselves straight into a time machine, picked up some sounds from both Hall and Oates in 1978 and polished them off for the rest of us to benefit from? Well, if you didn't … you do now.
Fancy Footwork – Chromeo
[Sunday 8:45pm, Southern Comfort stage, also DJing the VIP/Opening party Friday night]
HB: Nothing about a band called Deer Tick can be mistaken for enchanted twee pop, or, as their MySpace page says, they are "0% indie rock. Believe it, butt-head." There's a good helping of rustic twang here, but not that this is a whistlin' Dixie mullet-hunting way to spend an hour of your Sunday at Monolith. Think the old-time radio sounds of M. Ward (also on the bill this weekend) meets the rowdiest of The Felice Brothers but with a piercingly ragged, whiskey-soaked howl, and you'll be on the right track.
Smith Hill – Deer Tick
[Sunday 7:00pm, WOXY.com stage]
DM: Edward Sharpe & The Magnetic Zeros are the new freak-folky Devendra Banharts of the festival. If their Dave Letterman network television debut taught us anything, it's that all we need is love. And beards. And an absolute bare minimum of four tambourines.
40 Day Dream – Edward Sharpe & The Magnetic Zeroes
[Saturday 3:00pm, Southern Comfort stage]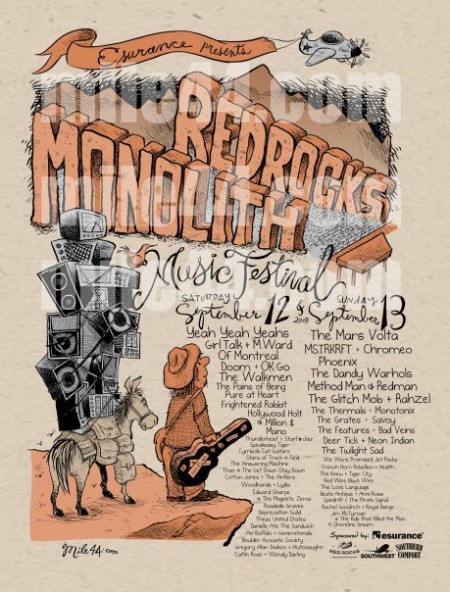 [my pic up top from last year's fest, poster by Mile44.com]

4 comments
4 Comments
Sorry, the comment form is closed at this time.