June 3, 2009
One of the artists I've listened to very most in 2009 so far is the marvelously talented Thao Nguyen, and her band The Get Down Stay Down (N.B. – one of the best band names ever). Her last album We Brave Bee Stings And All (2008, Kill Rock Stars) strikes an eminently listenable blend of sharply clever lyrics and fresh melodic music. Along with the rest of her talented band, her drummer Willis Thompson notably layers in bold percussion, taking the songs to an unexpected level of fantasticness.
Fear and Convenience – Thao Nguyen
Sometimes her songs hit me with playfully familiar roots of girl groups or 1950s classic pop, but then she turns up the layers of fierce rock — she can wail on the guitar and stand up alongside some of the best women in music. Jack White is a fan of her skillful guitar playing, and behind her raw and earnest vocals, this album throws out bright colors of music with banjo, trumpet, handclaps, Wurlitzer and even beatboxing.
Thao studied Sociology and Women's Studies at the College of William and Mary, and at 25 years of age, she is one of the most articulate and thoughtful artists I have ever had the pleasure of speaking with. You can tell that this is a smart person who has wrestled to present the very best of her thoughts and talents on her albums and in concert. Everything about her is a delight.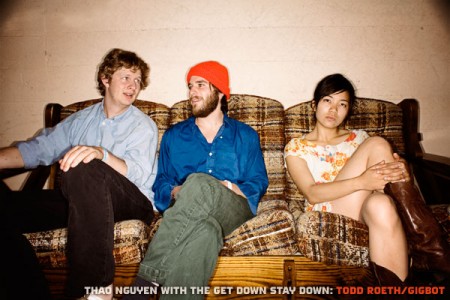 INTERVIEW: THAO NGUYEN
Interviewed on the storied brown plaid couch, backstage at the Hi-Dive
Denver, CO 5/6/09

I decide to start the interview with the elephant in the corner that always comes up in her music and in everything written about her. She is a female in rock music. I explore those halls as well, and…well, I want to chat about it. I show her a comic strip that I ripped from the Feminist & Gender Studies newsletter off the bathroom wall at the college where I work:

F/F: What are your thoughts on this, as it may relate to what you are trying to do as a musician?
Thao: (laughs) I think that there is a very pervasive enveloping stigma about women as musicians, and I think that within my personal experience you are, to a degree, immediately dismissed. I know that only as I said through experience, and that it is unfortunate but it becomes part of the deal – not only are you playing music but you are having to sort of debunk negative stereotypes and myths about women who play. For a long time, I was qualified as "a good guitar player, for being a female"…that was immediately the caveat.
Did that drive you crazy?
No, only because I have concerns about my blood pressure, so I try not to absorb it. But of course it does stick with you and float around in your mind. If nothing else, it is a motivator. I want to be good enough that it doesn't matter what gender I am. That may be the ultimate goal, that we eliminate even the passing thought of it. It's disturbing how much it plays a factor – but then on the other hand I think it should be totally acknowledged and commended when any woman gains a foothold in any male-dominated industry such as this, that she's done it as a woman, with no apologies. It's a weird line to toe and strange territory to navigate – being proud of being a woman, yet being willing to disregard that fact. And all the while just trying to maintain respect for yourself, and command respect at the same time.

I hear that you are volunteering this summer for Rock Camp For Girls?
That is correct! I am so thrilled, it is in Portland this June. I have dreamt of it for so long, since I found out that it existed, but I have been on tour every summer since I found out about it. My friend Laura Veirs mentioned it once a while back when I was on tour with her. This is the first summer that I have been able to make a window so that I can participate. I'm totally excited – I mean this sincerely, I really need a reminder sometimes to keep going and keep playing music and being involved in the industry, pushing along. I was filling out the application, I remember, and it asked me why I wanted to participate, and I think I started to tear up. It's that significant to me.
I want girls growing up to have this experience, and I think back to when I was young and I would have been ruined without music. I don't exaggerate, I think it saved me in a lot of ways. I just want little girls to know that it's possible, you know? Just help them along. I am going to be a band coach and I am going to teach guitar – they haven't told me what age yet, but I hope younger so they're not better than me, because that would be embarrassing. But I just want the opportunity to show that it is possible, just to give them a vague idea of where they want to get to, and the rest is up to you. Just to tell them not to be intimidated.
There is a strength and confidence that you have when playing music that to an extent I think the world tries to stomp out of you. I think it is so tough to be a young girl growing up into a woman in this world, with all the weird pressures and the odd demands and the self-hate, and music is totally an outlet for that for these girls, and I swear it wards off demons.
###
To read the rest of my interview with Thao (the dirt on her new album out this year, her secrets to rocking cathartic shows, and her work with the Portland Cello Project) head over to the Gigbot Downlowd companion piece.
These great photos here and over there were taken by Todd Roeth, my dream intern extraordinaire, and one of the wildly talented Gigbot inventors. He even makes girls look good sitting on that ratty couch in the basement of the Hi-Dive.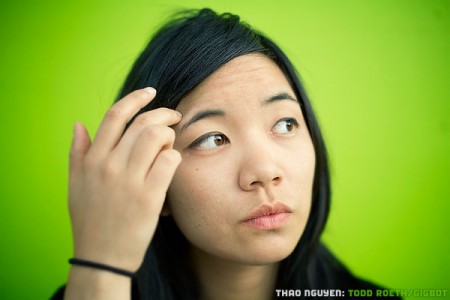 10 comments
10 Comments »
Leave a comment