July 1, 2010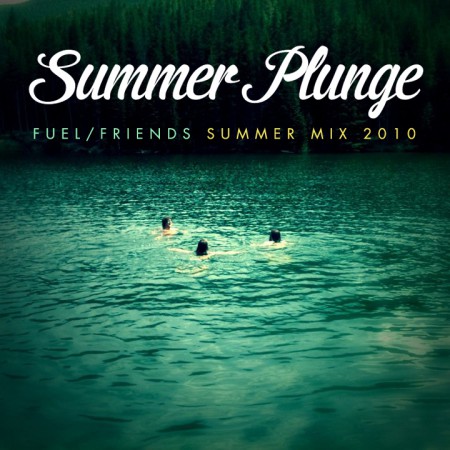 This year marks the most fun I've had yet putting together twenty songs to soundtrack your summer. The mix came together organically and joyfully while I did summery things, and the contentment I feel lately in these weeks is embedded in the picks. I declared on January 1 (when I did the Polar Bear Plunge) that 2010 was going to be a flippin' fantastic year, full of new experiences — and it certainly is living up to the promise.
Enjoy these as I have, play them at the BBQs to come, and burn them on CD for your next trip to the beach. Bring enough firewood; don't forget the sunscreen and the fuzzy blankets. Summer is here.

FUEL/FRIENDS SUMMER PLUNGE 2010
Bullet – Scarlett Johansson & Steel Train
I adore the two drastically different versions of this song so much that I am declaring them the anthems of my summer, and bookending this year's mix with them. Starting this mix with ScarJo? Yeah, I'm as shocked as you are. This is actually a cover of the original (see track 19) from an album of all-female covers (Tegan & Sara, Amanda Palmer). When Scarlett croons over that immense, filthy-crunchy beat that she fell in love on the back seat of your car, can you blame her?
Bang Pop – Free Energy
Another song I want to listen to all summer: 100% pure bottled fun from these Philadelphia chaps — like Mentos in a bottle of Coke.
The Diamond Church Street Choir – The Gaslight Anthem
Snapping on the street corner because it's too hot to go inside? A song that's all at once immediate and urgent, as well as timeless, from these Jersey boys' third album. "While I'm just waiting on the light to change / and the steam heat pours from the bodies on the floor."
Heard It On The Radio – The Bird and The Bee
The lone original on an album of shiny Hall & Oates covers, it's the standout tune for me, since I could never abide Hall & Oates anything. It perfectly encapsulates those summer crushes soundtracked to that one song on the radio all through August.
Heart To Tell – The Love Language
This North Carolina band (on Merge Records, one of my favorites) has a poppy, effusive, beat-driven sound that fits perfectly in these months. They kind of reminded me of Voxtrot, before Voxtrot stopped trotting.
Kiola Beach – HOT SPA
I know nothing about this band except they made a wonderful video with this song and old home movie footage of beach trips and vintage surfing. That's enough for me to have a permanently fabulous vision in my mind for this song. They're Australian, unsigned, and I read about them here.
The Drying Of The Lawns – The Tallest Man On Earth
On last year's summer mix, Kristian Matsson sang to us about bluebirds flying away, and this year it's the drying of summer lawns, and waves, rivers, and mirages. I've spent the interim twelve months falling completely in love with him, because of songs like this.
Fairweather – Houses
The cover art picture above was taken by my friend Kinsey, the luminous woman in the Denver band Houses. As I was clicking through a few of her quintessentially-summer pictures online, showing a bunch of folks up at Echo Lake lounging on huge boulders in the sun, this song of theirs (from their Summer EP last year) came on randomly. And it was perfect: let's leave this town behind, let's go for a drive.
Lost In My Mind – The Head and The Heart
What's summer if not a little time out of mind? This song shimmers and grows slowly, to the crescendo where the bass drum starts softly thumping, and it sings about the stars all coming out at night. It's almost like that Fanfarlo track I loved last year, that helped me actually see the way the sky illuminates at twilight, one tiny pinprick of light at a time. I've been massively loving The Head and The Heart since I posted that song last week (their full-length album is just out this week). They also remind me delightfully of the Local Natives, if you love them as I do.

I Will Be The Sun – Old Canes
Windchimes and hard-driving clattery percussion that you can dance around to, and this one sails right into the summer mix. The whole Feral Harmonic album sounds this joyous, and I love it. Great for roadtrips and gratuitous steering-wheel drumming.
Black and Milds – Cataldo
My criteria for summer is often a rubric of what songs might sound good sung around a bonfire, if I had exceptionally talented friends who played the banjo as well as they drank. We've also got plenty of handclaps here, in this song about missing someone (which surely we all do on occasion, even in the summer). Thanks Katie!
Hard Sun – Indio
The original version of the sweeping epic song from Canadian Gordon Peterson in 1989. Featuring Joni Mitchell on background vocals and an assortment of exotic African-sounding instruments, it just feels radiant.
Flaming Arrow – Jupiter One
NYC's Jupiter One is a duo with folksy roots and Seventies AM radio leanings. This song is all lemondrops and summer street strolls, over lyrics about burning buildings. What an odd, totally successful juxtaposition.
Unattainable – Little Joy
Man, this entire album is the perfect summer accompaniment — that slightly kitschy, clattery sound from Strokes drummer Fabrizio Moretti and vocalist Binki Shapiro, along with Brazilian musician Rodrigo Amarante. I had a hard time picking just one track off this album for the mix.
Mirando – Ratatat
The video for this Brooklyn duo's 2008 song consist of clips from Predator in reverse, so this song feels a bit like humid jungle warfare to me, in some exotic land. But, you know — humid jungle warfare you can dance to.
In The Summertime (acoustic) – Rural Alberta Advantage
I discovered this in the cold of November, and have been waiting for the sun to come and warm things up enough to enjoy it the way I think it was meant to be heard. A bittersweet, piercing, perfect little song, recorded off-the-cuff backstage at the Bottom Of The Hill in San Francisco.
Sunny Sunday Mill Valley Groove Day – The Sir Douglas Quintet
My friend Nick from London said I had to put this on the mix, and when he recommends, I listen. I'd never heard this before but it feels like something captured on a warm afternoon in the studio when the recorder was accidentally kept running. "When there's nothing left to say, and all the clouds have faded away / And my mind wanders out there across the bay…"
Saturday Night (Pinkhearts session) – Ryan Adams
My friend Brian from San Francisco said I had to put this on the mix, and when he recommends, I listen. There's something in the aimlessness and lazy midnight humidity of this song that sounds like a perfect summer night when you were a teenager. Also, the saxophone makes it sound for all the world like a cast-off demo from the Rolling Stones.
Bullet – Steel Train
Indie kids doing their best, brilliant shot at Springsteen. As soon as I burn this mix onto a CD, I am hitting the road with the windows open because holy heck how good will this song sound on a summer night with the car windows down?? It's so good that I had to use this song twice on the mix. My new favorite summer song of 2010. [huge thanks to Brian in Portland!!]
Pursuit of Happiness (Kid CuDi cover) – Lissie
Finally, this one – I love Lissie, and I love how she had to take a shot of tequila before she covers hip-hop artist Kid CuDi's collaboration with MGMT and Ratatat: "2am, summer night / Hands on the wheel — uh, uh, fuck that…." Ending on a perfect, if dangerous, note.

ZIP: FUEL/FRIENDS SUMMER PLUNGE 2010
Go forth and enjoy.

[cover image by Kinsey Hamilton, design by Todd Roeth]

30 comments
30 Comments
Sorry, the comment form is closed at this time.