November 9, 2009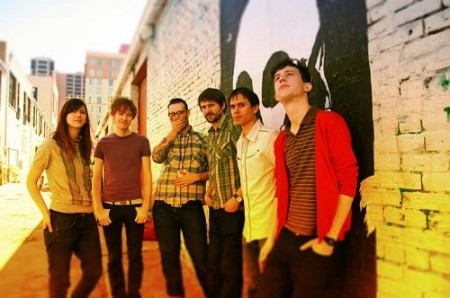 We need to talk about Fanfarlo. Seriously.
Despite listening to this album almost nonstop for the last few months, you and I haven't yet delved into the full-scale conversation that their debut album Reservoir so clearly deserves. One of my favorite releases of 2009, this British/Swedish 6-piece has crafted a joyously shimmering album that arches and soars, and thumps compellingly through the speakers.

Reservoir was recorded late last year at Peter Katis' Tarquin Studios (whose producer's hand has also lent texture to some of my favorite albums lately, by bands like The National and Frightened Rabbit – "using all the colors"). Combining their youth and enthusiasm with Katis' seasoned treatment gives us a gorgeous result.
Fanfarlo's songs use a hugely expressive palette of instruments, heavy on the shiny trumpets, the dazzling saws and accordion, perforated at all the right places with pounding bass drums and quirky time-shifts in the beat. One of my favorite songs on the album is the flawlessly crafted "Comets" that waveringly coalesces at the beginning and end, like the deepening twilight and the stars appearing, wrung tightly with an almost tangible melancholy. "Harold T. Wilkins" is absolutely the best driving and yelling song all year, maybe all decade ("they're trying to say – SAY!! they're trying to say — SAY!!"). It feels good all the way down to your toes. The whole album dazzles the ears, and sounds just as delicious on a quiet Saturday morning as it does on a Friday night.
There is a large dose of Arcade Fire's jubilance, but with a greater effervescence (like a sheer wash of fluorescent color dripping down) and it is uncanny how the swoops and lilts of Simon Balthazar's voice evoke a young David Byrne. It doesn't get much better than this.

Ghosts – Fanfarlo
Harold T Wilkins – Fanfarlo
And just in case their well-placed affinity for the song structures of Neutral Milk Hotel isn't apparent enough, check their recent terrific cover of "In An Aeroplane Over the Sea."

WIN TICKETS! I have a grip of tickets to give away to Fanfarlo's Denver show, this Friday the 13th at Moe's, to celebrate the launch of their national tour. It's one of the most hotly-anticipated shows of my year. Please email me if you would like to win a pair, and I will let you know by Wednesday night if you can get your dancing shoes on, or bowling shoes, as it may be. There are lanes next door and if you're brave enough, we'll play (when we're done singing along).

FANFARLO FALL TOUR DATES
Nov 9 – Schubas Tavern – Chicago, IL
Nov 11 – Triple Rock Social Club – Minneapolis, MN
Nov 13 – Moe's BBQ – Englewood (Denver), CO
Nov 14 – The State Room – Salt Lake City, UT
Nov 16 – Knitting Factory – Boise, ID
Nov 17 – Crocodile Cafe – Seattle, WA
Nov 18 – The Media Club – British Columbia
Nov 19 – Doug Fir Lounge – Portland, OR
Nov 20 – Great Basin Brewing Co. – Sparks, NV
Nov 22 – Rickshaw Stop – San Francisco, CA
Nov 23 – The Echo – Los Angeles, CA
Nov 24 – The Casbah – San Diego, CA
Nov 27 – Muddy Waters – Santa Barbara, CA
Nov 29 – Club Congress – Tucson, AZ
Nov 30 – Sante Fe Brewing Co – Santa Fe, NM
Dec 2 – The Independent – Austin, TX
Dec 3 – The Loft – Dallas, TX
Dec 4 – Walter's On Washington – Houston, TX
Dec 6 – The Bottletree – Birmingham, AL
Dec 9 – Metro Gallery – Baltimore, MD
Dec 10 – Johnny Brenda's – Philadelphia, PA
Dec 11 – IOTA – Arlington, VA
Dec 12 – Brillobox – Pittsburgh, PA
Dec 14 – Majestic Cafe – Detroit, MI
Dec 15 – El Mocambo – Toronto
Dec 16 – Il Motore – Montreal
Dec 17 – T.T. The Bear's – Cambridge, MA
Dec 18 – Webster Hall – New York, NY

14 comments
14 Comments
Sorry, the comment form is closed at this time.