November 18, 2009
Through the silent ambush of heavy snow Friday, three great shows were happening about town, and one that I missed while I was seeing Fanfarlo was Old Canes at the Hi-Dive. Signed to Saddle Creek Records, Old Canes are the project of Appleseed Cast frontman Chris Crisci. I've just stumbled upon their most recent album Feral Harmonic a day late, a dollar short, etc etc.
The marvelously warm opening track on the album breaks exuberant and brightly colored – pounding and thumping with a fantastic drumbeat. This beat is certainly the first thing I noticed, since my tapping toes and drumming fingers sprang instantly into action as if controlled by little marionette strings. The middle is punctuated by brilliant brass mariachi cascades and then the call and response starts (see title of the post); I am absolutely convinced and find myself calling right back.
In the face of danger, I am unafraid.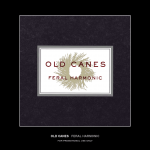 Little Bird Courage – Old Canes


You can also stream the entire first album Early Morning Hymns here, see what you think. Also, here is a piercing live rendition of the song "Both Falling Bright" from that album.
OLD CANES TOUR DATES
Nov 19 – Bond's Garage – Eugene, Oregon
Nov 20 – The Crepe Place – Santa Cruz, California
Nov 21 – The Wire – Upland, California
Nov 22 – The Viper Room – West Hollywood, California
Nov 23 – Che Cafe – San Diego, California
Nov 24 – Modified Arts – Phoenix, Arizona
Nov 25 – Launchpad – Albuquerque, New Mexico
Nov 27 – Hailey's Club – Denton, Texas (with Cursive)
Nov 28 – Emo's – Austin, Texas
Nov 29 – The Conservatory – Oklahoma City, Oklahoma
Nov 30 – The Anchor – Wichita, Kansas
[thanks JC, both]

3 comments
3 Comments »
Leave a comment