June 16, 2010
This weekend a photo exhibit opened up in Southern California showcasing the music portraiture of Todd Roeth, a wonderfully talented Denver artist (and friend) who I've worked with on many occasions for interviews appearing both on Fuel/Friends and on Gigbot. The Setlist: Music Portraiture by Todd Roeth exhibit is running through August 5th at the Brooks Institute of Photography.
I've always been fascinated by the way an insightful photographer can capture ephemeral moments in a concrete way. Todd's exhibit pairs audio clips + music alongside his massive-scale portraits, so you can hear the artists' recollections of the photo shoots, or Todd discussing artistic direction used for that shoot, or just thoughts of folks like me who were involved with them. For this exhibit intro, I said:
"I think that music photography is a wonderful challenge for someone that really loves music. To me, music a lot of the time is interesting because of the person behind it — what they're trying to say, who they're trying to reveal of themselves, or who they want to be. Good music photography elucidates a certain aspect of a person, or challenges the viewer in a certain way by pressing against maybe what they think is true of that person, versus what the lens can actually capture, and Todd has a very intuitive sense of knowing what will work…"
LISTEN: What I remember of the Langhorne Slim interview and photo shoot @ The Boulderado Hotel
Audio clip: Adobe Flash Player (version 9 or above) is required to play this audio clip. Download the latest version here. You also need to have JavaScript enabled in your browser.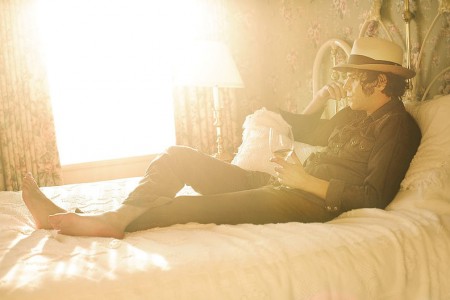 Even without going to the exhibit, you can see and hear the rest of the features virtually — from portraits of folks like The Avett Brothers, Jesse from These United States, Joe Pug (from this interview), Patience from The Grates, Handsome Furs (from this interview), Thao Nguyen (from this interview), Catherine from Horse Feathers, Gregory Alan Isakov, Blitzen Trapper, The Knew, and Nathaniel Rateliff.
I was at many of these shoots, and I love hearing the slightly-twangy reminiscences of a good, earnest friend who normally doesn't talk much about all these things going on in his head during the actual shoot. Now I can see some of the methods behind his wonderful madness.

As for me, I'm off to the Telluride Bluegrass Festival early tomorrow morning. In addition to seeing folks like Dave Rawlings Machine, Alison Krauss, Ben Sollee, Mumford & Sons, Edward Sharpe & The Magnetic Zeroes, and Court Yard Hounds over this summer solstice weekend, I will be interviewing Josh Ritter over beers around this time tomorrow. I am beyond excited to speak to an artist who I think is one of the best songwriters of this generation. Wish me luck; I might come back from the Festivarian campsite as a hippie. We'll see.

4 comments
4 Comments
Sorry, the comment form is closed at this time.