July 21, 2009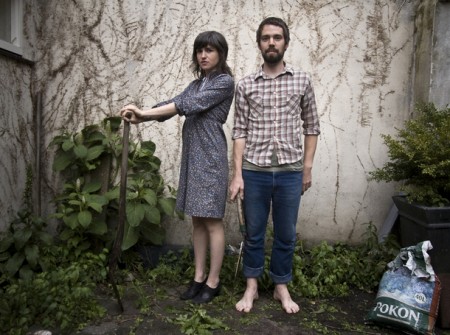 This weekend is my favorite weekend of the entire summer: the Denver Post Underground Music Showcase hits a walkable strip of South Broadway with over 200 bands, singer-songwriters, and comedians at 20 local shops, restaurants and live music venues. Last year I called it "the SXSW of Denver," and it certainly feels just as saturated with good music as Austin at every turn, but a wristband for all four days of the UMS will only set you back $20.
This year for the first time, the UMS is incorporating some select national acts into the lineup, and I was thrilled to get to help pick some, in my first foray into festival booking. The focus is still our vibrant and gorgeous local scene, but this year we've got a few national-level acts that I am very excited about. The first is The Bowerbirds from North Carolina, joining folks like El Ten Eleven (my face is still partially melted from last November) and the superb Ryan Auffenberg from San Francisco. The full lineup is here.
The Bowerbirds have been around since 2006, but my first introduction to their music was only last year when they toured with Bon Iver. There was this…. ohhhh, there was this – which stopped me in my tracks and held me transfixed.
Bon Iver and the Bowerbirds covering Sarah Siskind's "Lovin's For Fools" (previous post):

In addition to a recent mention in a piece he wrote for IndyWeek, Justin Vernon (Bon Iver) also listed the Bowerbirds in his top picks for La Blogotheque, saying: "Olive Hearts — that song, I went home, and that was the first time i thought about quitting music. Yeah, it really was, I really wasn't sure I could do it anymore, because that song was so good. I thought what I saw that night just may be better than anything I could ever do."
Here are two songs off their gorgeous new album Upper Air, out now on Dead Oceans Records.
Beneath Your Tree – Bowerbirds
Northern Lights – Bowerbirds



Bowerbirds also recently stopped by Daytrotter for the second time (first time here), and performed four of their songs for free download, three from the new album.
I'll have a UMS Festival preview coming later this week, if you live in Colorado, please come out. It's gonna be magnificent. Bowerbirds play 10pm on Sunday night, and you can find many other forthcoming Bowerbirds tour dates here, for the rest of y'all who can't come play with us on the streets of Denver this weekend.