December 24, 2014
Even though we're just about as firmly in the center of the dead-cold dark of winter as we can get these days, there will always be something inherently late-summery about the music of Small Houses (Jeremy Quentin) for me. I hear a redolence of ending or closing, the reels of the season playing back slowly-flickering in glowing (but fading) color. Jeremy writes beautiful songs, it's as simple as that – I think he has the heart of a poet, and words matter to this guy. It works out with us because they matter to me, too, and he can string together a song unlike many people I know. Vulnerable, memorable, potent.
There is a cast of humans that a listener gets woven into as you know his songs: Karen, Jesse, Sarah. It's a bit like piecing together the chatter on an old party-line phone call on a summer night, in a town you've never visited. It reminds me of Springsteen's Mary, never sure how much she is a real person and how much she is a metaphor for something else, for a summation of things. (update: mystery cracked in this Paste Magazine feature on Jeremy and his songwriting, "The Best Of What's Next"!).
Exactly Where You Wanted To Be was one of my favorites of 2013 (and I still listen to it often). Jeremy's new album Still Talk; Second City is coming on February 10th, 2015 via The Cottage Recording Co and I can't wait for you all to hear it. Three of these four songs in the chapel session are from the new album, which was recorded last year in an Atlanta cottage — and the first time Jeremy's been off the road for a while. Recently another new album track "Staggers and Rise" premiered as well with a great, road-worn video to go with it.
He's currently holed up in Denver for a long minute (you may have seen him onstage with Nathaniel Rateliff and Ark Life last weekend doing that insanely raucous cover of "Caravan"?). All my Colorado readers should please come see him with me on February 7 for the album release show at Ubisububi Room because that space is terrific and the show is going to be the best thing.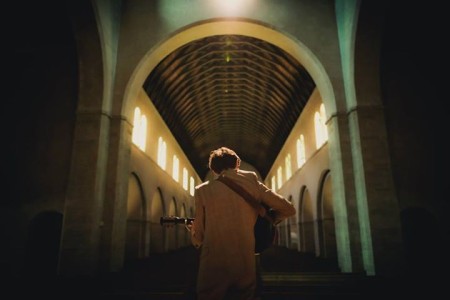 FUEL/FRIENDS CHAPEL SESSION #32: SMALL HOUSES
August 11, 2013
Shove Chapel, Colorado Springs
This song was blatantly my first request, because it is heart-stoppingly gorgeous, especially that pause and the bridge right at the two-minute mark that has wooed me since the first time I heard this song — it brings tears to my eyes every single time I hear it. I can't even really articulate why, except for that it feels like a reflex, like your knee kicking when the doc whaps it with a rubbery mallet.
There's something sad in this song that surpasses the cognitive parts of my brain. To watch him do this on that piano alone in the chapel space… man.
"Old Habits" was the first song that Jeremy recorded for the new record, at the cottage by the quarry in Atlanta where he would go on to record the whole album. He settled down for a first time in a while to make the new album, and said in the Paste piece: "Changing your standard of living often kind of opens you up to new things often. Get a house, live in it, love it, feel stability, and the next week, kind of find whatever you need to find to have the courage to just give up everything you have." I hear that vulnerability in all these songs.
This song always sounds like the soundtrack to a memory — watching an old Polaroid develop, the images rise and solidify. Like every road we were ever on was a summer road.

While I'm Away (Jeremy RR cover)
The closing song on the new record, this cover was written by Jeremy RR (Robert-Raymond). "Her hair's the color of a dirt road, and one that bears her name / her eyes the color of a riverbed / though I miss them all the same." Something so sweetly timeless rests inside this song, this song about leaving.

ZIP: SMALL HOUSES CHAPEL SESSION

It was such a joy having Jeremy in the chapel, and knowing this wonderful human. Go see him this winter when he comes to your town for the new album.
SMALL HOUSES 2015 TOUR DATES
Jan. 7 – Goldstein's Mortuary and Delicatessen – Fresno, CA*
Jan. 8 – Pappy and Harriets – Pioneertown, CA*
Jan. 9 – The Mint – Los Angeles, CA*
Jan. 10 – The Partisan – Merced, CA*
Jan. 13 – House Concert – Berkeley, CA*
Jan. 14 – Hotel Utah – San Francisco, CA*
Jan. 15 – The Crepe Place – Santa Cruz, CA*
Jan. 16 – Yosemite Bug Resort and Hostel – Mariposa, CA*
Jan. 17 – Don Quixote's International Music Hall – Felton, CA*
Jan. 21 – Volcanic Theatre – Bend, OR*
Jan. 22 – Axe and Fiddle – Cottage Grove, OR*
Jan. 23 – Sam Bond's Garage – Eugene, OR*
Jan. 24 – Fluff and Gravy Headquarters – Portland, OR*
Jan. 25 through 31 – Al's Den residency – Portland, OR
Feb. 5 – TBA – Olympia, WA
Feb. 6 – Skylark Lounge – Seattle, WA
Feb. 7 – Ubisububi Room (Album Release Show) – Denver, CO
Feb. 8 – O'Leaver's – Omaha, NE
Feb. 9 – Total Drag – Sioux Falls, SD
Feb. 10 – Nicollet – Minneapolis, MN
Feb. 11 – High Noon Saloon – Madison, WI
Feb. 12 – House Concerts – Iowa City, IA
Feb. 13 – The Rozz-Tox – Rock Island, IL
Feb. 14 – Mike and Molly's – Champaign, IL
Feb. 15 – Red Barn – Peoria, IL
Feb. 16 – Schuba's – Chicago, IL
Feb. 18 – The Fix – Bay City, MI
Feb. 19 – Holy Oak – Toronto, ON
Feb. 21 – Dreamland – Buffalo, NY
Feb. 22 – The Bug Jar – Rochester, NY
Feb. 25 – TBA – Montreal, QC
Feb. 26 – Monkey House – Winooski, VT (Burlington)
Feb. 28 – Union Hall – New York City, NY
March 1 – Ortlieb's Lounge (Album release) – Philadelphia, PA
March 5 – Jammin Java – Vienna, VA
March 6 – Pink Warehouse – Charlottesville, VA
March 7 – Blue Plate Special – Knoxville, TN (early show)
March 7 – The Music Room – Atlanta, GA (late show)
March 12 – Shack Up Inn – Clarksdale, MS
March 13 – The Beatnik – New Orleans, LA
March 17 through 22 – SXSW 2015 – Austin, TX
March 28 – Spacebar – Columbus, OH
* on tour with The Harmed Brothers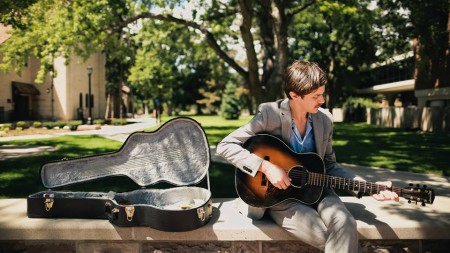 [Audio recording and production by my beloved Bourgal brothers of Blank Tape Records, and photography/video by the fabulous Kevin Ihle. Thanks to Blue Microphones for the terrific consideration in giving us some sweet mics to capture this magic.]