December 12, 2012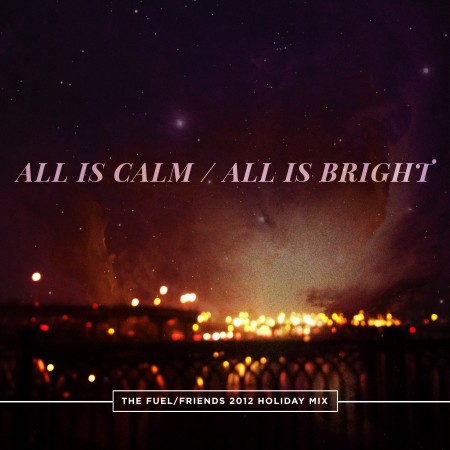 It finally snowed full-force in Colorado this weekend, enough to divert me off the highway in a flurry of white, and to a roadside La Quinta on Saturday night coming home from the Patty Griffin concert. The temps hovered consistently at a lush 19º Sunday, and is currently at 7º. All is calm and bright because no one wants to move outside their electric blankets, so it's been a good weekend for me to road-test these songs. I am very pleased to report that this is my favorite December mix I've yet made.
When it comes to music I can handle in December, I have a suuuper low threshold for annoying. We talk about this every year, you and me (and anyone who has the bad luck of walking into a retail establishment with me). No chipmunks, no Spanish cantantes with clacky castanets, no cloying duets, and we shall not speak of synthesizers.
I have subjected myself to some of these unpalatable things in my quest to screen out the perfect holiday mix to soundtrack your season, but the good news is that sites like Bandcamp are making is very easy for musicians to release quality originals to their fans for the holidays. This year I had the bonus-really-good idea to ask some musician friends of mine who have been loved by Fuel/Friends over the years if they had anything lying around that they'd like to contribute. A surprising number of them said yes (!!). Ben Kyle of Romantica sent me an original song of his, and Eef Barzelay (of Clem Snide) replied with his pensive version of a Christmas classic. Denison Witmer had lost his copy of "The Gift of Grace" (one of my favorite original Christmas songs in a long time) so I dug it up to put on this mix and sent him a copy.
I've been raving to friends all week about the high proportion of just really good SONGS in this year's mix — holidays, or no. Some of these I might sneak a listen to all year 'round. At the very minimum, I have some new artists in my stable now. This mix also fits on a CD, with gorgeous album art by Ryan Hollingsworth (can we give him a round of applause for donating his design skills for all of my mixes for the last couple/many seasons?) and a photograph taken by my friend Jewel in Portland. Burn copies for all your friends, for the best kind of gift you can give them.
Christmas hugs to all of you, from me. That sweater looks really nice on you.

ALL IS CALM / ALL IS BRIGHT ::
THE FUEL/FRIENDS HOLIDAY 2012 MIX
Christmas Song – Yarn
This song is what would happen if "The Weight" was a holiday carol, and is just so perfectly bittersweet. You know, in a really sentimental good way though. Yarn from Brooklyn released this last year.
Carry Me Home – Hey Rosetta!
This was written in the summer in Australia, but it was after the band had been on tour for a while, and so the sentiments of wanting to be close to family ring true this time of year. This also reminds me of a terrific Graceland outtake or something. I love this band so much x1000. From their new Christmas EP.
Do You Hear What I Hear – Tyler Heath (of The Oh Hellos)
Finding this Christmas EP from Tyler Heath was kind of like hitting the jackpot, since I am extremely fond of the new Oh Hellos record (get it here; they were also on my Fall mix)
Let The Snow Fall – Andrew and the North American Grizzly
This song just walked into my holiday party and won me over with a wink. "These songs are red and green / so let's sing 'em." I swear it wasn't just the eggnog. From Bandcamp.
Snow – Sleeping at Last
Okay. SO. This Wheaton, Illinois band is just one guy, Ryan O'Neal, and he is two-for-two at totally knocking me for a loop with the unassuming splendor and insight of his songs. I first featured him on my springtime mix (and pulled the mix title itself from one of his lyrics). He spent last year releasing regular EPs all year on a subscription model through his "Yearbook" project, with a whole free album of Christmas music out now. I don't usually post entire lyrics in the dead-center of a mix, but this is pretty much the best wish any of us can hope for this holiday season. When I burn this mix for friends, I am going to print these lyrics out as a benediction for each one of them.
The branches have traded their leaves for white sleeves
all warm-blooded creatures make ghosts as they breathe
scarves are wrapped tightly like gifts under trees
christmas lights tangle in knots annually
Our families huddled closely, betting warmth against the cold
and our bruises seem to surface like mud beneath the snow
so we sing carols softly, as sweet as we know
and pray that our burdens will lift as we go
like young love still waiting under mistletoe
welcome December, with tireless hope
Let our bells keep on ringing, making angels in the snow
and may the melody disarm us when the cracks begin to show
like the petals in our pockets, may we remember who we are:
unconditionally cared for by those who share our broken hearts
The table is set and all glasses are full
no pieces go missing, may we still a feel a hole
we'll build new traditions in place of the old
'cause life without revision will silence our souls
Let the bells keep on ringing, making angels in the snow
and may the melody surround us when the cracks begin to show
like the petals in our pockets, may we remember who we are:
unconditionally cared for by those who share our broken hearts
As gentle as feathers the snow piles high
our world gets rewritten, and retraced every time
like fresh paints and clean slates, our future is white
new year's resolutions will reset tonight.

Come – Oh, Starling
A Christmas original that weaves together a lot of carols you know, and filters them through a warm haze like falling asleep on the backseat of your parents' car on the way home from church services when you were seven. Oh, Starling is one of Denver's finest pairings, of Jessica Sonner and Dan Craig, who both make wonderful music also on their own, and have two holiday EPs.
Rebel Jesus (Jackson Browne) – The Wood Brothers
Also from these Colorado mountains, the Wood Brothers (as in Medeski, Martin, and Wood) offer up their slightly broken, roadworn take on Jackson Browne's classic hymn to the pagan heathens and the true rebellion inherent in the Jesus that some of us celebrate this season.
Joy To The World – Eef Barzelay
Since Eef (of Clem Snide) does such magical things with his music, both his originals and his reinvented covers, I asked him what he had for the season and he replied with this. There is no triumphant majesty here, but there is a quiet peace.
Brightly Above – The Prairie Empire
The seasonal EP from this Brooklyn band is so lovely that I broke form and put them on here twice. Their full-length debut record has also been on Fuel/Friends rotation.
O Holy Night – Branches
Everyone probably has their favorite Christmas song and this is mine. I especially favor ones I can sing along with at the top of my lungs, so the prominent alto harmonies here are my jam. Branches are doing this cool California mini-tour next week of singing along to Christmas songs. If I still lived there, I would go and belt it. From their Christmas EP on Bandcamp.
Christmas Night – Justin Jones
This is a love song camouflaged as a Christmas song, kind of like how my favorite Jason Anderson song is only peripherally-related to the 4th of July. Justin Jones is from Washington D.C. and he has an Americana record out called Fading Light.
In The Bleak Midwinter – The Weather Station
Good job on making this song actually feel a bit bleak and midwintery, in the quiet delivery that feels a little like a Nico song (they also make records that look like it). This song came from 2010′s Ho! Ho! Ho! Canada Deux free mix from some neighbs to the north.
Christmas Eve Can Kill You (The Everly Brothers) – Bonnie "Prince" Billy & Dawn McCarthy
I'm not sure anyone, ever, done better harmonies than the Everly Brothers, and Will Oldham nails it here with Dawn McCarthy, also his collaborator on The Letting Go. They make being stuck in the snow trying to hitchhike home almost sound good. And ooh, you can buy this song (and another) on 7″ vinyl now; I think it would sound real nice on the turntable this time of year.
Winter Eclipse – Beta Radio
These guys contributed "The Song The Season Brings" on last year's December mix, and it was probably one of my most listened-to of the bunch. They've released another seasonal EP for free on Bandcamp this year.
The Gift of Grace – Denison Witmer
Denison remembers this song as one of his first experiments with home recording, and I remember it as one of my favorite original Christmas songs ever written; so pure, so clear. So humanizing. You might have recently seen this bit of majesty from Denison last week, alongside his longtime bud Sufjan Stevens (promoting Suf's Friendship Slay Ride), and I think he should make me more holiday songs. Maybe in white spandex.
Winter's Night – Joshua Hyslop
If it's cold in Colorado, I hear it's even colder in Canada, where Joshua Hyslop hails from, and his voice sounds like the way a warm sweater feels. I want to snuggle into it. Joshua's debut record Where The Mountain Meets the Valley came out this year.
Bring A Little Light – Ben Kyle
I met Ben in 2007, along with his Minneapolis band Romantica, after a recording surfaced online of a duet he did with Ryan Adams, which wormed his music deeply into my ear. Ben is from Belfast with his lovely lilt, and has a solo record out now (featured on my MPLS mix). He sent me this haunting original for this mix.
O Come, O Come Emmanuel – The Gundersen Family
I want to be around Noah and Abby and the rest of the Gundersens all the damn time. This is from their holiday party last year at the Fremont Abbey in Seattle. [watch]
Silent Night – Prairie Empire
And this one — this song is the sound of the deepest peace to me, in all of its forms.

28 comments
28 Comments
Sorry, the comment form is closed at this time.