August 20, 2012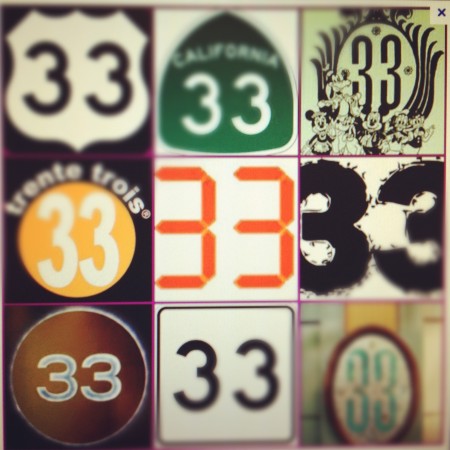 Yesterday I turned 33; it's my favorite age in a while because it is symmetrical and feels balanced. Since I like appropriate soundtracks, my brain yielded up two tunes to loop in my head yesterday that sing about my new age, as I get accustomed to it like a pair of squeaky-soled new shoes.
In the first part of the day, the Counting Crows lyrics at 17 had a better dream, but now I'm 33 / and it isn't me took the lead in my mental symphony, and then was eclipsed by the opus "Welcome" from Canadian band Hey Rosetta!, where Tim Baker sings to a new kiddo about the life that waits in the wings. At the same time, though, he also sings to those of us who might need a readjustment to the knob that filters all the static and contrast:
I'm sorry this is it, it's cold and hard and badly lit
and there's no backing out of it
so forget where you've been, it'll never be that good again
and we must only look ahead
and soon you're thirty three, and everything you tried to be
is pulled apart by fear and greed
let young hands build you up, and carve your face in honest rock
with sunlight on your noble jaw…

Also in the last few weeks, the Blogotheque version of this song came onto my radar and somehow manages to be even more incredible (I mean, that clap-slappy syncopated percussion aside, even!) because it adds a special new verse to this middle bridge.
Welcome (Blogotheque version) – Hey Rosetta!
So I welcome you to it, sing 'let the goddamn games begin'
the god that gives deliverance
has a thing for disappearing, kid
and the fighting on the beaches hit
and the 5am to Winnipeg
the nights of fights and poison pits
and the needle-edge of old regrets
but the wind will only shift again
and the breath beneath your epaulets
is strength enough to carry it


Deep breath, there.

So it starts with a fitting theme song for 33, but this unrolls into a pretty damn glorious landscape far beyond that: I've been on a colossal Hey Rosetta! kick for months — the torrential depth of which I have not yet told you fully about. Beloved in Canada, they remain relatively (and bafflingly) unknown here. So we need to talk about that today, because this is a band and a record (Seeds) that you need to listen to, over and over, thoughtfully and joyously and through all the needle-edges of old regrets as well.
Here are some thoughts on why Hey Rosetta! is important to me right now.
I was sitting on pebbly beach off the coast of Washington two weeks ago at the Doe Bay Fest, talking at length with songwriter Isaac Pierce about what music does; for us as listeners and for us as musicians. Isaac hit upon one of the most interesting distinctions that I've considered recently, when he talked about what music gives and what it demands. There's a carefully-balanced tension there that's razor-sharp, a tightrope walker who could fall either way but isn't always sure the right way to lean. Maybe increasingly we want our music to give us more, without asking us to invest in return. In the same ways that porn pokes its shiny fingers directly to the pleasure-center of our brain without asking anything of us in return, our shimmery pop radio megahits substitute substance for slickness and don't require much in terms of thoughtful unraveling. As much as it is fun to simply receive, the conversation with Isaac made me think about how my favorite music tends to push me back, to shove my shoulders a little bit and pugilistically jut their chin at me, a "Whaddaya got, Browne? what will you make of this?"
I find that the music of Hey Rosetta! is complicated, and I love that push-back because it's keeping me interested. Listening to this record as a connected work keeps yielding up new threads that I haven't plucked at yet, but am fascinated to give a go at. Their songs don't follow a traditional narrative, but are instead constructed with multiple segments that seem to parallel life in all its crazy disparity and contrast — when you think you know where you're headed, time signatures shift, and whole orchestral movements swoop into the middle to change the keel of the song completely.
The songs wend through complicated iterations that ask the listener to engage even as the pleasure-centers hum. Tim can write thoughtful lyrics laced with alliteration ("searching these serpentine streets for the signs of a spark") and equal measures of introspection, scored by creative percussion and a whole host of instruments; the combination makes this record explode like roman candles for me.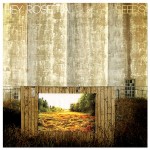 Ever since a five-hour roadtrip I took on the spur of the moment in May (and listened to this record the entire time), I've been most stuck on the bookend pairings that I hear in the two songs on the record "Yer Spring" and "Yer Fall," tracing the trajectory of a relationship. The 2:53 mark on this song is one of the best song moments ever, followed closely by 4:10 (but, IMPORTANT: listen loud).
Yer Fall – Hey Rosetta!
The band pays close attention the visual representation of their layered, anthemic songs through brilliant videos that I can't stop watching, with goosebumps every time. If you're visual like me, watch these, and then every time you hear "Yer Spring" you will see ballerinas and sparklers and sweat.
Perfect.
YER SPRING

– I saw Hey Rosetta! at the Bowery Ballroom in NYC in March and it was just this ebullient and electric, and I think I sang along as loud as anyone. My only edit to this video would be that at 3:14, I really want the visual image to be a ballerina being thrown in a free-fall. Visualize it.

And then this video, which I have posted before; I still cannot get enough of this one. It might be my favorite video of the last few years, in all the wonderful ways they engage their community of St. John's, Newfoundland. And I just love the knowing smile in Tim's eyes at 4:47 when there is a whole town chorus behind him on the cliffs — but we don't know it yet.
BANDAGES


This record is waiting, patiently, to demand.

16 comments
16 Comments »
Leave a comment